Calls for Artists

JUMP TO: East End Arts Gallery | Entry Forms | Other Opportunities at East End Arts



Opportunities for Artists in the East End Arts Gallery

East End Arts' juried shows provide artists in our membership, as well as in our community, the opportunity to expose their art to impressive and influential jurors, and exhibit their work in a highly regarded Gallery space. Many artists have been inspired to create work and develop their styles through our juried shows.


Below is a list of upcoming opportunities for artists at the East End Arts Gallery:
Drop-off Dates: January 16, 17, 18
All Media | Non-Juried
For this show enter a piece you felt you were the instrument your muse created through – or feature her in your work of art. It will get you on her good side.
Sponsored by Tanger Outlets, Riverhead
Reception: Friday, January 24, 2014, 5 - 7 PM



SHADOW | March 14 – April 18, 2014 | Prospectus coming soon...

Drop-off Dates: March 6, 7, 8
All Media | Juried
Juror: Ivan Kustura, Artist
They can be colorful and complex, or dark and obscuring. Either way, the use of shadow is one of the artist's best tools to evoke emotion while emphasizing form and focus.
Reception: Friday, March 14, 5-7 PM


LINE | April 25 – June 13, 2014 | Prospectus coming soon...

Drop-off Dates: April 17, 18, 19
All Media | Juried
Jurors: Hideaki Ariizumi, Architect, Artist, Owner, ArtSites Gallery
and Debbie Ma, Artist
A torso by Matisse, a curve by Brancusi, a hand or a flower photographed by Stieglitz or Mapplethorpe, a Sumi-e brushstroke – artistic mastery is much evident in the exquisite, simple line.
Reception: Friday, April 25, 5-7 PM



COMPOSITION | June 20 – August 1, 2014 | Prospectus coming soon...

Drop-off Dates: June 12, 13, 14
All Media | Juried
Juror: Eric Brown, Artist and Co-Owner, Tibor de Nagy Gallery, NYC
No matter how skilled the painter, sculptor, photographer, collagist, or quilter, if the composition is 'off' it will never feel completely comfortable to view. Enter a piece that shows your command of this most fundamental element of good art. Or, if you dare, deliberately break the rules for a blatantly jarring effect.
Reception: Friday, June 20, 5-7 PM



3rd ANNUAL NATIONAL ART SHOW: THE CREATIVE PROCESS | August 8 - September 24, 2014 | Online Application will be available soon...

ONLINE APPLICATION ONLY
Regular Deadline: April 8, 2014 | Extended Deadline: April 15, 2014
Two-Dimensional Art Only | Juried
Jurors: Peter Marcelle, Director, Gerald Peters Gallery, New York, NY and Owner, Peter Marcelle Gallery, Bridgehampton, NY
Maybe you leave a corner of under painting showing or a bit of your charcoal sketch. Maybe you 'finish' layering only part of your art – or digitally enhance only half your photo. The idea here is to reveal your process – let us in on the development of your style by displaying one or more earlier stages within your finished work of art – a hint of how your piece(s) evolve.
Reception: Friday, August 8, 5-7 PM



HOLIDAY GIFT BOUTIQUE 2014 | Prospectus coming soon...

Shop Dates: November 15 - December 23, 2014
More information about applying will be available in Summer 2014
Gorgeous hand-made 'heirloom' ornaments, one-of-a-kind jewelry and wearables, unique ceramics and crafts, etc. will fill East End Arts' three gallery rooms from top to bottom as visitors from all over the Island come to EEA to buy exclusive and artful gifts.
Reception: Saturday, November 15, 12-5 PM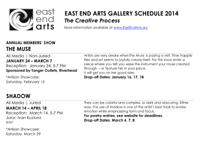 Theme: The Creative Process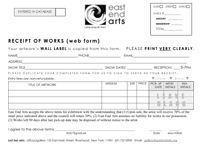 Fill out both copies identically and bring them in with your entries on drop-off dates.
Please Note: Dates are subject to change due to unforeseen circumstances. Check individual prospectus for each show for up-to-date information.
Questions? Contact Gallery Director: gallery@eastendarts.org or 631-727-0900


^ Back to Top
Opportunities for Artists at East End Arts

Below is a list of upcoming opportunities for artists, outside of the EEA Gallery:
click for more info