Riverhead Town Hall Gallery
CURRENT EXHIBIT
Yan Gabriella Peropat
paper art
September 5 - Early December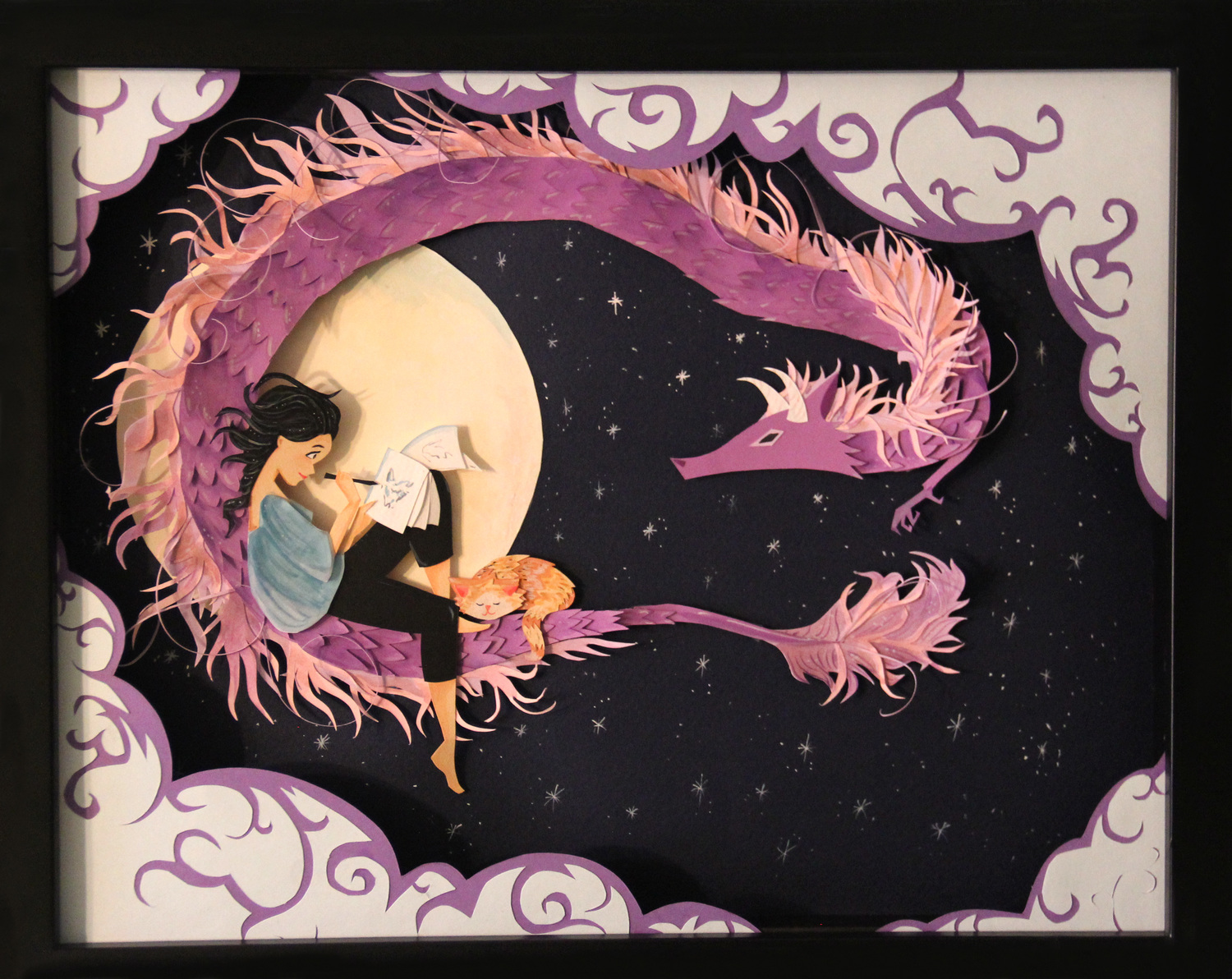 Yan Riverhead Town Hall
Artist's Reception:
Tuesday, September 19, 2017, 5:30 - 7:00 PM
The reception is a special opportunity to meet the artist and is open to the public.
Always open to the public.
 
Artist Bio, Yan Gabriella Peropat: My journey as an illustrator began on a flight from China to America. I had just turned five and received my first box of crayons and a handful of picture books from my mother. Children's books and animation films were key to my grasp of the world around me both linguistically and culturally. Listening to stories and creating them helped me communicate with others, establish relationships, and ultimately, provided an avenue of self-expression and identity.
Paper art is a medium I recently returned to after a classical education in the fine arts and illustration. This medium appeals to me in its depth and multi-cultural aspect. Unlike oil painting which has a European connotation, paper art, on the other hand has the origami feel of Japan, the vibrancy of Mexican piñata, the silhouettes of France, and the paper cut art of China. In this way I feel a real connection to an art form that is multi-cultural, which I find is another reflection of myself. I am also multi-cultural. I was born in China, but raised in an Italian- American family in New York City.
The stories I tell usually capture moments of joy, pleasure and wonder. I draw whimsically and my illustrations take on a dreamlike quality. Fairytales and nature continue to inspire me, no doubt stemming from the delight and love I felt for them as a child.
These days, my feline companion Mei Mei ("little sister" in Chinese) and I are completing a collection of paper cut illustrations for my portfolio, and finishing cover designs for clients like Simon and Schuster.
---
The Riverhead Town Hall art exhibits are a collaborative effort on the part of East End Arts and the Township of Riverhead to support local artists and introduce their works to the community. The public is welcome; admission is free.
Always open to the public.
HOURS: Mondays - Fridays, 9:00 AM - 4:00 PM
LOCATION: Riverhead Town Hall, 200 Howell Avenue, on the corner of Howell and East Main Street, Riverhead, NY
PHONE: 631-727-3200
For more information and to purchase artwork, contact Jane Kirkwood, East End Arts Gallery Director: 631-727-0900 or gallery@eastendarts.org