Gallery Shows

JUMP TO: Current Show | Upcoming Show | Annual National Show
Past Shows | 2016 Gallery Schedule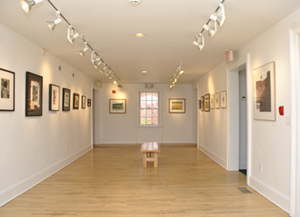 The Gallery at East End Arts has changing exhibits every four to six weeks. Year-round juried shows provide numerous opportunities for all media types to be exhibited. Juried shows during 2016 continue the theme The Creative Process, a theme which began in 2014 and extended through 2016. Through our Annual National Competition and Exhibit, we are pleased to provide artists, both local and national, the opportunity to exhibit in a nationally recognized show with judges of preeminent credentials. We host an Annual Members' Show which is non-juried and open to all East End Arts members. Our Annual Winners' Show features multiple works from each the previous year's Best in Show artists. Every November and December, our galleries are transformed into a Holiday Gift Boutique, where we sell unique, handmade creations by East End Arts member-artists, perfect for holiday gift giving.
Members receive a 15% discount on all Gallery and Gift Shop purchases.
Stop in and see what's happening in our Gallery!
Gallery Hours: Tuesday - Saturday, 10 AM - 4 PM
CURRENT SHOW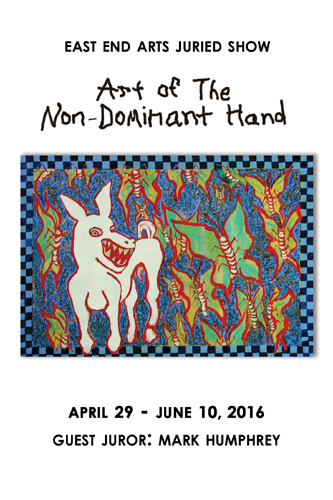 Click above image for more info >>
Gallery Schedule: The Creative Process, continued
For information about entering your artwork into our Gallery shows, click here
ANNUAL MEMBERS' SHOW: OUT OF YOUR MIND
Non-juried | All media
JANUARY 29 – MARCH 4, 2016
Reception: Friday, January 29, 2016, 5-7 PM
Sponsored by Tanger Outlets, Riverhead
...........................
COLOR
Juried | All media
MARCH 11 – APRIL 22, 2016
Reception: Friday, March 11, 2016, 5 - 7 PM
Juror: Amy Worth, Owner, The South Street Gallery, Greenport NY
...........................
ART OF THE NON-DOMINANT HAND
Juried | Open to all painting, pastel & drawing media
APRIL 29 – JUNE 10, 2016
Reception: Friday, April 29, 2016, 5 - 7 PM
Juror: Mark Humphrey of Mark Humphrey Gallery, Southampton, NY
...........................
THE CONTEMPORARY PORTRAIT
Juried | All media
JUNE 17 – JULY 29, 2016
Reception: Friday, June 17, 2016, 5 - 7 PM
Jurors: Deanne Shashoua and Michael Lyons Wier of Lyons Wier Gallery, New York, NY
...........................
5th ANNUAL NATIONAL COMPETITION & EXHIBIT:
THE GALLERIST, THE ARTIST, THE CRITIC, & THE KID
Juried | Two-dimensional art (any subject)
Four different jurors choose four different exhibits from the same pool of entries.
AUGUST 5 – SEPTEMBER 21, 2016
Reception: Friday, August 5, 2016, 5 - 7 PM
Jurors:
The Gallerist: Peter Marcelle
Director, Gerald Peters Gallery, New York, NY; and Owner, Peter Marcelle Project, Southampton, NY
The Artist: Eric Ernst
Internationally renowned artist and columnist
The Critic: Joyce Beckenstein
Published art critique for NY Times & contributing editor to dozens of art periodicals
The Kid: A 12-year-old kid chosen by lottery
...........................
WINNERS' SHOW
SEPTEMBER 30 – OCTOBER 29, 2016
Reception: Friday, September 30, 2016, 5 - 7 PM
...........................
HOLIDAY GIFT BOUTIQUE
NOVEMBER 12 – DECEMBER 23, 2016
Grand Opening: Saturday, November 12, 2016, 12 - 6 PM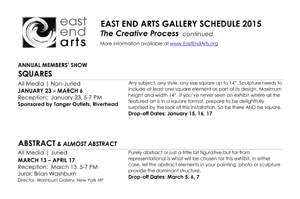 Theme: The Creative Process, continued
Programs of the East End Arts Gallery are made possible with public funding provided by New York State Council of the Arts, Suffolk County, and the Town of Riverhead.