45th Anniversary Celebration Concert
ELIZABETH RICHARD MEMORIAL ANNUAL MEMBERS' SHOW: FUN Opening Reception
Friday, January 26, 2018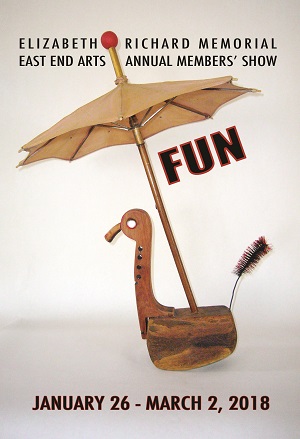 Location:
East End Arts Gallery, 133 E. Main Street, Riverhead NY 11901
Description:
ELIZABETH RICHARD MEMORIAL ANNUAL MEMBERS' SHOW:
FUN
All Media, Non-juried Art Show
January 26 – March 2, 2018
Gallery Hours: Tuesday - Saturday, 10 AM - 4 PM
Admission always free

Reception: Friday, January 26, 2018, 5 - 7 PM
Meet the Artists! Refreshments served. Open to the public.
Photographs at the reception are taken by East End Arts Working Artist member Natalia Clarke.