Upcoming Events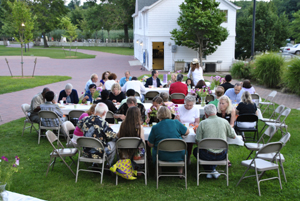 All East End Arts members and volunteers are invited to join us as we celebrate the conclusion of a great year. We will look back, we will look forward, and we will have dinner! The incoming executive director of East End Arts will be introduced at this event. In addition, we will thank our volunteers for their hard work and dedication, and announce the Volunteer of the Year. Light dinner will be served.
BRING A FRIEND! Do you know someone who would be interested in becoming a member of East End Arts or volunteering at events or on special projects? Invite them to join you at this event of EEA friends and family. Please be sure to RSVP.
Please RSVP by Wednesday, August 15.
East End Arts is proud to be one of ten charities selected for the Jump for Charity opportunity at the 2018 Hampton Classic! Here's how it works:
• General public and Hampton Classic attendees purchase these hats for $50 and all proceeds go into a charity fund
• Each of the 10 charities is paired up with a rider: East End Arts has been paired with Andrew Welles
• Riders compete in the Friday Feature Classic and the proceeds from hat sales goes towards the top 3 winning riders
Please support East End Arts and all of the hardworking local charities - purchase a hat today or make a direct donation!
CLICK HERE TO PURCHASE YOUR "JUMP FOR CHARITY" HAT TODAY! >>
click here to visit HamptonClassic.com for general information >>


---
Signature Programs & Events
click image for more info