2015 ARTworks Spring Gala
Saturday, April 25, 2015
At East Wind, Wading River, NY
Honoring Our Friends: Suffolk County National Bank
Thank you for making this fundraising event a huge success!
We would like to thank our honoree, Suffolk County National Bank, as well as all event sponsors, including lead sponsor SCNB; event chair Patricia Cruso; East Wind; program producer Vito Gentile; Henry Broggi from South Bay Auctions; student performers Brandon Boardman, Grace and Rebecca Lukachinski and their instructor Chris McKee; the Denice Given Band; Long Island Game Farm for providing the Superbooth photobooth fun; tasting provided by Jefferson's Bourbon; florals by Ivy Acres; our Gala Committee; volunteers; donors; and guests. And special thanks to Lenny Stucker / lennystucker.com for documenting the evening for us with his beautiful photography!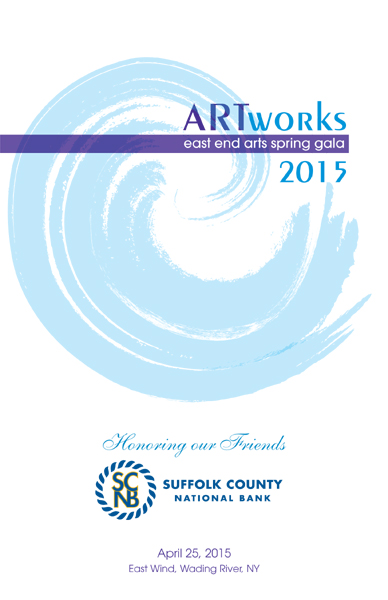 ---
CELEBRATE WITH US!
Saturday, April 25, 2015
6 - 11 PM
At East Wind
5720 New York Rte 25A, Wading River, NY
click here for Google Maps directions >>
Honoring Our Friends:
Suffolk County National Bank
SCNB has been a long term, major patron of East End Arts and has a strong tradition of community involvement. We are proud to have this opportunity to recognize SCNB for their continued support.


The buzz has already started on the 2015 Gala: don't miss this opportunity to be a part of this exciting, high-profile East End Arts event.


Festivities include:
• Cocktails & Hors d'oeuvres
• Dinner & Dancing to the Music of the Denice Given Band
• Live & Silent Auctions
Cocktail Attire
Proceeds from this fundraising event help support our mission to build and enrich our community through the arts by way of education, support, advocacy, and inspiration, as well providing art and music lesson scholarships to area children.


TICKETS
Tickets are $200 per person
Tickets available for individual purchase starting Thursday, February 19, 2015
SPONSORSHIP
For information about sponsorship, CLICK HERE >>
For more information about sponsorship opportunities, contact Anne Tschida Gomberg, Development Director: agomberg@eastendarts.org or 631-727-0900 x303


---
AUCTION
click image to view larger & read description



Title: "Still Life with Copper Bowl and Garlic"
Artist: Natalia Clarke (Riverhead, NY)
Oil on cotton panel, 12" x 16"




Title: "Montauk Bluffs IV"
Artist: Scott Farrell (Huntington Station, NY)
photograph




Title: "Bull Figure"
Artist: Tina Folks (Patchogue, NY)
ceramic, 14" tall




Title: "Bouys"
Artist: Jane Kirkwood (Riverhead, NY)
oil on canvas, 24" x 30"




Title: "Pond Series: Vernal Equinox"
Artist: Katherine Liepe-Levinson (Riverhead, NY)
archival pigment print photograph, 18" x 22" framed




Title: "Medieval Tapestry I" (Detail / Horse)
Artist: Robert Moore (Hampton Bays, NY)
photograph
12" x 12" framed




Le Corbusier "Unité" Plate 15 etching, numbered (37/130) and signed
Artist: Le Corbusier (1887 - 1965)
etching with aquatint, 22.5" x 17.8"
Value: $5,500




Title: "Brockway Pond, New Hampshire"
Artist: Bryan Gutman (Patchogue, NY)
12" x 12", oil on canvas




Robert Berks "Einstein"
sculpture in cast stone with an acrylic grey base
8" tall
Artist: Robert Berks (1922 – 2011)
Value: $1,500




Perlman Music Program Package - Patron Membership in the Virtuoso Society, tickets, gift bag, and more!
Value: Priceless




2001 Screaming Eagle Cabernet Sauvignon
Value: $2,500




Fill your car with flowers from Ivy Acres
Value: $1,500




Tickets to The Tonight Show with Jimmy Fallon
Value: Priceless




Two-night stay at a Murray Hill apartment, including two passes to MOMA
Value: $1,199




Four tickets to Yankee Legends Suite
Value: $2,900




Four tickets to Mets Suite Sterling Level
Value: $360




Two tickets to "Beautiful: The Carole King Story" on Broadway
Value: $500




East Wind Overnight and Spa Package with $50 gift certificate and gift basket
Value: $300




Four-night stay at Playa Nicuesa Rainforest Lodge, Golfo Dulce, Peninsula de Oso, Costa Rica
Value: $1,560




Three-night stay at Gaia Hotel and Reserve, Manuel Antonio, Costa Rica
Value: $1,250




Dinner for Eight: A Southeast Asian Adventure in the Van de Wetering home
Value: $800




Dinner for Six: An Evening of Turkish Delights in the home of Içim and Mark Miller
Value: $800




Sterling pendant and chain with fossil, mabe pearl and quartz cabochons
Artist: Alice Van de Wetering
Value: $200




Sterling pendant and chain with natural untreated turquoise and Mexican opal
Artist: Alice Van de Wetering
Value: $225




Sterling earrings with Rhodocrosite slice with garnet and pale tourmaline cabochons
Artist: Alice Van de Wetering
Value: $135




Necklace and earrings in gold, onyx and turquoise
Artist: Ursula Wolff
Value: $250




Sterling Silver Necklace
Artist: Mary Anne Huntington
Value: $150




Maidstone Golf Club Foursome
Value: Priceless ($5,000+)




Helicopter Ride on the East End
Value: $500




Location Photography Portrait Session with Jim Lennon Photography
Value: $900




Four tickets to "Hay Fever" at Hampton Theater Company
Value: $100




$100 gift certificate to the Suffolk Theater
---
LEAD SPONSOR: Suffolk County National Bank
HEADLINE Sponsors
Içim & Mark Miller
MASTER ARTIST Sponsors
PRODUCER Sponsors
DIRECTOR Sponsors
Anonymous
Cia Comnas
Emilie & Michael Corey
Empire National Bank
Lazer, Aptheker, Rosella & Yedid, P.C.
Long Island Game Farm
New York Business Development Corporation
OMD US
Peconic Bay Medical Center
Pine Barrens Printing
SOLOIST Sponsors
Balfe & Holland, P.C.
Tod Berks
Colleen & Dave Bofill
Boilermatic Welding Industries, Inc.
Barbara Burger & Michael Rosenberg
Nancy Burner & Associates, P.C.
Curran & Connors, Inc.
Gates Capital Corporation
Jefferson's Bourbon
John & Lindsay Landes
Mona & Jim Lennon
Lovin' Oven Catering Of Suffolk, Inc.
Malvese Equipment Company, Inc.
Diane Murray
Sandra & Barry Novick
Phoebe & Belle
The Resource Group
Richmond Realty Corp.
Annika & Stephen Shapiro
James & Barbara Smith
The Southampton Inn
Woolworth Revitalization LLC




ARTworks 2015 Spring Gala Committee
Chair: Patricia Cruso
Barbara Burger, Cia Comnas, Robert Grady, Paul Hawkins, Katherine Liepe-Levinson, Melinda Novak, Sandra Novick, Angela Reese, Annika Shapiro




Photos taken at our May 17, 2014 Gala fundraiser at the Sea Star Ballroom in Riverhead, honoring our friends Içim & Mark Miller of Miller Environmental Group.