Recording Studio
Are you looking to record your own vocals, poetry or an audio book?
Are you a member of a band that needs a demo tape for submission?
Are you a student applying for programs that require a professional
recording of you performing?
East End Arts recording studio, along with the expertise of our sound
engineer, can make that happen.
The Jesse F. Sherman Recording Studio at East End Arts is a fully functional recording facility, consisting of a control room, isolation booth, and live room large enough for a small orchestra or rock band. East End Arts' Midas Venice 24 mixing console has excellent analog to digital conversion quality and interfaces with new iMac computer equipped with the industry standard Protools recording software. East End Arts' recording studio has a full range of quality microphones and outboard gear to suit any client's needs.
Features
Quiet tracking room

Large live room with baby grand piano (no tuning fees)

Pro Tools recording software

Experienced sound engineer with every project
---
RATES & POLICIES
Rates
$45 per hour for EEA members / $65 per hour for non-members
(2 hr minimum, includes engineer/producer)
FULL DAY (8 hours) - $320 EEA members / $480 non-members (11 AM – 7 PM)
HALF DAY (4 hours) - $160 EEA members / $240 non-members
 
Policies
There is a two hour minimum for a recording session.
Recording studio time needs to be reserved two weeks prior to session at a mutually agreed time and will be based on sound engineer and space availability.
To schedule studio time, contact Diane Giardi, East End Arts Education Director at dgiardi@eastendarts.org or 631-369-2171 for scheduling prior to payment. Our sound engineer can answer any questions regarding the production of your project.
A 50% deposit is required at time of reservation. The remaining balance is due at the beginning of the first session (non-refundable deposit if cancelled less than one week prior to session).
Recording sessions must be paid for in advance (after scheduling studio time):

By check - mail or deliver to:
East End Arts School, Attn: Recording Studio, 141 E. Main St, Riverhead, NY 11901
By cash - hand-deliver to (do not mail cash):
East End Arts School, Attn: Recording Studio, 141 E. Main St, Riverhead, NY 11901
By credit card - call or visit the East End Arts School: 631-369-2171

East End Arts agrees not to sell or distribute any project that is recorded at our studio without the permission of the artist.
All recording time is by appointment only.

TO SCHEDULE STUDIO TIME, CONTACT DIANE GIARDI:
dgiardi@eastendarts.org or 631-369-2171
---
In the news...
 
by David J. Criblez
Photo Credit: Gordon M. Grant
Published April 14, 2017
(click above image to read article)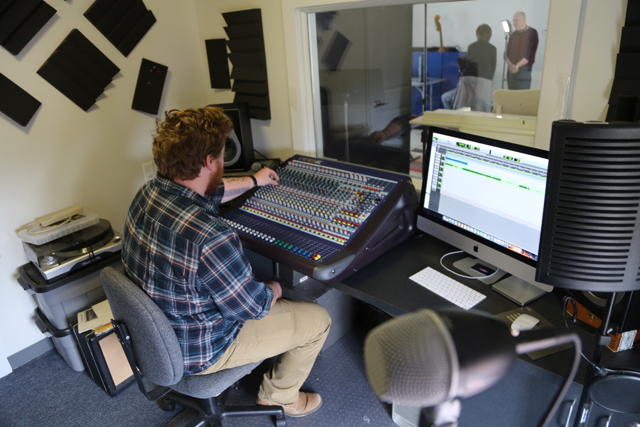 by Krysten Massa
Published April 4, 2017
(click above image to read article)
---
Diane Giardi, East End Arts Education Director comments:
"Our recording studio will be a great resource for student, emerging and established musicians to take their talents and career to the next level with a professional recording of their work for promotion, sales, for themselves, and more. Our rates will be very affordable in an effort to make the recording studio accessible to all. We are pleased to offer this opportunity to the many musicians – budding and professional – across Long Island. This recording studio would not have been possible without a vision, funds, time, and expertise – special thanks to the Joel Foundation, Bill Sperls, Noah Gorman, Paulette Sherman and her family, and the Town of Riverhead for their dedication to this project. We are so grateful to everyone involved in making this a reality."


Special thanks to the following individuals and entities for making this possible:
The Joel Foundation, for their funding of our recording studio equipment
Bill Sperls, for his dedication of time and talent, along with his students, in designing our studio
Noah Gorman, our sound engineer, for setting up and organizing, and for the future running of our studio
The Town of Riverhead, for completing space renovations and for their ongoing support
And a very special thanks to Paulette Sherman and the Sherman family, who in memory of their late son, Jesse F. Sherman, for which the studio is named, has contributed items from Jesse's own recording studio and has allowed the passion that Jesse felt for his music be an inspiration for all those that follow
Photo credit: Jim Lennon