Teeny Awards

SAVE THE DATE!
14th Annual Teeny Awards Ceremony
Sunday, June 5, 2016
Red Carpet starts at 1:30 PM
Ceremony held 3:00 - 5:00 PM
At Shoreham-Wading River High School, 250 NY Route 25A, Shoreham, NY
Relive some of the outstanding performances from this year's high school theatrical performances on the East End of Long Island, and celebrate the best of the best in high school theater!

13th Annual Teeny Awards Winners (June 2015)
Photo credit: Richard & Joan Wozniak

12th Annual Teeny Awards Winners (June 2014)
Photo credit: Richard Wozniak

11th Annual Teeny Awards Winners (June 2013)
Photo credit: Tom Kochie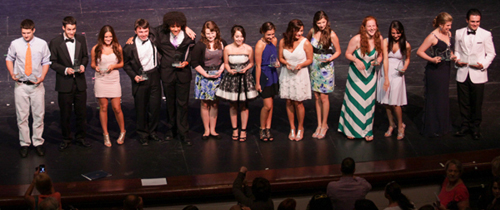 10th Annual Teeny Awards Winners (June 2012)
Photo credit: Richard & Joan Wozniak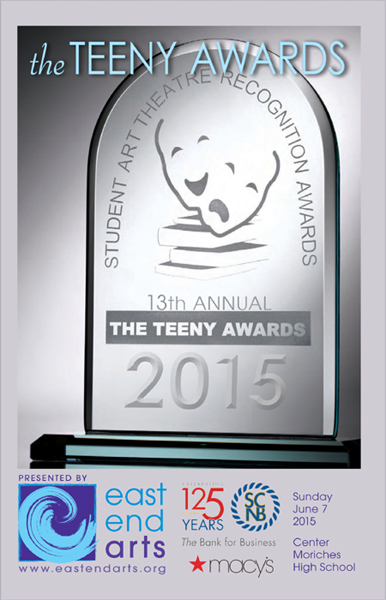 The Teeny Awards, conceived from the idea of the Antoinette Perry Awards – The Tony Awards – for Broadway shows, has been celebrating excellence in high school theater across the East End of Long Island since 2002. Through the Teeny Awards program, East End Arts strives to raise the bar on theater education by encouraging increased attendance and community pride at school productions, much like school sports programs. Behind-the-scenes coordination takes place throughout the school year, as anonymous volunteer judges with extensive theatre experience attend all high school theatrical performances on the East End to determine the best for nomination, and in June, the winners, the best of the best, are announced at the Teeny Awards Gala Ceremony.
At the Gala Ceremony, the public is invited to relive some of the favorite performances from this year's shows from the 16 participating high schools in the region, and celebrate the best of the best in East End high school theater! The awards are presented by esteemed community members, theatre professionals, and arts supporters, all hosted by a local personality.


Photos from the 11th Annual Teeny Awards Ceremony
Sunday, June 9, 2013 | Southold High School
Click to Enlarge
Click Here for more information about the Teeny Awards Program >>


Thank you to our 2015 Sponsors:
Bridgehampton National Bank, Dr. Joseph Duva


THANK YOU to all 2015 Chance Auction Raffle Donors:
Blue Duck Bakery www.blueduckbakerycafe.com
Briermere Farms www.briermere.com
Carl Hart Bicycle Shop www.briermere.com
Cellar Door Stained Glass www.carlhart.com
China Delight www.gotochinadelight.com
Clover Nails
Crossroads Music Store www.crossroadsmusicstore.com
Deli Delight
East Quogue Pizza & Deli
Farm Country Kitchen www.farmcountrykitchen.net
Gateway Performng Arts Center of Suffolk County www.gatewayplayhouse.org
Good Ground Yoga www.goodgroundyoga.com
Guild Hall www.guildhall.org
Haagen Dazs/Sugar Daddy's Toy Store
Hampton Classic Horse Show www.hamptonclassic.com
Hampton Fruit and Vegetable Market
Hurricane Deli
Hurrican Grill and Wings www.hurricanewings.com
Innersleve Records www.innersleeverecords.com
Long Island Aquarium and Exhibition Center www.longislandaquarium.com
Anne Marshall
Orlando's Barber Shop
Orlando's Café
Panera Bread www.panerabread.com
Pieceful Quilting www.piecefulquilting.com
Robert James Salon & Spa
Roses & Rice  www.rosesandriceflorist.com
Rumrunner Home www.rumrunnerhome.com
Saaz Restaurant saazindian.com
Safe-T-Swim www.saf-t-swim.com
Skidmore's Sports and Styles
Snowflake Ice Cream www.snowflakeicecream.com
Splish Splash Water Park www.splishsplash.com
Judi Steinberg
Stuart's Seafood Market www.stuartseafood.com
Suffolk Theater www.suffolktheater.com
The Patio www.thepatiowhb.com
Tony's Asian Fusion www.tonyasianfusion.net
Village Prime Meat Shoppe www.villageprimemeatshoppe.com
Westhampton Beach Performing Arts Center www.whbpac.org
Westhampton Nails & Spa
Thank you to our volunteer photographers:
Tom Kochie, Joan Wozniak, Richard Wozniak
Ways to support:
Journal Ad
Chance Auction Donation
Sponsorship
Donation
... and more!
For information about sponsorship opportunities, contact Anne Tschida Gomberg, Development & Events Director: agomberg@eastendarts.org or 631-727-0900 x303.






Photos from some of the 2012-13 Productions
Click to Enlarge


Photos from 10th Annual Teeny Awards Ceremony
June 10, 2012 | Eastport-South Manor Junior-Senior High School
Click to Enlarge