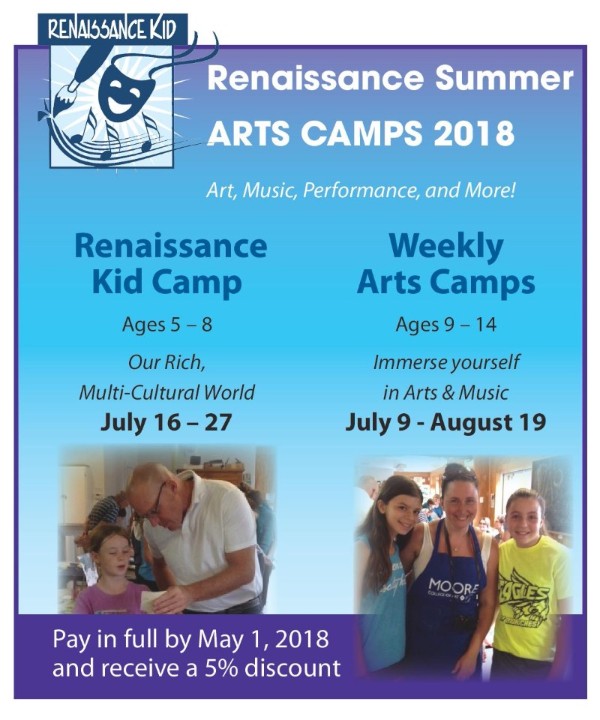 ---

General Information
 
REGISTRATION
To register for any East End Arts Camp Programs call 631-369-2171, email education@eastendarts.org, or download registration forms above. Mail registration forms to East End Arts School, 141 East Main Street, Riverhead, NY 11901. We are pleased to offer a 10% discount for each additional child.
LOCATION
All camps are held at the East End Arts School, located at 141 East Main Street in Riverhead, NY. The School offers professional studios with comfortable air-conditioned rooms and scenic grounds for outdoor breaks and lunch.
EARLY MORNING & AFTERCARE
Early morning care is available between 8:30 - 9:30 AM, and aftercare between 3:00 - 5:00 PM. Aftercare consists of modified camp activities.
Early Morning Care 8:30 - 9:30 AM: $15 per day
Aftercare 3:00 - 5:00 PM: $20 per day
Please note that After Care is not available on the last day of each camp.
STAFF
Counselors are chosen for their expertise, dedication and enthusiasm with children. Renaissance Kid Camp maintains a comfortable ratio of 1:6 counselors to children. Summer Arts Camps maintain a comfortable ratio of 1:12 along with an assistant. Our small group sizes provide for in-depth learning with personal attention and an encouraging arts camp experience.
SNACK & LUNCH
A daily snack is provided. Campers bring their own lunch in an insulated container.
CAMP PERFORMANCE & ART SHOW
On the last day of each camp, campers show off their creations to family and friends. Details provided at camp.
TRANSPORTATION
Transportation is the responsibility of the parent; however, a carpool list is maintained for Renaissance Kid Camp for interested families.
SCHOLARSHIPS
A limited number of partial scholarships are available, based on financial need. An application can be requested by calling the School at 631-369-2171, email education@eastendarts.org or download a scholarship form. Deadline for application is June.
Register Online:
... then complete and mail / fax / email Registration Forms:
---
Voted Best of the Best by Dan's Papers

See what campers are saying...
"I loved it and I'm definitely going to do it next year. Best camp ever!"
"It was super fun!"
"I liked the music, art and theatre. One thing that would make it better is if it was all summer!"
See what parents are saying...
"I liked that the camp was flexible and dynamic. My son wanted to bring his banjo and the camp was able to accommodate him."
"This is the first camp my daughter actually enjoyed. Terrific!"
"The experiences my child had were priceless."
"Every day after camp my daughter said "I love camp!"
"Both my kids had an awesome time with the activities and counselors. The staff was amazing!"
"My children learned to express themselves and feel healthy and proud of their skills."
"Excellent, as always!"
"I am amazed at the confidence your camp gave my son – Thank you! Art saved our summer!"



Check out this video from when our camp programs started back in the 90's...
Video Credit: Cornell Cooperative Extension News, Lou Turner, Lori Turner