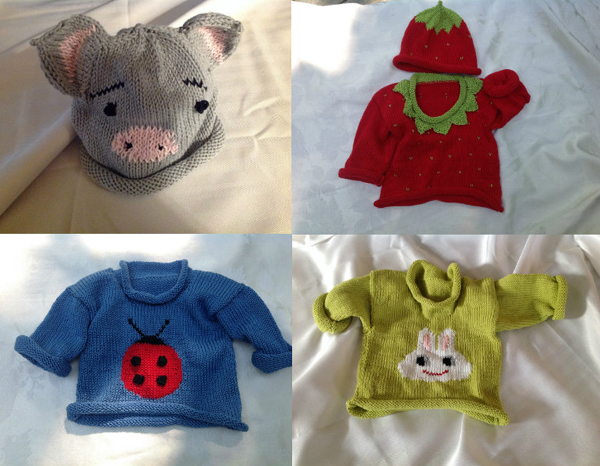 News Release
FOR IMMEDIATE RELEASE
Press contact: Stephanie Smith Israel
631-727-0900
sisrael@eastendarts.org
Images Available Upon Request
Artisan Trunk Show
Featuring Lulu LuBouvier, Knitted Baby Clothes
Saturday, August 29 at the East End Arts Gallery
(RIVERHEAD, NY, August 17, 2015) –– East End Arts is pleased to announce the next event in their Artisan Trunk Show series to take place on Saturday, August 29 from 2:00 PM to 4:00 PM in the East End Arts Gallery, featuring hand-knit baby clothes by local artisan Lulu LuBouvier. Lulu LuBouvier creates knitted baby clothes for all occasions. Meet the artist at this special shopping event! A large selection of her hand-crafted items will be available for sale. The East End Arts Gallery is located at 133 E. Main Street in Riverhead, NY. For more information about the artist and this program, visit https://eastendartsorg.presencehost.net/calendar/events.html/event/2015/08/29/artisan-trunk-show-featuring-lulu-lubouvier-knitted-baby-clothes.
This event will be held in the East End Arts Gallery, which will be exhibiting The Figure, East End Arts 4th Annual National Juried Art Show juried by Kathryn Markel, Owner of Kathryn Markel Fine Arts, New York, NY and Bridgehampton, NY; and Peter Marcelle, Director of Gerald Peters Gallery, New York, NY; and Owner of The Peter Marcelle Project, Southampton, NY. This show will be up for viewing until September 23, 2015. Gallery hours are Tuesday through Saturday, 10:00 AM to 4:00 PM and the public is always welcome; all artwork is for sale. For more information about this art show, visit http://www.eastendarts.org/gallery/national-show-2015.html.
For more information contact Jane Kirkwood, East End Arts Gallery Director: 631-727-0900 or gallery@eastendarts.org.
# # #
East End Arts, established in 1972, is a 501(c)3 not-for-profit arts organization, and operates a School of the Arts, an Art Gallery, and presents a variety of events and programs to promote the arts year-round. Proceeds from all events, sales, classes, donations, and memberships benefit the mission and commitment to building and enriching our community through the arts by way of education, support, advocacy, and inspiration.