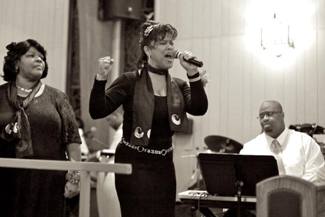 News Release
FOR IMMEDIATE RELEASE
Press contact: Stephanie Israel
631-727-0900
sisrael@eastendarts.org
Images available upon request
East End Arts Presents
29th Annual Harvest Gospel Concert Series:
November 19, 20, 21
FREE Concerts at Three Locations on the East End
(RIVERHEAD, NY, October 20, 2015) –– East End Arts is pleased to announce the 29th Annual Harvest Gospel Concert Series, a series of free concerts, celebrating the joy of music from the soul:
• Thursday, November 19, 2015 at the Mattituck Presbyterian Church, located at 12605 Main Road in Mattituck, NY;
• Friday, November 20, 2015 at the Hamptons United Methodist Church, located at 160 Main Street, Southampton, NY;
• Saturday, November 21, 2015 at the Friendship Baptist Church, located at 59 Anchor Street in Flanders, NY.
All performances are held at 8:00 PM. The community is invited to attend this series of free concerts, featuring the Harvest Gospel Choir of over 70 singers, led by Artistic Director of 29 years, Reverend Maryanne McElroy, in this non-denominational celebration, connecting the community together sharing the joy of music from the soul. Harvest Gospel Concerts attract an audience of all ages from a variety of ethnicities and backgrounds, celebrating community through music. For the 2015 concert series, guests soloists will include East End Arts Music Masters Fellowship R&B and soul vocal choir students, under the direction of Music Masters mentor, professional vocalist Anastasia René.
For more information, visit http://www.eastendarts.org/programs/events/harvest-gospel.html.
The 29th Annual Harvest Gospel Concert Series is made possible by the generous support of our sponsors: Suffolk County Legislator Jay Schneiderman, Riverhead Building Supply, Sabrosa Mexican Grill, with additional support from Suffolk County National Bank, Hamptons Magazine, Knapp Swezey Foundation, and Richmond Realty Corp.
For more information, please contact Sheree Elder, East End Arts Events Coordinator at 631-727-0900 or events@eastendarts.org.
# # #
East End Arts, established in 1972, is a 501(c)3 not-for-profit arts organization, and operates a School of the Arts, an Art Gallery, and presents a variety of events and programs to promote the arts year-round. Proceeds from all events, sales, classes, donations, and memberships benefit the mission and commitment to building and enriching our community through the arts by way of education, support, advocacy, and inspiration.