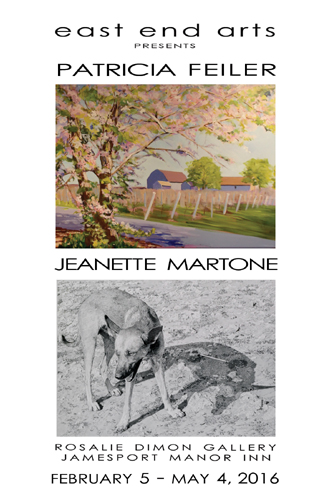 News Release
FOR IMMEDIATE RELEASE
Press contact: Stephanie Israel
631-727-0900
sisrael@eastendarts.org
Images available upon request
New Art Show at the Rosalie Dimon Gallery
Featuring Artists Patricia Feiler & Jeanette Martone
Starting Friday, February 5
Presented by East End Arts
(RIVERHEAD, NY, January 28, 2016) –– East End Arts is pleased to announce the exciting new art show at the Rosalie Dimon Gallery, at the Jamesport Manor Inn (located at 370 Manor Lane in Jamesport, NY) featuring East End Arts members: paintings by Patricia Feiler of Mattituck, NY and drawings by Jeanette Martone of Bay Shore, NY. The show opens on Friday, February 5, 2016 and will be up for viewing until May 4, 2016. An Artists Reception will be held on Sunday, March 13, from 3:00 PM to 5:00 PM at the Rosalie Dimon Gallery, where the public will have the opportunity to meet the artists. Local wines and artisanal cheeses will be served. The public is invited to this free event. The exhibition is open for viewing during the Jamesport Manor Inn's open hours: Wednesdays through Sundays, 12:00 PM to 10:00 PM during lunch and dinner service.
Painter Patricia Feiler comments on her work and inspirations: "Painting a landscape feels like music to me. I have a strong background in music and I have discovered a familiar rhythm in the motion of the brush across the canvas. The process of painting has an energy and a crescendo. My paintings begin with thumbnail sketches and then as the painting takes shape, the colors and forms begin to blend. I have to stand back and squint to see the images. I can only really see my paintings from a distance, yet I hear them with every brush stroke. The paintings on exhibit in the Rosalie Dimon Gallery reflect my own interest in the work of the Impressionists, both in art and music. Artists Monet and William Merritt Chase are strong influences for me. Their paintings have a sense of place and yet there is a mysterious quality to the simplest of images. Color within shadows shimmer in the same way as the melodies and harmonies of composers Debussy and Ravel. The interaction between light and color is fascinating to me. The shadow on the curve of a sail, dots of sunlight on a wave, or fading sun on a dune will change in an instant as a cloud passes over. Capturing that instant is what excited me about creating a painting. My paintings are autobiographical, in that there is a memory of my having been in the places that I paint. Some are done Plein Air, right on site, and others from memory."
Artist Jeanette Martone has spent time volunteering in the developing world, and while doing so, she often encountered stray dogs wandering the village streets, some strays, some befriended by people. Jeanette comments: "I was moved by their vulnerability as well as their resiliency and grace, and I felt compelled to honor their spirit in my drawings. My pencil and ink renderings, with infinite detail, capture in a moment of time the texture of fur; the reflection of an eye, the poverty of their surroundings. My works invite the viewer to delve into the drawing and emerge into the animal's reality."
More Information about the Rosalie Dimon Gallery
Exhibits at the Rosalie Dimon Gallery are a joint effort by East End Arts and the Jamesport Manor Inn to introduce exceptional artists and their work to the East End communities. East End Arts members who wish to be considered for exhibits at the Jamesport Manor Inn should have updated representations of work in the East End Arts Artist Registry at the East End Arts Gallery, located at 133 East Main Street, Riverhead, NY. The artists selected for East End Arts' off-site gallery shows are chosen by committee.
For more information, contact Jane Kirkwood, East End Arts Gallery Director: 631-727-0900 or gallery@eastendarts.org or visit www.eastendarts.org.
For more information about viewing the exhibition, call 631-722-0500 or visit www.JamesportManorInn.com.
# # #
East End Arts, established in 1972, is a 501(c)3 not-for-profit arts organization, and operates a School of the Arts, an Art Gallery, and presents a variety of events and programs to promote the arts year-round. Proceeds from all events, sales, classes, donations, and memberships benefit the mission and commitment to building and enriching our community through the arts by way of education, support, advocacy, and inspiration.