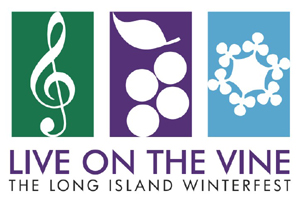 News Release
FOR IMMEDIATE RELEASE
Press contact: Jim Faith
Producer, J Faith Presents
631-331-0808
jfaith@optonline.net
9th Annual Long Island WINTERFEST – Live on the Vine
KICKOFF PARTY
Friday, February 19 at the Suffolk Theater, Riverhead, NY
(RIVERHEAD, NY, February 8, 2016) – The award-winning Long Island Winterfest – Live on the Vine music festival returns for its ninth and most eclectic year ever. The music festival will open with its annual Winterfest Kickoff Party concert which will be held Friday, February 19 at the historic Suffolk Theater in Riverhead, NY. Doors will open at 6:30 PM. Long Island rock favorites Miles To Dayton, and internationally acclaimed roots-music guitar wizard Toby Walker will headline this evening of world-class Americana music, with special guest singer-songwriter Andrew Fortier opening the night. Tickets are $20 in advance and $25 at the door. Tickets are limited and are now available online at http://www.suffolktheater.com/event/4ab618857e614fd0ff5e7b6eb231444c or by calling the Box Office at 631-727-4343. The Suffolk Theater is located at 118 E Main Street, Riverhead, NY 11901. Ticket links and more information can be found at www.liwinterfest.com.
Miles To Dayton
Having built a large grass roots following of fans young and old, Miles to Dayton (M2D) has headlined performances at the Patchogue Theater and sold out the Boulton Center, with notable gigs at the Paramount Theatre, Great South Bay Music Festival and the North Fork Rock and Folk Festival. Miles to Dayton's music happens at a personal level, blending elements of folk, rock, classical, and funk into an irresistible invitation. The M2D recipe is simple: four-part vocal harmony, clever songwriting, improvisational violin and cello, and an infectious rhythm section that stirs up the creative stew. M2D has shared the stage with the likes of The Subdudes, Leslie West, Jorma Kaukonen, Tom Paxton, Southside Johnny and the Asbury Jukes, and Richie Havens, to name a few.
Toby Walker
"A real killer with fantastic technique. He just knocks me out." - John Hammond
Internationally and nationally acclaimed Toby Walker has been hailed as a roots music fingerstyle guitar wizard who has toured the US, England, Wales, France, Germany, Belgium and Holland. Walker has been featured in the New York Times, the London Sunday Times, the London BBC, Sirius-XM radio and was the 1st place recipient of the International Blues Challenge Award, Solo division, given out by the Blues Foundation in Memphis TN. Walker blends the styles of blues, ragtime, country, bluegrass, rock and old time jazz into his own unique style. Jorma Kaukonen of Hot Tuna and the Jefferson Airplane says "Flat out... you have to hear this great musician... I'm blown away" and has employed Walker to teach at his famous Fur Peace Ranch Guitar Camp for six years. In 2010 Walker won the New York Music Award for Best Instrumental CD, sharing the honors with Mariah Carey, Rufus Wainwright and Judy Collins among many others.
Andrew Fortier
Archivist, storyteller, most importantly husband and dad: Andrew Fortier's music and words are reflections of life in progress. Major recording contracts came and went for Andrew, people say they can't believe he's "not all over the radio" or say "you're gonna make it"; his reply time after time is, I've already made it as far as my life has been, and the rest is just icing. The Upsidedown Sky is Andrews latest album he dedicates to all the life guards and guardian angels in his life. His glass is at least half full and every day a blank canvas awaits.
More information about the 2016 Winterfest Live on the Vine music festival
The 9th Annual Winterfest Live on the Vine is an award-winning festival is a five-week, mid-winter music and wine festival, running each weekend from February 19 through March 20, 2016. Winterfest is a project of East End Arts in partnership with the Long Island Convention and Visitors Bureau, the Long Island Wine Council, and presenting sponsor, Suffolk County National Bank.
Winterfest Live on the Vine will feature more than 70 concerts and wine events in over 40 unique venues throughout Long Island's scenic East End. Vineyard tasting rooms, boutique hotels, and historic theaters provide the stages for more than 30 emerging artists and legendary Grammy-winning headliners in a diverse menu of musical styles: jazz, rock, country, world, singer-songwriter and more, amidst the backdrop of one of the most charming regions in New York.
The Winterfest Kickoff Party on Friday, February 19, 2016, at Suffolk Theater will feature Long Island favorites: Toby Walker and Miles to Dayton. Tickets are available at www.liwinterfest.com. Music for every taste and in every genre includes New Orleans favorites The Dirty Dozen Brass Band, Grammy award-winning folk icon Judy Collins, Grammy award-winning jazz trumpet legend Randy Brecker quartet featuring Ada Rovatti, and back for a second sold-out year is Americana-sweetheart Amy Helm. Jazz drummer Bryan Carter & his Trio, Downbeat Magazine award-winner Ray Anderson with Steve Salerno, Paul Simon bassist Bakithi Kumalo & Friends, and the Late Night Gospel Choir performing a "raise the roof" Gospel Brunch, are just some of the artists appearing this year, with many more being added. The Closing Party and grand finale concert will take place on Saturday, March 19, 2016, at Suffolk Theater and will feature classic rockers Jefferson Starship, presented by Suffolk County National Bank and Certilman Balin Attorneys.
Winterfest is also very excited to announce the addition of the Long Island Wine Council's "Art of Wine" events. This exciting and hands-on series of over 23 wine-focused events gives visitors exclusive access to rare wines, Long Island's incredible winemakers and progressive winemaking techniques. Guests can spend a day or a weekend at Winterfest; special all-inclusive weekend or one day packages are available.
For all show schedules, ticketing, artist information, packages and special offer information, please visit www.liwinterfest.com or call J Faith Presents at 631-331-0808.
Additional Information
Conceived in 2006 by East End Arts, the Long Island Wine Council and the Long Island Convention and Visitors Bureau (LICVB), Winterfest Live on the Vine was created to encourage employment to musicians, and to bring tourists to the region during slower, winter months. In 2012, the festival was awarded the "National Destination Marketing Award" by Americans for The Arts and Destination Marketing International.
Winterfest Live on the Vine would not be possible without Presenting Sponsor, Suffolk County National Bank. The festival is a project of East End Arts, with support from the Long Island Convention and Visitors Bureau, the Long Island Wine Council, with additional support from NYSCA, Suffolk County, AARP, Certilman Balin Attorneys, Hamptons Art Hub, Hotel Indigo, and produced by veteran festival promoter J Faith Presents (Great South Bay Music Festival).
For 2016, Winterfest has again added headliners to the schedule, and widened the scope and theme of the festival. With the addition of the "Art of Wine" series, and non-musical events to the schedule, all are ingredients that Faith believes will help enhance the Winterfest Live on the Vine experience; the experience of this Winterfest is like no other. The combination of world-class music, in an architecturally stunning environment, amid the backdrop of the magnificent East End of Long Island, is what makes this festival the unique experience that it is!
Featured Artist & Venue Information
• The historic Suffolk Theater will host the festival Kickoff Concert and Party on Friday, February 19, featuring Toby Walker and Miles to Dayton; Grammy award-winning folk icon Judy Collins will perform on March 17; and the legendary Jefferson Starship will close the festival with a party on March 19.
• Performing on February 20 at Hotel Indigo East End, one of Long Island's newest boutique hotels, is Paul Simon Bassist Bakithi Kumalo with an all-star band. Stay overnight and wake up to the award-winning Late Night Gospel Choir for a raucous Gospel Sunday Brunch on February 21.
• Direct from New Orleans, Martha Clara Vineyards will present The Dirty Dozen Brass Band on March 5.
• Hotel Indigo East End will present Americana favorite Amy Helm – back for her second sold-out year – on March 12.
• Macari Vineyards will host the Grammy award-winning legend Randy Brecker quartet featuring Ada Rovatti on March 13.
• Bedell Cellars will present, direct from Lincoln Center, jazz giant Bryan Carter on March 20.
• Rocker Randy Jackson of Zebra will perform at Coffee Pot Cellars on March 20.
• Emerging artists include original rockers Miles to Dayton, Kerry Kearney Blues Band, Mundo Clave, HooDoo Loungers, Black & Sparrow, country rockers Joe Bayer Band and Six Gun, Billy Joel Tributes: Songs in the Attic and Cold Spring Harbor, Irish rockers Bangers & Mash, Bobby Sexton Jazz Trio, Danny Keane and Friends, and many more.
Media inquiries: For images of performing artists, past Winterfest events, or participating venues, please contact Festival Producer Jim Faith at jfaith@optonline.net or 631-331-0808.
For more information about Winterfest Live on the Vine, please visit: www.liwinterfest.com.
###
East End Arts, established in 1972, is a 501(c)3 not-for-profit arts organization, and operates a School of the Arts, an Art Gallery, and presents a variety of events and programs to promote the arts year-round. Proceeds from all events, sales, classes, donations, and memberships benefit the mission and commitment to building and enriching our community through the arts by way of education, support, advocacy, and inspiration.