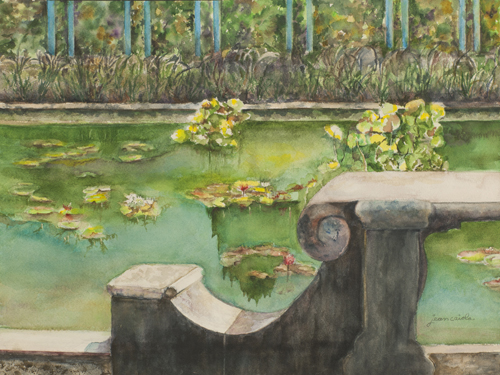 News Release
FOR IMMEDIATE RELEASE
Press contact: Stephanie Israel
631-727-0900
sisrael@eastendarts.org
Images available upon request
New Art Exhibition Featuring Watercolorist
JEAN CAIOLA
At Riverhead Town Hall Gallery
Exhibition starting March 15, 2016
Presented by East End Arts
(RIVERHEAD, NY, March 3, 2016) –– East End Arts is pleased to announce a new art exhibit at the Riverhead Town Hall Gallery, Journey of a Plein Air Artist, featuring the works of watercolorist Jean Caiola of Rocky Point, NY. The exhibition will open on Tuesday, March 15, 2016 and will run through May 13, 2016, and can be visited during Town Hall open office hours: Mondays through Fridays, 9:00 AM to 4:00 PM. Riverhead Town Hall is located at 200 Howell Avenue, Riverhead, NY (corner of Howell and East Main Street; 631-727-3200). The public is welcome; admission is free. All exhibited work is for sale. To purchase, contact East End Arts at 631-727-0900.
The artist will host two receptions: One on Tuesday, March 15, 2016 from 2:00 to 4:00 PM and another on Friday, April 5, 2016 from 2:00 to 4:00 PM. The receptions are open to the public and are a special opportunity to meet the artist. Refreshments will be served.
As a native of Long Island, artist Jean Caiola has always enjoyed its ever changing environment. Her plein air journey begins with a camera in search of a site which seems perfect for expression on canvas. Jean's passion and challenge is mainly watercolor but also includes the techniques using various media such as water base oils, charcoal in life drawing, and hand constructed clay. Jean has entered exhibits and has participated in juried shows at libraries, private galleries, wineries, the East End Arts Gallery, Greenport galleries and Gallery North. Travel workshops are something that Jean enjoys greatly, including the Wyeth Trails Workshop, Block Island Plein Air, and Rockport, MA with Elizabeth Greaf. In 2015, Jean participated in travel workshops that visited Paris and South France. Her travel workshops will continue in May 2016 when she will travel to Tuscany, Italy with PALS. In 2002, Jean retired from corporate America in search of fulfilling her passion for the arts. She worked at East End Arts as Special Events and Volunteer Coordinator and then at Gallery North as Volunteer Coordinator and Gallery Assistant as she began to seek more time for her own work. Jean volunteers and/or is a member at the following Long Island arts organizations: North Shore Art Guild, PALS, Cygnet, North Shore Art Forum, East End Arts, Gallery North, and Long Island Art League.
The Riverhead Town Hall art exhibits are a collaborative effort on the part of East End Arts and the Township of Riverhead to support local artists and introduce their works to the community.
For more information contact Jane Kirkwood, East End Arts Gallery Director: 631-727-0900 or gallery@eastendarts.org.
# # #
East End Arts, established in 1972, is a 501(c)3 not-for-profit arts organization, and operates a School of the Arts, an Art Gallery, and presents a variety of events and programs to promote the arts year-round. Proceeds from all events, sales, classes, donations, and memberships benefit the mission and commitment to building and enriching our community through the arts by way of education, support, advocacy, and inspiration.