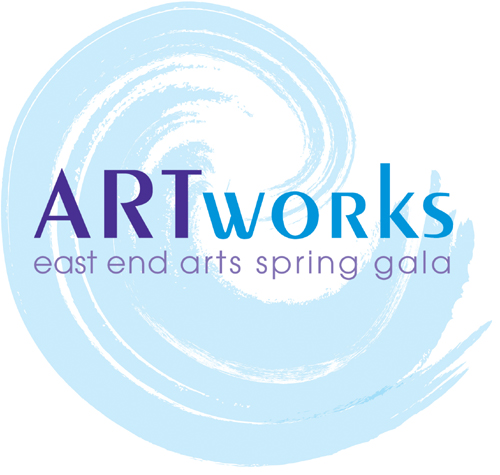 News Release
FOR IMMEDIATE RELEASE
Press contact: Stephanie Israel
631-727-0900
sisrael@eastendarts.org
Images available upon request
ARTworks 2016: East End Arts Spring Gala
HONORING Bank of America
Keynote Address by NILE RODGERS
Saturday, May 7, 2016 at East Wind, Wading River, NY
(RIVERHEAD, NY, April 7, 2016) –– East End Arts is thrilled to announce its ARTworks 2016 Spring Gala, to be held on Saturday, May 7, 2016, from 6:00 PM to 11:00 PM, at East Wind in Wading River, NY. The celebratory evening will honor Bank of America for its ongoing support of East End Arts. In addition, East End Arts is delighted to announce that Nile Rodgers – multiple Grammy-winning composer, producer, guitarist, co-founding member of the band Chic, and co-founder/chairman of the We Are Family Foundation – will serve as honorary chair and will give a keynote address. The gala evening – proceeds of which support the future of the arts on the East End – will feature:
• Cocktails and hors d'oeuvres;
• Dinner and dancing featuring One Love from New York, NY;
• Keynote address by Nile Rodgers;
• Live and silent auctions with Nicholas Dawes, VP of Special Collections at Heritage Auctions and frequent appraiser on Antiques Roadshow, featuring local artists' works and exclusive East End and NYC experiences.
Funds raised at ARTworks 2016 support East End Arts' mission to build and enrich the community through the arts by way of education, support, advocacy, and inspiration.
Bank of America has been a generous supporter of the organization, naming East End Arts a Neighborhood Builder in 2011, a prestigious national honor presented to only 90 nonprofit organizations per year. Bank of America defines Neighborhood Builder award recipients as an outstanding organization focused on local neighborhood priorities; and included with this honor was a two-year grant and executive training for East End Arts' leadership. Bank of America continues their support of East End Arts, annually.
"Providing arts access is key to building a thriving local community," says Bob Isaksen, Long Island president, Bank of America. "East End Arts lifts and educates the community through the arts, and Bank of America is proud to be a supporter."
Honorary chair Nile Rodgers comments about this special relationship with East End Arts: "I am so glad to be partnering with East End Arts and their mission of community enrichment through the arts and education. One universal language unites us all, and that is, The Arts. That is why East End Arts is a prime example of what I believe and stand for. Join me in supporting this wonderful organization and together, through the arts, we can make our world a better place."
Tickets start at $200 per person, and the deadline to reserve is April 25, 2016. Sponsorship opportunities are also available. Last year's event sold out in advance of the deadline, so we encourage everyone to reserve sooner than later.
For more information and to reserve tickets, visit:
http://www.eastendarts.org/programs/gala.html.
East End Arts invites members of the press to attend and cover this event. Please notify East End Arts if you are available during cocktail hour, opening remarks and keynote address (6:00 PM to approximately 8:00 PM) by emailing Marketing & PR Director Stephanie Israel at sisrael@eastendarts.org by May 3.
The lead sponsor for the ARTworks 2016 Gala is Bank of America, with additional support from Campolo, Middleton & McCormick, LLP, Içim and Mark Miller of Miller Environmental Group, Hotel Indigo East End, Peconic Landing, Dan's Papers, northforker, Empire National Bank, Farrell Fritz Attorneys, Long Island Game Farm, Hamptons Art Hub, Long Island Pulse, Eugene and Ann Burger, Cardona & Company, Emilie and Michael Corey, Lazer, Aptheker, Rosella & Yedid, P.C., and Mona and Jim Lennon.
Thank you to all ARTworks Gala 2016 Committee Members: Lorraine Aycock (co-chair), Robert Ward (co-chair), Jonathan Berdinka, Irma Giambone, Gregg Giangrasso, Jim Lennon, Eileen McGuire, Melinda Novak, Kristen Reyes, Rob Salvatico, Tom Sullivan, Mario Ticas.
Last year's hugely successful gala honored long-time supporters Suffolk County National Bank. ARTworks 2016 Spring Gala will continue the tradition of fun and fundraising in support of East and Arts!
More Information about Honorary Chair: Nile Rodgers
In addition to the ARTworks Gala, East End Arts is thrilled to be working closely with Grammy-winning music legend Nile Rodgers on a variety of upcoming projects and events in the Spring and Summer of 2016 that will greatly impact the music scene and the community of the East End of Long Island. Through a connection that has blossomed into a strong partnership, the legendary "hitmaker" and the community arts organization have worked closely to:
• Offer new music scholarship opportunities to minority youth on the East End with a generous donation to the scholarship fund at the East End Arts School by Nile Rodgers Productions.
• Support the selection of a local band and a solo artist to perform on the Main Stage at the FOLD Music Festival to be held August 12-14 at Martha Clara Vineyards on the North Fork, as well as including visual artists participation in the festival.
• Present a "Master Class" with Nile Rodgers to the public, where the community will learn about songwriting, guitar playing and the music industry directly from the "hitmaker", which will be held on Saturday, May 7 at 3:00 PM at the Suffolk Theater in Riverhead, NY. For more information and to purchase tickets, visit https://eastendartsorg.presencehost.net/school/classes.html/event/2016/05/07/nile-rodgers-master-class/119579.
• Offer Nile Rodger's wisdom on the music industry and his experiences with a Keynote Address at East End Arts ARTworks Gala which will also be held on Saturday, May 7 at 6:00 PM at the East Wind in Wading River, NY. For more information, visit http://www.eastendarts.org/events/gala.html.
For more information about each of these programs, visit www.eastendarts.org.
The career of Nile Rodgers is one of the most enduring and prolific in music. Among music legends, Nile Rodgers is truly exceptional. He amplifies his legacy as a Grammy-winning composer, producer, arranger, and guitarist by constantly traversing new musical terrain and successfully expanding the boundaries of popular music. As the co-founder of CHIC, Rodgers pioneered a musical language that sparked the advent of hip-hop with "Good Times," distinguished CHIC as the "most sampled band in history" (The Guardian, 2011), won CHIC ten Rock and Roll Hall of Fame nominations, and generated groundbreaking pop hits like "Le Freak," which was inducted into the 2015 Grammy Hall of Fame. His career-defining productions for David Bowie (Let's Dance), Madonna (Like A Virgin), Diana Ross (diana), and Sister Sledge (We Are Family), plus his work with artists like Duran Duran, INXS, Mick Jagger, Grace Jones, Steve Winwood, Peter Gabriel, The B-52s, and Michael Jackson, have sold over 200 million albums and 50 million singles worldwide while his innovative, trendsetting collaborations with Daft Punk, Avicii, Disclosure, and Sam Smith reflect the vanguard of contemporary music. Additionally, Nile is the Chairman and Founder of the We Are Family Foundation (WAFF).
For more information about Nile Rodgers, please contact Fran DeFeo PR at frandefeopr@gmail.com.
For more information, contact East End Arts at 631-727-0900.
# # #
East End Arts, established in 1972, is a 501(c)3 not-for-profit arts organization, and operates a School of the Arts, an Art Gallery, and presents a variety of events and programs to promote the arts year-round. Proceeds from all events, sales, classes, donations, and memberships benefit the mission and commitment to building and enriching our community through the arts by way of education, support, advocacy, and inspiration.