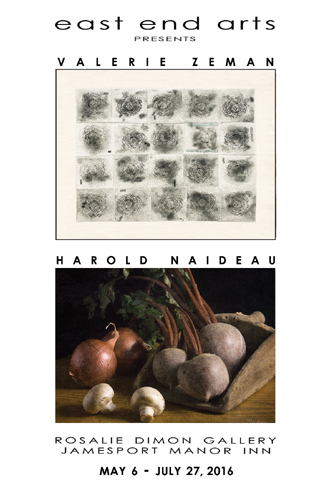 News Release
FOR IMMEDIATE RELEASE
Press contact: Stephanie Israel
631-727-0900
sisrael@eastendarts.org
Images available upon request
New Art Show at the Rosalie Dimon Gallery
Featuring Artists Valerie Zeman & Harold Naideau
Starting Friday, May 6
Presented by East End Arts
(RIVERHEAD, NY, April 13, 2016) –– East End Arts is pleased to announce the exciting new art show at the Rosalie Dimon Gallery, at the Jamesport Manor Inn (located at 370 Manor Lane in Jamesport, NY) featuring East End Arts members: textile/mixed media art by Valerie Zeman of Huntington, NY and still life photographs by Harold Naideau of Northport, NY. The show opens on Friday, May 6, 2016 and will be up for viewing until July 27, 2016. An Artists Reception will be held on Sunday, May 15, from 3:00 PM to 5:00 PM at the Rosalie Dimon Gallery, where the public will have the opportunity to meet the artists. Local wines and artisanal cheeses will be served. The public is invited to this free event. The exhibition is open for viewing during the Jamesport Manor Inn's open hours: Wednesdays through Sundays, 12:00 PM to 10:00 PM during lunch and dinner service.
Textile/mixed media artist Valerie Zeman's work is mixed media with a focus on art textiles. Valerie loves cloth and her starting point is a plain, white piece of 'canvas'; currently linen, silk or cotton. Using cloth offers Valerie the scope to work with a wider range of media – including dye and discharging agents, inks, paints, graphite and thickened dye. Hand stitch is important for Valerie as a meditative process, which allows her to get up close and handle the cloth. Machine stitching is also used as a way to bring overall cohesiveness. Stitching, either by hand or machine, adds layers and textures to each art textile piece. Valerie's current work is a reflection of her lifelong love affair with the East End of Long Island and her ongoing discoveries of the sights and colors of Manhattan.
Harold Naideau is a photographer, artist, author and a Professor of Photography at several colleges on Long Island, New York. His most recent collection of fine art photographs, "Still Lifes" are printed directly onto birch wood, allowing the flowing patterns of natural grain to show through and enhance the imagery. Both his photography and his photographic techniques show us the melding of old and new.
More Information about the Rosalie Dimon Gallery
Exhibits at the Rosalie Dimon Gallery are a joint effort by East End Arts and the Jamesport Manor Inn to introduce exceptional artists and their work to the East End communities. East End Arts members who wish to be considered for exhibits at the Jamesport Manor Inn should have updated representations of work in the East End Arts Artist Registry at the East End Arts Gallery, located at 133 East Main Street, Riverhead, NY. The artists selected for East End Arts' off-site gallery shows are chosen by committee.
For more information, contact Jane Kirkwood, East End Arts Gallery Director: 631-727-0900 or gallery@eastendarts.org or visit www.eastendarts.org.
For more information about viewing the exhibition, call 631-722-0500 or visit www.JamesportManorInn.com.
# # #
East End Arts, established in 1972, is a 501(c)3 not-for-profit arts organization, and operates a School of the Arts, an Art Gallery, and presents a variety of events and programs to promote the arts year-round. Proceeds from all events, sales, classes, donations, and memberships benefit the mission and commitment to building and enriching our community through the arts by way of education, support, advocacy, and inspiration.