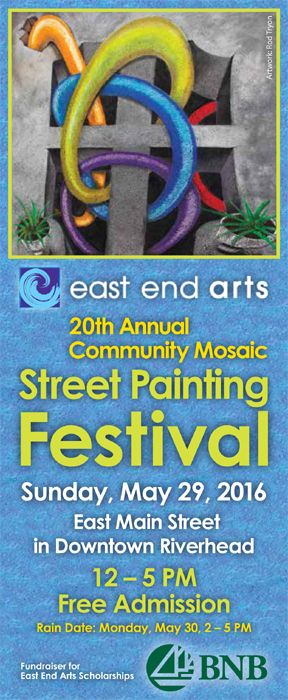 News Release
FOR IMMEDIATE RELEASE
Press contact: Stephanie Israel
631-727-0900
sisrael@eastendarts.org
Images available upon request
East End Arts 20th Annual
Community Mosaic Street Painting Festival
Sunday, May 29, 2016 in Downtown Riverhead
FUN FOR THE ENTIRE FAMILY!
(RIVERHEAD, NY, April 18, 2016) –– East End Arts is pleased to announce the 20th Annual Community Mosaic Street Painting Festival to be held Sunday, May 29, 2016, from 12:00 PM to 5:00 PM in downtown Riverhead, NY. Admission is free. The festival features street painting, an art form dating back to 16th Century Italy – called "I Madonnari" – where street painters created works of art in front of cathedrals to pay homage to the Virgin Mary. Today, street painters at the Community Mosaic Street Painting Festival create images ranging from: pop culture to historical figures, portraits to landscapes, comedy to tragedy. This beloved annual fun-for-the-entire-family festival includes street painting on Main Street, a fine arts & crafts fair featuring local artists and artisans, live music and performance on the Riverhead Town Show Mobile, a drum circle, gourmet food trucks, various arts, crafts, dance, and music activities for the whole family, and more. Stay connected with our online community using #eearts.
For more information about the event, to register to be a street painter, or for an artist vendor application, visit: http://www.eastendarts.org/programs/events/community-mosaic.html.
This event draws over 5,000 local residents and tourists to downtown Riverhead for a Memorial Day Weekend tradition where families and friends, artists, musicians, and lovers of the arts, young and old, enjoy the creative spirit together. All activities take place in downtown Riverhead on East Main Street, between Roanoke Ave and East Avenue, and on the grounds of East End Arts (133 and 141 East Main Street.) In the case of rain, the event will be held on Monday, May 30, from 2:00 PM to 5:00 PM.
The 20th Annual Community Mosaic Street Painting Festival is made possible by the generous support of sponsors. East End Arts extends thanks to lead sponsor, Bridgehampton National Bank, as well as Suffolk County National Bank, AARP, Four Seasons Sun Rooms, Renewal by Anderson, Campolo, Middleton & McCormick, LLP, Splish Splash, with additional support by Conifer Realty LLC / Peconic Crossing, Martha Clara Vineyards, Talmage Farm Agway, Woolworth Apartments, Long Island Pulse, RiverheadLocal.com, Macaroni Kid Riverhead, and Fresh 102.7 FM. Many sponsorship opportunities are available; contact East End Arts for more info.
For more information, contact Sheree M.C. Elder, Events Coordinator, at 631-727-0900 or events@eastendarts.org, or visit the East End Arts Gallery located at 133 E. Main Street in Riverhead, NY (hours are Tuesday through Saturday, 10:00 AM to 4:00 PM.)
# # #
East End Arts, established in 1972, is a 501(c)3 not-for-profit arts organization, and operates a School of the Arts, an Art Gallery, and presents a variety of events and programs to promote the arts year-round. Proceeds from all events, sales, classes, donations, and memberships benefit the mission and commitment to building and enriching our community through the arts by way of education, support, advocacy, and inspiration.