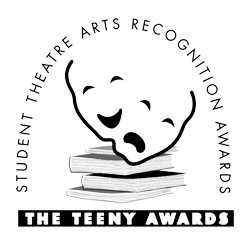 News Release
FOR IMMEDIATE RELEASE
Contact: Anita Boyer, Teeny Awards Coordinator
teenyawards@eastendarts.org
740-607-6748
Images available upon request
East End Arts Presents
14th Annual Teeny Awards Ceremony
Sunday, June 5, 2016
At Shoreham-Wading River High School, Hosted by Walker Vreeland, WBAZ
(RIVERHEAD, NY, April 19, 2016) – East End Arts is pleased to announce that the 14th Annual Teeny Awards Ceremony will be held on Sunday, June 5, 2016 at Shoreham-Wading River High School. The Teeny Awards, conceived from the idea of the Antoinette Perry Awards – The Tony Awards – for Broadway shows, has been celebrating excellence in high school theatre across the East End of Long Island since 2002. Through the Teeny Awards program, East End Arts strives to raise the bar on theatre education by encouraging increased attendance and community pride at school productions, much like school sports programs. Behind-the-scenes coordination takes place throughout the school year, as volunteer judges attend all high school theatrical performances on the East End to determine the best for nomination, and in June, the winners are announced at the Teeny Awards Gala Ceremony. At the Ceremony, the public is invited to relive some great performances from this year's shows from the 16 participating high schools in the region, and celebrate the best of the best in East End high school theatre! The awards are presented by esteemed community members, theatre professionals, and arts supporters, and will be hosted by radio personality, broadcaster, host and interviewer, Walker Vreeland. On Sunday, June 5, 2016, the Red Carpet will begin at 1:30 PM in the auditorium lobby, and the Ceremony will commence at 3:00 PM. Shoreham-Wading River High School is located at 250 NY Route 25A, Shoreham, NY.
For more information and to purchase tickets, visit http://www.eastendarts.org/programs/teeny-awards.html. Adult tickets are $20 in advance (must purchase by 10:00 AM on Friday, June 3), and $25 at the door; student tickets are $10 in advance, and $12 at the door.
The award nominees will be announced on Wednesday, May 4 on WPPB 88.3 FM at 9:00 AM with Bonnie Grice on her morning radio show, and immediately following on WBAZ 102.5 FM.
"Everyone has been asking me how are we going to top last year," said Anita Boyer, Teeny Awards Coordinator. "Thanks to Teeny Award alumni Rob Hinderliter, we had some incredible surprises including guest presenters Dame Helen Mirren and Tony Yazbeck! We also had an epic opening number which I coordinated with our host Walker Vreeland and included representation from every single school involved with the Teeny Awards, and it was such a fun collaboration and opportunity for the students and directors to work together. Walker and I are meeting to figure out what we can do to make this year's ceremony special. He is so passionate about the program and is thrilled to be back as our host! I do have an opening number in mind... perhaps a rap on the history of our program... hint hint! Walker will also be bringing WBAZ 102.5 FM to broadcast LIVE from the red carpet again as well because that was a huge hit!"
The Teeny Awards recognizes student talent with judging categories such as Lead Actor, Lead Actress, Supporting Actor, and Supporting Actress in the categories of Plays and Musical. Individual awards also go for design categories including Program Art and Choreography and recognition is given for set design, stage managing, lighting and sound design and student direction. The coveted "Judges' Choice" award goes to an exemplary performance or performer and has sometimes gone to an entire cast or play, but it can also go to an individual.
Last year's Teeny Awards Ceremony was full of surprises, including cameos by Tony Award and Academy Award winner Dame Helen Mirren and Tony Award nominee Tony Yazbeck, thanks to Teeny Awards alumnus and now Broadway Producer and Tony Award winner Rob Hinderliter (On The Town, An American in Paris, and You Can't Take it With You). At last year's Teeny Awards Ceremony held at Center Moriches High School, the crowd went wild as the surprise unfolded and these big Broadway and Hollywood names announced some of the Teeny Awards winners through a video presentation. To view this video, visit https://www.youtube.com/watch?v=eulubBrPkyg or http://www.eastendarts.org/programs/teeny-2015-nominees.html.
The 14th Annual Teeny Awards is made possible by the support of sponsors. East End Arts extends its thanks to lead sponsor Suffolk County National Bank, with additional support from Riverhead Toyota, Macy's, Campolo, Middleton & McCormick, LLP, Empire National Bank, as well as, Mary Ann & Joseph Martorano, Sea Tow, Tanger Outlets of Riverhead, Bridgehampton National Bank, Dr. Joseph Duva, and media sponsors WPPB 88.3 FM, WBAZ 102.5 FM, and myLITV.com.
For more information about the Teeny Awards, contact Anita Boyer at teenyawards@eastendarts.org, or visit http://www.eastendarts.org/programs/teeny-awards.html.
# # #
East End Arts, established in 1972, is a 501(c)3 not-for-profit arts organization, and operates a School of the Arts, an Art Gallery, and presents a variety of events and programs to promote the arts year-round. Proceeds from all events, sales, classes, donations, and memberships benefit the mission of bringing the arts to everyone and inspiring communities through service, advocacy and education.