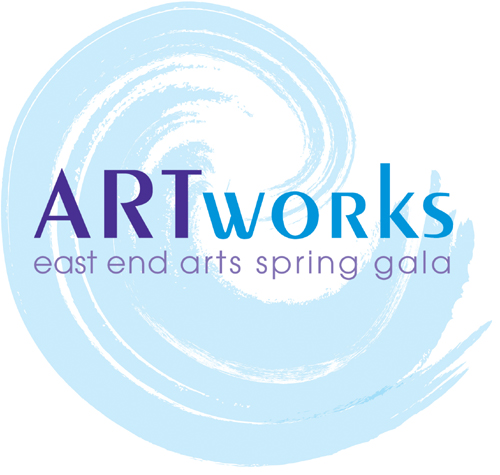 News Release
FOR IMMEDIATE RELEASE
Press contact: Stephanie Israel
631-727-0900
sisrael@eastendarts.org
Images available upon request
NEWS & PHOTOS
ARTworks 2016 East End Arts Spring Gala – A Great Success!
Held on Saturday, May 7, 2016 at East Wind, Wading River
(RIVERHEAD, NY, May 18, 2016) –– East End Arts is thrilled to announce the great success of its ARTworks Spring Gala 2016, which was held on Saturday, May 7, 2016, at East Wind in Wading River, NY. The celebratory evening honored generous East End Arts supporters Bank of America and included a keynote address by honorary chair, Nile Rodgers – multiple Grammy-winning composer, producer, guitarist, co-founding member of the band Chic, founder of FOLD "Freak OUT! Let's Dance!" Music Festival, and co-founder/chairman of the We Are Family Foundation. Additionally, the evening featured live and silent auctions with Nick Dawes of Heritage Auctions and frequent appraiser on Antiques Roadshow – with the live auction including two Fender Stratocaster guitars signed by Nile Rodgers; music by One Love; and musical performances by students of the East End Arts School. Proceeds from this fundraising event help support the future of the arts on the East End and East End Arts mission to build and enrich our community through the arts by way of education, support, advocacy, and inspiration.
Photos from the event can be viewed at:
https://www.facebook.com/media/set/?set=a.1167493079967953.1073741880.524631970920737&type=3
Press photos with captions can be downloaded from the below link. Photo credit © Lenny Stucker. https://www.dropbox.com/sh/qgzfh0sj6731gig/AABlKBuX7aYOdoc9jo_l562Aa?dl=0
Honorary chair Nile Rodgers comments about this special relationship with East End Arts: "I am so glad to be partnering with East End Arts and their mission of community enrichment through the arts and education. One universal language unites us all, and that is, The Arts. That is why East End Arts is a prime example of what I believe and stand for. Join me in supporting this wonderful organization and together, through the arts, we can make our world a better place."
Patricia Snyder, Executive Director of East End Arts comments: "The Artworks 2016 Gala was an amazing night for everyone. We are so grateful to have had the pleasure of honoring Bank of America. Their commitment to the arts and community development mirrors that of East End Arts and makes for a strong partnership. We look forward to working with the fine folks at Bank of America for a long time to come. Our new relationship with Nile Rodgers is the icing on the cake! We are pleased to be welcoming Nile back to the East End for the 2016 FOLD Music Festival and we are so appreciative of his interest in the work we do at EEA to support and nurture the arts. Another strong partnership!"
For more information, visit http://www.eastendarts.org/programs/gala.html.
The lead sponsor for the ARTworks 2016 Gala is Bank of America, with additional support from Campolo, Middleton & McCormick, LLP, Içim and Mark Miller of Miller Environmental Group, Hotel Indigo East End, Peconic Landing, Dan's Papers, northforker, Empire National Bank, Farrell Fritz Attorneys, Long Island Game Farm, Hamptons Art Hub, Long Island Pulse, Eugene and Ann Burger, Cardona & Company, Emilie and Michael Corey, Lazer, Aptheker, Rosella & Yedid, P.C., and Mona and Jim Lennon, Peconic Bay Medical Center (a member of Northwell Health), Riverhead Building Supply, and Woolworth Apartments.
Thank you to all ARTworks Gala 2016 Committee Members: Lorraine Aycock (co-chair), Robert Ward (co-chair), Jonathan Berdinka, Irma Giambone, Gregg Giangrasso, Jim Lennon, Eileen McGuire, Melinda Novak, Kristen Reyes, Rob Salvatico, Tom Sullivan, Mario Ticas.
For more information, contact East End Arts at 631-727-0900 or agomberg@eastendarts.org.
# # #
East End Arts, established in 1972, is an award-winning 501(c)3 not-for-profit arts organization, and operates a School of the Arts, an Art Gallery, and presents a variety of events and programs to promote the arts year-round. Proceeds from all events, sales, classes, donations, and memberships benefit the mission and commitment to building and enriching our community through the arts by way of education, support, advocacy, and inspiration.