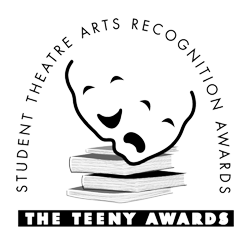 MEDIA ALERT: PRESS COVERAGE INVITATION
FOR IMMEDIATE RELEASE
Contact: Anita Boyer, Teeny Awards Coordinator
teenyawards@eastendarts.org
740-607-6748
Images available upon request
Press Coverage Invitation
14th Annual Teeny Awards Ceremony: Sunday, June 5, 2016
Presented by East End Arts at Shoreham Wading-River High School
Hosted by Rob Hinderliter, Tony Award and Drama Desk Award winning Broadway producer and actor, and former two-time Teeny Award nominee
(RIVERHEAD, NY, May 25, 2016) –– East End Arts invites press to cover the 14th Annual Teeny Awards Ceremony, to be held on Sunday, June 5, 2016 at Shoreham-Wading River High School. At this formal awards ceremony, the public is invited to relive some great performances from this year's shows from the 16 participating high schools in the region, and celebrate the best of the best in East End high school theatre! The awards are presented by esteemed community members, theatre professionals, and arts supporters, and hosted by Rob Hinderliter, Tony Award and Drama Desk Award winning Broadway producer and actor, and former two-time Teeny Award nominee.
On Sunday, June 5, the Red Carpet will begin at 1:30 PM in the auditorium lobby, doors to the event will open at 2:30 PM, and the Ceremony will commence promptly at 3:00 PM. Press are invited to interview and photograph/video nominees, presenters, and organizers on the red carpet, as well as throughout the ceremony. Shoreham-Wading River High School is located at 250 NY Route 25A, Shoreham, NY.
Members of the press are asked to please notify East End Arts if they are able to cover the event by emailing teenyawards@eastendarts.org or sisrael@eastendarts.org by Thursday, June 2.
For the complete list of this year's Teeny Award nominees, visit: http://www.eastendarts.org/programs/teeny-2016-nominees.html.
The Teeny Awards Ceremony is open to the public; tickets may be purchased at East End Arts' website: http://www.eastendarts.org/programs/teeny-awards.html. Adult tickets are $20 in advance (must purchase by 10:00 AM on Friday, June 3), and $25 at the door; student tickets are $10 in advance, and $12 at the door.
The 14th Annual Teeny Awards is made possible by the support of sponsors. East End Arts extends its thanks to lead sponsor Suffolk County National Bank, with additional support from Riverhead Toyota, Campolo, Middleton & McCormick, LLP, Empire National Bank, Macy's, as well as, Joanna Paulson & Jed Clauss, Mary Ann & Joseph Martorano, Sea Tow, Tanger Outlets of Riverhead, Bridgehampton National Bank, Dr. Joseph Duva, and media sponsors WPPB 88.3 FM, WBAZ 102.5 FM, and myLITV.com.
More About the Host & Master of Ceremonies: Rob Hinderliter
Rob Hinderliter, a former two-time TEENY Award nominee and Westhampton Beach High School graduate, is a TONY Award and Drama Desk Award winning (All The Way, starring Bryan Cranston) Broadway producer and actor. Additionally, along with his production company, R&D Theatricals, he has been nominated for four additional TONY and Drama Desk awards including Best Play, Best Revival of a Play, Best Musical, and Best Revival of a Musical for: You Can't Take It With You, starring James Earl Jones; An American in Paris; On The Town; and this season, Deaf West's Revival of Spring Awakening. As former Executive Producer of Broadway Records, a record label dedicated to theatrical cast recordings, Rob produced over 25 albums in the first two years of the company, including the 2014 GRAMMY nominated Matilda: The Musical Broadway Cast Recording. This Fall, Wakefield, starring Bryan Cranston and Jennifer Garner, for which he Executive Produced, will premiere in the major film festival circuit in addition to its wide theatrical film release. R&D Theatricals is dedicated to the fostering and subsequent production of new American Plays and Musicals, new American writers, and actors alike. He would like to express his immense gratitude to East End Arts for their continued work on the preservation and implementation of the arts curriculum for students across the East End of Long Island, as well as all high school music and theatre instructors and directors.
More About East End Arts Teeny Awards Program
The Teeny Awards, conceived from the idea of the Antoinette Perry Awards – The Tony Awards – for Broadway shows, has been celebrating excellence in high school theater across the East End of Long Island since 2002, and is presented and coordinated by East End Arts. Through the Teeny Awards program, East End Arts strives to raise the bar on theater education by encouraging increased attendance and community pride at school productions, much like school sports programs. Behind-the-scenes coordination takes place throughout the school year, as volunteer judges attend all high school theatrical performances on the East End to determine the best for nomination, and in June, the winners, the best of the best, are announced at the Teeny Awards Ceremony.
For more information about the Teeny Awards, contact Teeny Awards Coordinator Anita Boyer at teenyawards@eastendarts.org or 740-607-6748, or visit http://www.eastendarts.org/programs/events/teeny-ceremony.html.
# # #
East End Arts, established in 1972, is an award-winning 501(c)3 not-for-profit arts organization, and operates a School of the Arts, an Art Gallery, and presents a variety of events and programs to promote the arts year-round. Proceeds from all events, sales, classes, donations, and memberships benefit the mission of bringing the arts to everyone and inspiring communities through service, advocacy and education.