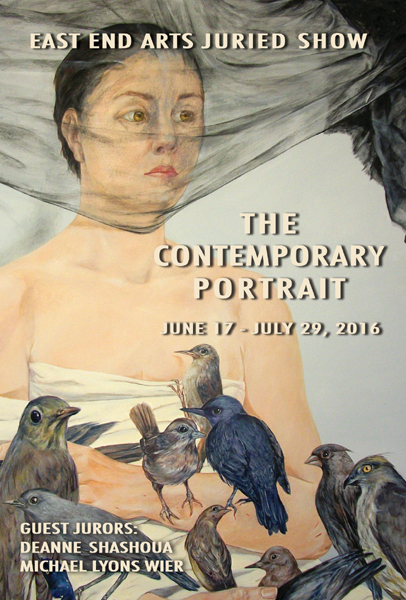 News Release
FOR IMMEDIATE RELEASE
Press contact: Stephanie Israel
631-727-0900
sisrael@eastendarts.org
Images available upon request
THE CONTEMPORARY PORTRAIT
A Juried East End Arts Gallery Show
Opening Reception: Friday, June 17, 5-7 PM
Show Dates: June 17 – July 29, 2016
(RIVERHEAD, NY, June 2, 2016) –– The East End Arts Gallery is pleased to announce the new juried, all media art show, The Contemporary Portrait, at the East End Arts Gallery which will open with a reception on Friday, June 17, from 5:00 PM to 7:00 PM. This show will be juried by Deanne Shashoua and Michael Lyons Wier of Lyons Wier Gallery, New York, NY.
East End Arts Gallery Director Jane Kirkwood encourages artists to enter their works and comments on the theme: "It's not just about replicating superficial features, it's about capturing something deeper and therefore more authentic about an individual. It's the gesture that predicts the character, an expression that reveals the thinker. When skill expresses insight, the artist rocks the portrait."
At the reception, the public is invited to enjoy refreshments and meet the artists. The reception is a free event, open to the public. Artwork on exhibit is for sale. The show will run from the opening reception through July 29, 2016. The East End Arts Gallery is located at 133 East Main Street in Riverhead, NY and open hours are Tuesdays through Saturdays, 10:00 AM to 4:00 PM.
For more information about this show, visit http://www.eastendarts.org/gallery/2016-contemporary-portrait.html.
Guest juror Michael Lyons Wier holds an A.A. in Graphic Design, Fine Art and Painting studies from Florida School of the Arts; a B.A. in Art History from University of South Florida, Tampa; and an M.A. in Arts Administration and Museum Studies from the The School of the Art Institute of Chicago (SAIC). Upon graduation, Michael Lyons Wier worked at various galleries in Chicago from 1989 through 1993. In 1993, Michael Lyons Wier opened Lyons Wier Gallery in the River North Art Community in Chicago and helped establish the second wave of young galleries in the district. The gallery initially focused on artwork by SAIC professors and recent graduates. Lyons Wier Gallery later became known as one of the top galleries in Chicago for representing New Figurative and Imagist artists. In 2000, Michael Lyons Wier relocated Lyons Wier Gallery to New York City. In 2011, Lyons Wier Gallery found its current ground floor location at 542 West 24th Street and has established itself as one of the premier representational galleries in Manhattan. For more information about the juror, visit http://www.eastendarts.org/gallery/2016-contemporary-portrait.html.
Original works in all media may be submitted, including: painting, drawing, photography, mixed media, video, and sculpture; up to three entries can be submitted per artist. Visual art entry drop-off dates are Thursday, June 9 through Saturday, June 11 at the East End Arts Gallery. For all entry information and complete submission schedule, visit https://eastendartsorg.presencehost.net/calendar/events.html/event/2016/06/11/1465621200/artist-entry-drop-off-for-the-contemporary-portrait-gallery-show/122111.
The "Best in Show" winner of this show will be one of several artists who will participate in the East End Arts Gallery's Winners' Show in the Fall of 2017. First, Second, Third Place, and Honorable Mentions will also be awarded.
This show is one of seven art shows of 2016 at the East End Arts Gallery, under the continuing umbrella theme "The Creative Process". The complete 2016 Gallery Schedule can be viewed at http://www.eastendarts.org/gallery/.
Programs of the East End Arts Gallery are made possible with public funding provided by New York State Council of the Arts, Suffolk County, and the Town of Riverhead.
For more information, contact Gallery Director Jane Kirkwood at 631-727-0900 or gallery@eastendarts.org.
# # #
East End Arts, established in 1972, is a 501(c)3 not-for-profit arts organization, and operates a School of the Arts, an Art Gallery, and presents a variety of events and programs to promote the arts year-round. Proceeds from all events, sales, classes, donations, and memberships benefit the mission and commitment to building and enriching our community through the arts by way of education, support, advocacy, and inspiration.