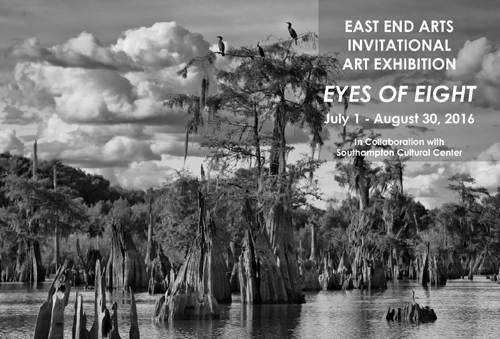 News Release
FOR IMMEDIATE RELEASE
Press contact: Stephanie Israel
631-727-0900
sisrael@eastendarts.org
Images available upon request
East End Arts Invitational Art Exhibition
EYES OF EIGHT
An exhibition of the vision of eight regional
award-winning photographic artists
In Collaboration with Southampton Cultural Center
Exhibit Starting Friday, July 1
(RIVERHEAD, NY, June 29, 2016) –– East End Arts is pleased to announce a new art invitational exhibition at the Southampton Cultural Center featuring the vision of eight regional award-winning photographers: Eyes of Eight. This art exhibit begins Friday, July 1 and will be on display at the Southampton Cultural Center through August 30, 2016. This exhibition is curated by Steven Schreiber. An Artists' Reception will be held on Friday, July 22, 2016 from 5:00 to 7:00 PM where the public and community are invited to this free event to meet the artists and learn about their processes and inspirations. The Southampton Cultural Center is located at 25 Pond Lane in Southampton, NY.
Photographers featured in this exhibit and sale are:
• Scott Farrell of Huntington Station, NY – Long Island-based photographer Scott Farrell has an eclectic vision and considers an array of subjects for his images that spans landscapes, rural and urban scenes, and geometric and abstract compositions of architecture.
• Alex Ferrone of North Fork – Based on the North Fork and photographing by helicopter as a commercial aerial photographer, Alex Ferrone has developed her current fine art photography concentration into a unique body of work called "Aerial Observations."
• Ray Germann of Ridge, NY – Long Island based photographer Ray Germann began documenting New York City in 1978 and has included street scenes, people, architectural sites, and various neighborhoods, walking many of Manhattan's neighborhoods in exploration of striking images for his work.
• Gerry Giliberti of East Hampton, NY – A long-time Springs, East Hampton resident, Gerry Giliberti is a print-based photographic artist who uses graphics, photography, sculpture and digital imagery to create abstract, surrealistic images and constructions that bring the viewer into a new visual world.
• Janet Glazer of New York, NY – Janet Glazer is fond of smaller compositions that draw the viewer in, some are meditative and others burst with energy.
• Katherine Liepe-Levinson of New York, NY – New York City and East End resident Katherine Liepe-Levinson creates award-winning photographs that derive the intensity of their colors and forms from her awareness of light, lens speed, camera angle and reflective surfaces.
• Steven Schreiber of Flanders, NY (exhibition curator) – East End resident Steven Schreiber began photographing nature with his digital camera years ago and soon found a personal approach to visual textures, tones, and colors that are essential in his color and black & white photographic creations.
• Alex Vignoli of Water Mill, NY – Originally from Brazil, in his youth, Alex Vignoli was first inspired by photography from his father's photographs and slides of work with the United Nations Peacekeeping Operations in Gaza, Israel and Europe.
Exhibition curator, Steven Schreiber comments: "The eight photographers in this exhibit are some of the finest in the region. Their works are diverse in subject and profoundly illustrate the emotions and feelings of each artist."
All exhibited work is for sale; to purchase, contact East End Arts at 631-727-0900. For more information about the exhibition, as well as complete artist bios, visit https://eastendartsorg.presencehost.net/calendar/event/2016/07/01/1467349200/eea-invitational-exhibit-at-southampton-cultural-center-eyes-of-eight/130051. For gallery hours and updates, visit https://www.facebook.com/eyesofeightexhibit.
East End Arts is honored to collaborate with the Southampton Cultural Center on this project.
For more information contact East End Arts at 631-727-0900 or info@eastendarts.org.
# # #
East End Arts, established in 1972, is a 501(c)3 not-for-profit arts organization, and operates a School of the Arts, an Art Gallery, and presents a variety of events and programs to promote the arts year-round. Proceeds from all events, sales, classes, donations, and memberships benefit the mission and commitment to building and enriching our community through the arts by way of education, support, advocacy, and inspiration.