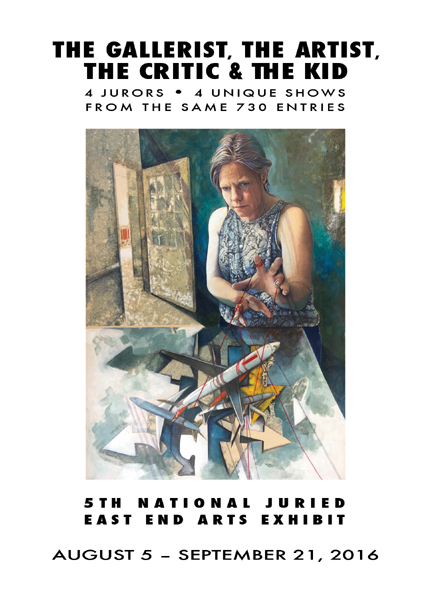 News Release
FOR IMMEDIATE RELEASE
Press contact: Stephanie Israel
631-727-0900
sisrael@eastendarts.org
Images available upon request
East End Arts Presents 5th Annual National Art Competition & Exhibit
The Gallerist, The Artist, The Critic, & The Kid
Four Different Jurors Choose
Four Different Exhibits from the Same Pool of Entries
Exhibit Dates: August 5 – September 21, 2016
(RIVERHEAD, NY, July 6, 2016) –– The East End Arts Gallery is thrilled to announce the winner of their fifth annual national juried art exhibit. This year's national competition and exhibit has a very unique concept and a highly unusual competition: the four jurors have independently judged the 730 two-dimensional artwork entries which resulted in four very different shows of approximately 50 works of art in each show. The title of the competition and exhibit is The Gallerist, The Artist, The Critic, & The Kid.
East End Arts Gallery Director Jane Kirkwood comments: "The idea for and purpose of this show was to answer the eternal question: 'Why did the juror select these works? Why wasn't my art picked to be in the exhibit?' The hope was to show how very subjective the rating of 'good' versus 'not so good' is when it comes to art. The first three jurors are eminently qualified: (1) Peter Marcelle is 'The Gallerist' – owner of The Peter Marcelle Project Gallery in Southampton, NY, famous for brokering Andrew Wyeth's 'Helga paintings'; (2) Eric Ernst 'The Artist' is an internationally renowned artist and columnist, and is the grandson of world famous artist Max Ernst, so he has been exposed to the most universally celebrated works of art his entire life; (3) Joyce Beckenstein is 'The Critic' of the group – she is an art historian, arts writer, contributing editor to Sculpture magazine, and a contributor to the New York Times, Woman's Art Journal, and other professional arts publications; and the fourth juror (4) 'The Kid' is, well… a kid. Her name is Celina Jones from East Hampton Middle School and she was chosen by lottery from a group of artistically inclined 7th graders from East End public schools. Now that the results are finally in, I can tell you that this show has really proven the point about art competitions being the singular vision of one person – the four jurors submitted vastly different selections for the exhibits. That's not to say a few excellent pieces didn't appear in three or even all four shows. We are excited to be presenting this concept as an interesting departure from the average art competition."
The artwork selected by 'The Gallerist' juror Peter Marcelle as 'Best in Show' is Control, a mixed media piece by Northport, NY artist Margaret Minardi, which is part of a series of paintings that the artist completed on the subject of her bipolar daughter. As the winner, Minardi will receive a seven-day stay in East End Arts Artist Residence, plus $1,000 cash, and inclusion in a group show at The Peter Marcelle Project, art gallery in Southampton, NY. Additional awards were granted to three outstanding works, including: First Place, which went to Andrea created in graphite and oil by Gail Postal of New York, NY; Second Place, to Day Dreams created in mixed media by Martha Brouwer of Hadley, MA; and Third Place, to Cara created in acrylic by Deborah Belica of Garden City, NY.
The 48 works selected for 'The Gallerist' exhibit will be on display from August 5 through September 21, 2016 at the East End Arts Gallery, located at 133 East Main Street in Riverhead, NY. The exhibits of The Artist, The Critic, & The Kid will be viewable on monitors in the East End Arts Gallery during this time, as well as at www.eastendarts.org. The 5th Annual National Show exhibit will open with a reception on Friday, August 5, 2016 from 5:00 to 7:00 PM. The public is invited to view the exhibit and meet the artists at this free event; refreshments will be served. For more information, visit http://www.eastendarts.org/gallery/national-show-2016.html.
Other honorariums went to:
• Towards the Light created in acrylic by Marilyn Church of New York, NY was selected as 'Best in Show' by 'The Artist' – Eric Ernst.
• Out of the Box a painting in oil by Debra Keirce of Broadlands, VA was selected as 'Best in Show' by 'The Critic' – Joyce Beckenstein.
• Taos Sunflower created in oil on canvas by Sally Ruddy of Waterford, CA was selected as 'Best in Show' by 'The Kid' – Celina Jones, age 12 from East Hampton Middle School.
For more information about East End Arts 5th Annual National Competition and Exhibit, visit: http://www.eastendarts.org/gallery/national-show-2016.html.
Artist Statement from 'Best in Show' winner Margaret Minardi of Northport, NY:
"I am the mother of a bipolar, adopted child. Her middle teen years have had a profound effect on my life and my artwork. Melissa was very quiet in her early teens, only using the word "meow" to respond to questions and comments. As time went by her depression deepened and it became obvious that she was in great emotional pain. Sometimes Melissa was strong enough to valiantly fight her plight. Other times the hurting inside her could not be hidden. Her face bore screaming defeat. This series is a reaction to this psychologically charged period in Melissa's life. Symbolism in these works include tornados, black grackles and ominous skies. Texture and pattern are prominent. For the past year I have been refining a digital monotype process that I had stumbled upon years ago in my classroom. The technique I use creates an ink grain texture that looks very much like a lithograph."
East End Arts Executive Director Pat Snyder comments: "We are pleased to be providing artists, both local and national, the opportunity to exhibit in a nationally recognized show with judges of formidable stature. Our fifth annual National Juried Art Show is a significant addition to the important and sophisticated art scene on the East End of Long Island."
This exhibit is sponsored by Martha Clara Vineyards, Hamptons Art Hub, and Campolo, Middleton & McCormick, LLP.
Programs of the East End Arts Gallery are made possible with public funding provided by the New York State Council on the Arts, Suffolk County, and the Town of Riverhead.
For more information, contact Gallery Director Jane Kirkwood at 631-727-0900 or gallery@eastendarts.org.
# # #
East End Arts, established in 1972, is an award-winning 501(c)3 not-for-profit arts organization, and operates a School of the Arts, an Art Gallery, and presents a variety of events and programs to promote the arts year-round. Proceeds from all events, sales, classes, donations, and memberships benefit the mission and commitment to building and enriching our community through the arts by way of education, support, advocacy, and inspiration.