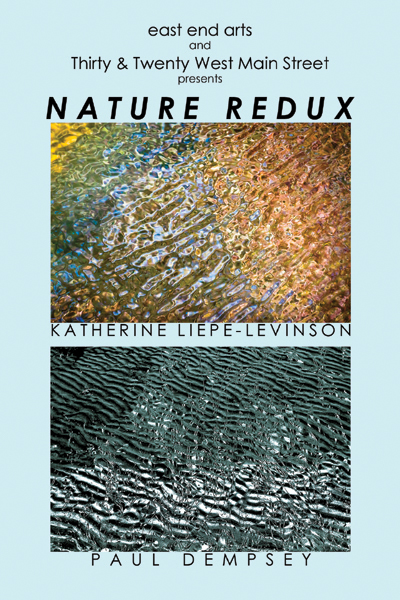 News Release
FOR IMMEDIATE RELEASE
Press contact: Stephanie Israel
631-727-0900
sisrael@eastendarts.org
Images available upon request
East End Arts and Thirty & Twenty West Main Present
NATURE REDUX
Photographic Works by
Katherine Liepe-Levinson & Paul Dempsey
And a Wildlife Awareness Installation curated by Paul Dempsey
Opening Reception: Thursday, August 11, 5 – 8 PM
At 30 West & 20 West Main Street, Riverhead, NY
(RIVERHEAD, NY, July 20, 2016) –– East End Arts and Thirty & Twenty West Main are pleased to announce a contemporary photography exhibit and sale titled Nature Redux at Thirty West Main, an innovative office building located at 30 W. Main Street, Riverhead, NY. Nature Redux features two award-winning local photographers: Katherine Liepe-Levinson of New York and Southampton, and Paul Dempsey of Southampton. In this exhibit, these two photographers reconsider the concept of 'representing nature.' A Wildlife Awareness Installation curated by Paul Dempsey will also be on view at Twenty West Main, located at 20 W. Street, next door. Twenty West Main is another new office building featuring state of the art workspaces by developer Georgia Malone, LLC. The public is invited to meet the artists at the Opening Reception to be held Thursday, August 11, 2016, from 5:00 PM to 8:00 PM. Complimentary craft beer by Twin Fork Beer Co., local wines and hors d'oeuvres will be served at the reception. This event is open to the public. Also that evening is the Alive on 25 free street festival in Downtown Riverhead, as well as East End Arts JumpstART evening, where the arts take center stage in Downtown Riverhead as East End Arts JumpstART artists unveil their public arts projects. The evening of free events will feature murals, performances, live music, dance, interactive projects, art installations, and more, all glittering downtown Riverhead.
For more information about the Nature Redux artists and this exhibit, please visit https://eastendartsorg.presencehost.net/calendar/events.html/event/2016/08/11/opening-reception-nature-redux/131688.
For more information about East End Arts JumpstART public arts event, visit http://www.eastendarts.org/programs/jumpstart/2016-artists.html.
All artwork is available for purchase by contacting the East End Arts Gallery at 631-727-0900 or info@eastendarts.org, as well as at the evening of the reception. The Nature Redux exhibit will run from August 11 through October 30, 2016. After the Opening Reception, it will be on view by appointment only by calling East End Arts at 631-727-0900.
Special thanks goes to Georgia Malone, developer of Thirty & Twenty West Main Street, LLC. For more information about these innovative office buildings, visit www.thirtywestmain.com.
More Information about the Artists:
Paul Dempsey, photography // Southampton, NY
Paul Dempsey, a computer programmer and webmaster by trade, describes himself as a fine art photographer and a "digital manipulator." His keen vision captures ordinary details from daily life and transforms them into images of beauty and wit, filled with contrasting shapes and effects.
Paul's current series of abstract work focuses on macro images of nature combined with additional exposures of ice, snow, sand, and sky. These futuristic scenes, inspired by the writings of Kurt Vonnegut, offer a wry commentary on global warming and climate change. Paul's work is printed on a variety of substrates including metal, paper, and canvas. His photography has been displayed in galleries such as Ashawagh Hall, Southampton Cultural Center, Water Mill Museum, East End Arts, Southold Historical Museum, Remsenburg Academy, Quogue Library, and Guild Hall.
Paul has donated his time and images for fundraising for nature conservancy and animal rescue. He also currently serves as Vice President and Webmaster for the Southampton Artists Association.
Katherine Liepe-Levinson, photography // New York & Southampton, NY
Katherine trained at the International Center for Photography. The vibrant colors and patterns in her almost abstract Earth/Water studies encourage viewers to look a little longer and to consider the preciousness of our natural resources, which we all too often take for granted.
Katherine's work has been displayed on journal, magazine, and book covers. Her clients have included museums, corporations, private collections, small businesses, and performing artists. Her works have been featured in galleries such as The White Room, Alex Ferrone Gallery, Richard Demato Fine Art Gallery, East End Arts, Rosalie Dimon, and the Southampton Cultural Center. The artist prints many of her images herself on fine art papers with archival pigment inks. Her larger scale works are on printed on archival white aluminum dibond.
In addition to photography, Katherine has worked as a professional dancer, actor, and writer on and off Broadway. She has a PhD in Theatre (CUNY Graduate Center) and she has taught full-time for Colgate University and Hunter College.
For more information, contact East End Arts at 631-727-0900.
# # #
East End Arts, established in 1972, is a 501(c)3 not-for-profit arts organization, and operates a School of the Arts, an Art Gallery, and presents a variety of events and programs to promote the arts year-round. Proceeds from all events, sales, classes, donations, and memberships benefit the mission and commitment to building and enriching our community through the arts by way of education, support, advocacy, and inspiration.