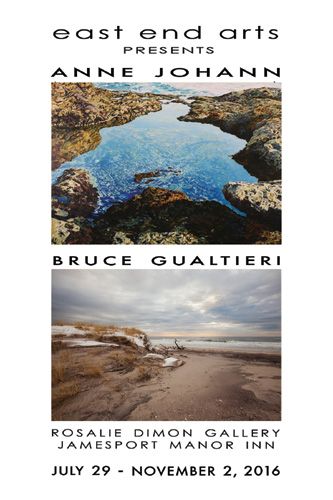 News Release
FOR IMMEDIATE RELEASE
Press contact: Stephanie Israel
631-727-0900
sisrael@eastendarts.org
Images available upon request
New Art Show at the Rosalie Dimon Gallery
Featuring Artists Anne Johann & Bruce Gualtieri
July 29 – November 2, 2016
Presented by East End Arts
(RIVERHEAD, NY, August 1, 2016) –– East End Arts is pleased to announce the exciting new art show at the Rosalie Dimon Gallery, at the Jamesport Manor Inn (located at 370 Manor Lane in Jamesport, NY) featuring East End Arts members: water inspired oil paintings by Anne Johann of Peekskill, NY and photographs from landscapes and altered reality series by Bruce Gualtieri of Coram, NY. The show opened on Friday, July 29, 2016 and will be up for viewing until November 2, 2016. An Artists Reception will be held on Sunday, September 11, from 3:00 PM to 5:00 PM at the Rosalie Dimon Gallery, where the public will have the opportunity to meet the artists. Local wines and artisanal cheeses will be served. The public is invited to this free event. The exhibition is open for viewing during the Jamesport Manor Inn's open hours: Wednesdays through Sundays, 11:30 AM to 9:30 PM during lunch and dinner service. For more information, visit http://www.eastendarts.org/gallery/off-site/rosalie-dimon.html.
Painter Anne Johann comments about her inspiration, work and process: "My art is about being inspired by nature and seeing nature as healing and regenerative. It is also about the profound spiritual experience of being in nature, experiencing the grandeur of the natural world. Humans have a fundamental connection to nature. I focus on landscape and purposely seek out the beauty as a reminder that the Earth is our oasis, our sanctuary from the modern world. There are concepts and ideas behind each piece, and while I don't consciously work in a series, I return to certain ideas, and a series evolves. I see patterns in rocks, in waves, in clouds. I see the echo of the waves in the sculpting of bluffs or in rocks. Cycles of time appear as sunrise/sunset, high/low tides. Almost every painting I create has some reference to water. As a teenager, I came across a book in my library on Chinese ink paintings of the Sung Dynasty. What fascinated me in particular was the use of water as the yin element, to balance the yang of the mountains. This balance of yin and yang represents the harmony in nature. I incorporated this concept and made it prevalent in my work. The concept: pools of nature, coupled with cycles of tides suggesting time, became the focus for some of my work. Ideas of microcosm/macrocosm surfaced. I deliberately played with the dichotomy of the image as a landscape, but also as though seen from above. The play between abstraction and realism is appealing to me. I work primarily in oils; the sensuous nature of the paint and the richness of color appeals to me. One change that has occurred over time is an increasing awareness of the act of painting, not simply image making. There is more emphasis on light and a painterly quality of the paint application. My knowledge of watercolor informs the oils, painting in thin layers and allowing the light to bounce through the transparency of the paint."
Bruce Gualtieri is a Long Island fine art photographer. His work featured in this exhibit has a focus on Long Island's landscape as well as a few images from his 'Altered Mind' series. The bulk of Bruce's work falls into one of three categories: "straight" images; multi-layered combined images; and segments of images combined to create altered reality.
More Information about the Rosalie Dimon Gallery
Exhibits at the Rosalie Dimon Gallery are a joint effort by East End Arts and the Jamesport Manor Inn to introduce exceptional artists and their work to the East End communities. East End Arts members who wish to be considered for exhibits at the Jamesport Manor Inn should have updated representations of work in the East End Arts Artist Registry at the East End Arts Gallery, located at 133 East Main Street, Riverhead, NY. The artists selected for East End Arts off-site gallery shows are chosen by committee.
For more information, contact Jane Kirkwood, East End Arts Gallery Director: 631-727-0900 or gallery@eastendarts.org or visit www.eastendarts.org.
For more information about viewing the exhibition, call 631-722-0500 or visit www.JamesportManorInn.com.
# # #
East End Arts, established in 1972, is a 501(c)3 not-for-profit arts organization, and operates a School of the Arts, an Art Gallery, and presents a variety of events and programs to promote the arts year-round. Proceeds from all events, sales, classes, donations, and memberships benefit the mission and commitment to building and enriching our community through the arts by way of education, support, advocacy, and inspiration.