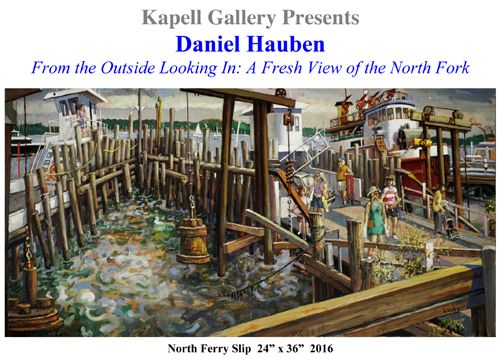 News Release
FOR IMMEDIATE RELEASE
Press contact: Stephanie Israel
631-727-0900
sisrael@eastendarts.org
Images available upon request
Special Art Show at the Kapell Gallery
Featuring Bronx, NY Artist Daniel Hauben
From the Outside Looking In: A Fresh View of the North Fork Opening Reception: Saturday, August 20, 5:00 PM
In Partnership with East End Arts
(RIVERHEAD, NY, August 2, 2016) –– East End Arts is pleased to announce that the Kapell Gallery welcomes Bronx, NY artist Daniel Hauben back to their Greenport gallery space for a show of North Fork subjects painted over the past two years in partnership with East End Arts, which has generously provided him with a series of one-week residencies. A portion of the proceeds will benefit East End Arts. The Kapell Gallery hopes that the community will agree that the show offers a refreshing perspective on the beauty and culture of our region. Subjects include Paumanouk Vineyards, Latham Farm Stand, Greenport Shipyard, Greenport Power Plant, the Greenport Shelter Island Ferry slip, the Baiting Hollow Hummingbird Sanctuary, and the ghostly but stately mansion at the corner of First & Center Streets in Greenport. The art show will open with a party on Saturday, August 20, 2016 at 5:00 PM and run through September 25, 2016. Meet the artist at the party; the public is welcome to attend this free event. Gallery open thereafter by chance or by appointment. Kapell Gallery is located at 400 Front Street in Greenport, NY.
For more information, visit https://eastendartsorg.presencehost.net/calendar/events.html/event/2016/08/20/opening-reception-at-the-kapell-gallery-presenting-daniel-hauben-a-fresh-view-of-the-north-fork/132694.
For over 30 years, Daniel Hauben has focused on capturing the everyday life of the world around him. He has had over 30 national and international solo exhibitions, including The Bronx Museum of the Arts and the American Embassy in Berlin. He is a recipient of the Edgar Alan Poe Award for Artistic Excellence from The Bronx County Historical Society, an eight-time winner of the BRIO Award from the Bronx Council on the Arts, and has been awarded artistic residencies in Spain, Germany, Costa Rica, Virginia, Connecticut and California. As part of the Bronx Centennial celebrations (2014-2015), he had six solo exhibitions in The Bronx. His work is in the collections of The White House, Library of Congress, Museum of the City of NY, NY Historical Society, Harvard University, and Zimmerli Art Museum.
For more information, contact the Kapell Gallery at 631-477-0100 or kapellgallery@gmail.com.
# # #
East End Arts, established in 1972, is a 501(c)3 not-for-profit arts organization, and operates a School of the Arts, an Art Gallery, and presents a variety of events and programs to promote the arts year-round. Proceeds from all events, sales, classes, donations, and memberships benefit the mission and commitment to building and enriching our community through the arts by way of education, support, advocacy, and inspiration.