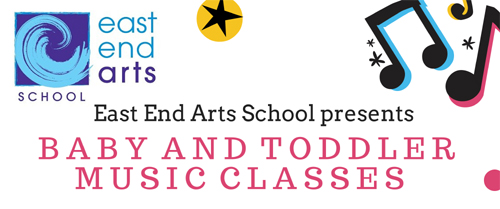 NEWS RELEASE
FOR IMMEDIATE RELEASE
Press contact: Stephanie Israel
631-727-0900
sisrael@eastendarts.org
Images available upon request
East End Arts Announces
NEW MUSIC CLASSES FOR BABIES & TODDLERS
With Juilliard-trained pianist and licensed Musikgarten teacher, Marlene Markard
Wednesdays starting September 14
(RIVERHEAD, NY, August 17, 2016) – The East End Arts School is excited to announce new programs for babies (birth – 18 months) and toddlers (18 months – 4 years) starting September 2016. In these fun classes taught by Juilliard-trained pianist and licensed Musikgarten teacher, Marlene Markard, children will move, dance, sing, explore instruments, do finger play, and engage in other stimulating activities designed to lay the foundation for child music literacy while promoting aural, physical, emotional, social, and cognitive development. Classes will be held on Wednesdays starting September 14 at the East End Arts School (located at 141 E. Main Street, Riverhead, NY); advance registration is required for the 15-week semester program (631-369-2171). The two classes being offered are:
• Music for Babies (birth – 18 months): Wednesdays, 10:00 – 10:45 AM
https://eastendartsorg.presencehost.net/calendar/events.html/event/2016/09/14/music-classes-begin-music-for-babies-birth-18-mos-/130691
• Sing with Me! (18 months – 4 years): Wednesdays, 11:00 – 11:45 AM
https://eastendartsorg.presencehost.net/calendar/events.html/event/2016/09/14/music-classes-begin-sing-with-me-18-mos-4-yrs-/130692
The East End Arts School's music program has 200 students each semester studying voice, piano, drums, violin, guitar, and band and orchestral instruments in private and group settings. New this fall, the East End Arts School will be expanding its offerings by providing music lessons at a satellite location on the South Fork at the Bridgehampton Child Care & Recreational Center. For more information about the East End Arts School's music program and other arts programming, contact 631-369-2171 or visit http://www.eastendarts.org/school/.
For more information, contact the East End Arts School at 631-369-2171 or education@eastendarts.org.
# # #
East End Arts, established in 1972, is an award-winning 501(c)3 not-for-profit arts organization, and operates a School of the Arts, an Art Gallery, and presents a variety of events and programs to promote the arts year-round. Proceeds from all events, sales, classes, donations, and memberships benefits the mission and commitment to building and enriching our community through the arts by way of education, support, advocacy, and inspiration.