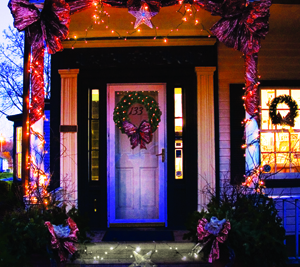 News Release
FOR IMMEDIATE RELEASE
Press contact: Stephanie Israel
631-727-0900
sisrael@eastendarts.org
Images available upon request
Call for Artists & Craftspeople:
HOLIDAY GIFT BOUTIQUE
Deadline to Apply: Thursday, October 20, 2016
(RIVERHEAD, NY, September 6, 2016) –– The East End Arts Gallery is pleased to announce an open call for artist and artisan participation in the upcoming Holiday Gift Boutique: the Gallery seeks unique, one-of-a-kind artists' works and wares for this holiday sales event. With a Grand Opening Reception to be held on Saturday, November 12 and running through December 23, 2016, East End Arts Holiday Gift Boutique will feature artistic handmade ornaments and greeting cards, one-of-a-kind jewelry and wearables, and unique ceramics and giftware, which will fill East End Arts three gallery rooms from top to bottom as visitors from all over Long Island come to buy creative and inspired items, perfect for gift-giving during the holiday season. The East End Arts Gallery is located at 133 E. Main Street in Riverhead, NY.
Artists interested in participating must submit an online application by Thursday, October 20, 2016, 5:00 PM. Following application review and acceptance, artists will be notified and scheduled for in-person inventory drop-off appointment which will be scheduled between Wednesday, November 2 through Saturday, November 5. Artists must be or become members of East End Arts to participate.
For more information and to apply, visit
https://eastendartsorg.presencehost.net/calendar/events.html/event/2016/10/20/deadline-for-artists-artisans-to-apply-holiday-gift-boutique-participation/135046.
The Grand Opening of the Holiday Gift Boutique for the holiday shopping season will take place on Saturday, November 12, 2016 from 12:00 PM to 5:00 PM and will be open for shopping through Friday, December 23, 2016 at the East End Arts Gallery (133 East Main Street, Riverhead, NY.) The extended holiday shopping hours will be Tuesdays through Fridays 10:00 AM to 5:00 PM; Saturdays 10:00 AM to 4:00 PM; and Sundays 12:00 PM to 4:00 PM. For more information about East End Arts Holiday Gift Boutique, visit http://www.eastendarts.org/programs/holiday-boutique.html.
For more information, contact Jane Kirkwood, Gallery Director at 631-727-0900 or gallery@eastendarts.org.
# # #
East End Arts, established in 1972, is a 501(c)3 not-for-profit arts organization, and operates a School of the Arts, an Art Gallery, and presents a variety of events and programs to promote the arts year-round. Proceeds from all events, sales, classes, donations, and memberships benefit the mission and commitment to building and enriching our community through the arts by way of education, support, advocacy, and inspiration.