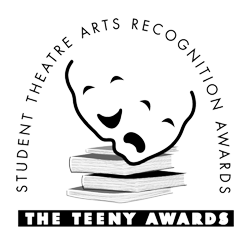 News Release
Contact: Anita Boyer, Teeny Awards Coordinator
TeenyAwards@eastendarts.org
740-607-6748
Images available upon request
East End Arts Seeks Judges for 2016-17 Teeny Awards
Judges Needed High School Theatre Recognition Program
(RIVERHEAD, NY, September 26, 2016) –– East End Arts' Teeny Awards Judging Committee is seeking qualified volunteers for evaluating high school theatrical performances on the East End for the 2016-2017 academic year. The Teeny Awards is a high school theater recognition program, founded and run by East End Arts since 2002. The program, now entering its 15th year, recognizes and celebrates talented theater students across the East End of Long Island. The judges are a very important component of the Teeny Awards as they adjudicate all performances and determine the most outstanding performances to receive the highest honor: a Teeny Award.
For more information on becoming a judge, please contact Teeny Awards Coordinator Anita Boyer at TeenyAwards@eastendarts.org, and attend the pre-season Judges Meeting at East End Arts' Carriage House on Monday, October 3, 2016 at 5:00 PM. At this meeting, program coordinators will discuss the responsibilities and perks of being an East End Arts Teeny Awards Judge! The East End Arts Carriage House is located behind their Gallery, located at 133 E. Main Street in Riverhead, NY.
"Ideal candidates have background, experience, or a strong appreciation for theatre and will be committed to seeing as many shows as they can throughout the school year," said Anita Boyer, East End Arts Teeny Awards Coordinator. "This is an important job and an excellent opportunity to be a part of this program! I look forward to welcoming back veteran and inviting new judges this year; the more eyes we have on the shows the better our judging system can be."
Judges will be selected based on experience and knowledge of theatre. Judges attend a minimum of eight high school productions anonymously and adjudicate students with the use of an evaluation tool based on the academic rubric. Orientation is provided. Theatrical performances take place at 17 high schools in eastern Suffolk County.
Applications for judges are available at by contacting Teeny Awards Coordinator Anita Boyer at teenyawards@eastendarts.org. For more information about the Teeny Awards, contact Teeny Coordinator Anita Boyer at teenyawards@eastendarts.org or visit http://www.eastendarts.org/programs/teeny-awards.html.
# # #
East End Arts, established in 1972, is a 501(c)3 not-for-profit arts organization, and operates a School of the Arts, an Art Gallery, and presents a variety of events and programs to promote the arts year-round. Proceeds from all events, sales, classes, donations, and memberships benefit the mission and commitment to building and enriching our community through the arts by way of education, support, advocacy, and inspiration.