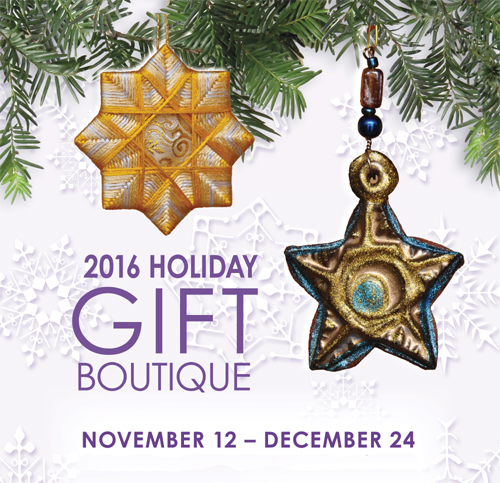 News Release
FOR IMMEDIATE RELEASE
Press contact: Stephanie Israel
631-727-0900
sisrael@eastendarts.org
Images available upon request
HOLIDAY GIFT BOUTIQUE
Grand Opening: Saturday, November 12 at 12 – 5 PM
Featuring Unique Handmade Items & Gifts Created by Long Island Artists!
(RIVERHEAD, NY, October 27, 2016) –– East End Arts is pleased to announce the grand opening of their Annual Holiday Gift Boutique: Saturday, November 12, 2016, at the East End Arts Gallery, located at 133 E. Main Street in Riverhead, NY. Gorgeous handmade ornaments, one-of-a-kind jewelry and wearables, unique knits and crafts, and more will fill the East End Arts three galleries from top to bottom as visitors from all over Long Island come to the Gallery to buy exclusive and artistic gifts, perfect for gift-giving during the holiday season, at a wide variety of price points. East End Arts Holiday Gift Boutique prides itself on the very large selection of beautiful hand-crafted heirloom ornaments – an ideal gift that will be remembered year-after-year. All items in the Holiday Gift Boutique are unique creations by East End Arts member-artists – this year over 50 local artists will be participating. The Holiday Gift Boutique will open on Saturday, November 12 and will run through Saturday, December 24. The extended shopping hours of the Holiday Gift Boutique will be Tuesdays through Friday from 10:00 AM to 5:00 PM, Saturdays from 10:00 AM to 4:00 PM, and Sundays from 12:00 to 4:00 PM, and closed on Mondays.
This year's Grand Opening day will take place on Saturday, November 12, from 12:00 to 5:00 PM in the East End Arts Gallery. At the Grand Opening, guests will have the opportunity to meet the artists and find the perfect pieces for holiday gift giving, before they sell out!
For more information, visit http://www.eastendarts.org/programs/events/holiday-boutique.html or contact the East End Arts Gallery at 631-727-0900.
# # #
East End Arts, established in 1972, is a 501(c)3 not-for-profit arts organization, and operates a School of the Arts, an Art Gallery, and presents a variety of events and programs to promote the arts year-round. Proceeds from all events, sales, classes, donations, and memberships benefit the mission and commitment to building and enriching our community through the arts by way of education, support, advocacy, and inspiration.