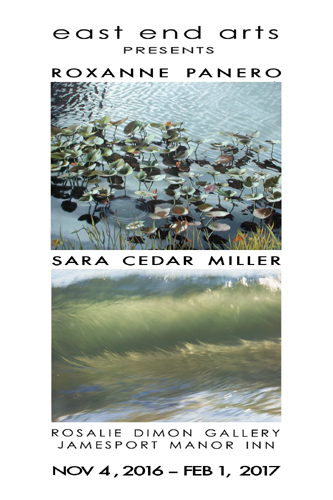 News Release
FOR IMMEDIATE RELEASE
Press contact: Stephanie Israel
631-727-0900
sisrael@eastendarts.org
Images available upon request
New Art Show at the Rosalie Dimon Gallery
Featuring Artists Roxanne Panero & Sara Cedar Miller
November 4, 2016 – February 1, 2017
Presented by East End Arts
(RIVERHEAD, NY, October 31, 2016) –– East End Arts is pleased to announce the exciting new art show at the Rosalie Dimon Gallery, at the Jamesport Manor Inn (located at 370 Manor Lane in Jamesport, NY) featuring East End Arts members: oil paintings by Roxanne Panero of Sagaponack, NY and photographs by Sara Cedar Miller of Hampton Bays, NY. The show opens on Friday, November 4, 2016 and will be up for viewing until February 1, 2017. An Artists Reception will be held on Sunday, November 20, from 3:00 PM to 5:00 PM at the Rosalie Dimon Gallery, where the public will have the opportunity to meet the artists. Local wines and artisanal cheeses will be served. The public is invited to this free event. The exhibition is open for viewing during the Jamesport Manor Inn's open hours: Wednesdays through Sundays, 11:30 AM to 9:30 PM during lunch and dinner service. For more information, visit https://eastendartsorg.presencehost.net/calendar/event/2016/11/04/1478235600/rosalie-dimon-gallery-show-roxanne-panero-sara-cedar-miller/140737.
Roxanne Panero is a painter whose subjects range from landscape and figurative to conceptual art. A graduate of the fine arts department of Barry College in Miami, Florida, Roxanne taught painting and design at Barry College and Miami Dade Junior College. Upon moving to New York City, she became Vice President and Creative Director of R. L. Silver Associates, advertising and marketing, for 14 years. She then established her own design firm, Panero Design, Inc., which is in operation today. Roxanne taught typography and design at Fashion Institute of Technology in NYC for ten years and served as juror, panelist and presenter for advertising awards and seminars throughout her career. She has been the recipient of numerous design awards in the print industry, including being named Graphic Designer of the Year by the Long Island Arts Council. She has also studied at the School of Visual Arts, Pratt Institute Manhattan and the Long Island Academy of Fine Art. The paintings featured in her 2016 show at the Rosalie Dimon Gallery are from her nature series in which she explores the diversity and nuance of pond life, florals and oceans.
Sara Cedar Miller's archival pigment "light drawings" capture the bays and ocean near her home in Hampton Bays in an abstract style that radically departs from the more traditional and recognizable images of the East End's water ways. Influenced by her passion for calligraphy, map imagery and watercolor, Miller's unique images surprise and delight viewers who are shocked to learn that the pictures are essentially "straight" photographs. Miller's work has been dedicated to conserving the natural environment of both the East End and Manhattan's Central Park. For the past 32 years Miller has been the official photographer and historian of Central Park for the Central Park Conservancy and has written and photographed three award winning books: Central Park, An American Masterpiece (Abrams, 2003), Seeing Central Park (Abrams, 2009) and Strawberry Fields, Central Park's Memorial to John Lennon (Abrams, 2011). She received an MFA in photography in 1983 from Pratt Institute. Her earlier work published by Blue Sky in Sara Cedar Miller was funded in 1985 by the National Endowment for the Arts, and she had a one-person show of her work at Art Sites in Riverhead in 2012.
More Information about the Rosalie Dimon Gallery
Exhibits at the Rosalie Dimon Gallery are a joint effort by East End Arts and the Jamesport Manor Inn to introduce exceptional artists and their work to the East End communities. East End Arts members who wish to be considered for exhibits at the Jamesport Manor Inn should have updated representations of work in the East End Arts Artist Registry at the East End Arts Gallery, located at 133 East Main Street, Riverhead, NY. The artists selected for East End Arts off-site gallery shows are chosen by committee.
For more information, contact Jane Kirkwood, East End Arts Gallery Director: 631-727-0900 or gallery@eastendarts.org or visit eastendarts.org.
For more information about viewing the exhibition, call 631-722-0500 or visit JamesportManorInn.com.
# # #
East End Arts, established in 1972, is a 501(c)3 not-for-profit arts organization, and operates a School of the Arts, an Art Gallery, and presents a variety of events and programs to promote the arts year-round. Proceeds from all events, sales, classes, donations, and memberships benefit the mission and commitment to building and enriching our community through the arts by way of education, support, advocacy, and inspiration.