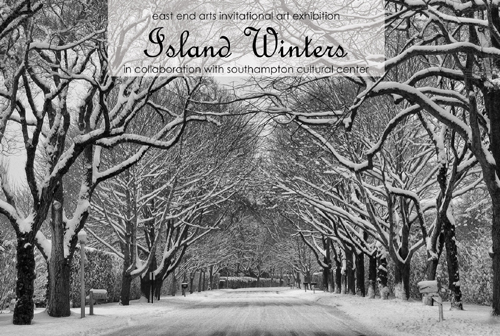 News Release
FOR IMMEDIATE RELEASE
Press contact: Stephanie Israel
631-727-0900
sisrael@eastendarts.org
Images available upon request
East End Arts Invitational Art Exhibition
ISLAND WINTERS
Featuring five regional award-winning photographic artists
In collaboration with Southampton Cultural Center
Artists' Reception: Friday, December 9, 5 – 7 PM
(RIVERHEAD, NY, December 2, 2016) –– East End Arts is pleased to announce a new art invitational exhibition at the Southampton Cultural Center featuring five regional award-winning photographers: Island Winters. This art exhibit begins Tuesday, December 6, 2016 and will be on display at the Southampton Cultural Center through Sunday, February 12, 2017. This exhibition is curated by Steven Schreiber. An Artists' Reception will be held on Friday, December 9, 2016 from 5:00 to 7:00 PM where the public and community are invited to this free event to meet the artists and learn about their processes and inspirations. The Southampton Cultural Center is located at 25 Pond Lane in Southampton, NY. Gallery visiting hours are Southampton Cultural Center hours: Monday through Saturday, 11:00 AM to 2:30 PM or by appointment: 631-287-4377. All exhibited work is for sale; to purchase, contact East End Arts at 631-727-0900.
Photographers featured in this exhibit and sale are:
• Paul Dempsey of Southampton, NY / Photography Printed on High Grade Aluminum – Paul Dempsey, a computer programmer and Webmaster by trade, describes himself as a fine art photographer and a "digital manipulator." His keen vision captures ordinary details from daily life and transforms them into images of beauty and wit, filled with contrasting shapes and effects.
• Michael McLaughlin of Riverhead, NY / Pigment Ink Prints on Epson Hot Press Bright – Michael McLaughlin is a research analyst by trade who discovered the creative side of his brain after finding the East End of Long Island. His quantitative background in combination with a passion for modern and classical architecture has informed his approach to both composition and post-processing technique.
• James Sabiston of Bay Shore, NY / Limited Edition Archival Photographic Prints – An award-winning, freelance artist based on Long Island, Jim Sabiston began his visual arts career as a painter, but with the advent of the digital camera, he left painting behind and committed himself to the art of photography.
• Steven Schreiber of Flanders, NY / Limited Edition Archival Pigment Photographic Prints on Epson Cold Press Bright – Steven Schreiber is an award-winning photographer who began capturing images with his digital camera in 2002. He soon found a personal approach to visual textures and colors that are the signature of his photographic creations. His goal is to create new visual perspectives to our normal every day visions through his experiences with his photography, and extensive design skills.
• James Slezak of Hampton Bays, NY / Digital Photographs – For James Slezak, the practice of photography is frequently a flow experience; images that have a meditative quality are often the outcome. Sometimes the final version of an image is quite a departure from what was caught originally on the camera sensor.
Exhibition curator, Steven Schreiber comments: "The five photographers in this exhibit are some of the finest in the region. These works are diverse in subject and profoundly illustrate the vision, emotions and feelings of each artist."
For more information about the exhibition, as well as complete artist bios, visit https://eastendartsorg.presencehost.net/calendar/events.html/event/2017/02/12/eea-invitational-exhibit-at-southampton-cultural-center-island-winters/143580.
East End Arts is honored to collaborate with the Southampton Cultural Center on this project. For more information contact East End Arts at 631-727-0900 or info@eastendarts.org.
# # #
East End Arts, established in 1972, is a 501(c)3 not-for-profit arts organization, and operates a School of the Arts, an Art Gallery, and presents a variety of events and programs to promote the arts year-round. Proceeds from all events, sales, classes, donations, and memberships benefit the mission and commitment to building and enriching our community through the arts by way of education, support, advocacy, and inspiration.