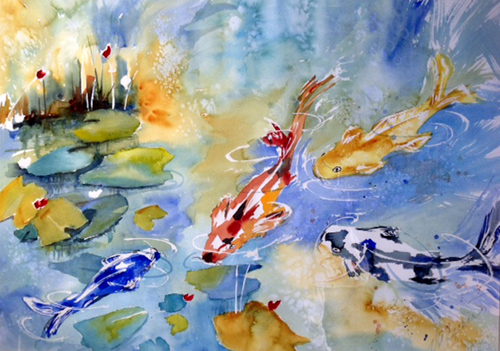 News Release
FOR IMMEDIATE RELEASE
Press contact: Stephanie Israel
631-727-0900
sisrael@eastendarts.org
Images available upon request
New Art Exhibition Featuring Watercolor Painter
VICTORIA BECKERT
At Riverhead Town Hall Gallery
Exhibition starting December 8, 2016
Presented by East End Arts
(RIVERHEAD, NY, December 5, 2016) –– East End Arts is pleased to announce a new art exhibit at the Riverhead Town Hall Gallery featuring watercolor painter Victoria Beckert of Holbrook, NY. The exhibition will open on Thursday, December 8, 2016 and will run through Friday, February 24, 2017, and can be visited during Town Hall open office hours: Mondays through Fridays, 9:00 AM to 4:00 PM. Riverhead Town Hall is located at 200 Howell Avenue, Riverhead, NY (corner of Howell and East Main Street; 631-727-3200). The public is welcome; admission is free. All exhibited work is for sale. To purchase, contact East End Arts at 631-727-0900.
For more information, visit http://www.eastendarts.org/gallery/off-site/riverhead-town-hall.html.
Victoria Beckert has studied many different art mediums but has a passion for watercolors. She has shown her work locally at the BAFFA Art Gallery, Islip Arts Council, Patchogue Art Space, Art League of Long Island, and the Stony Brook Long Island Museum. Victoria is a member of various art groups such as Islip Arts Council, Southampton Artists, Wet Paints Studio Group, East End Arts, and Women Sharing Art. Victoria has donated her artwork, "Musical Notes", to the Islip Arts Council for use in their publicity for their annual Jazz Festival and artwork for a poster for LI2Day Walk for Breast Cancer. She is on the Board of Directors of Women Sharing Art, Inc. a not-for-profit group of women artists who give annual student scholarships to young artists from our local schools. Victoria teaches watercolor in workshops held throughout Long Island and in her home studio in Holbrook, NY.
The Riverhead Town Hall art exhibits are a collaborative effort on the part of East End Arts and the Township of Riverhead to support local artists and introduce their works to the community.
For more information contact Jane Kirkwood, East End Arts Gallery Director: 631-727-0900 or gallery@eastendarts.org.
# # #
East End Arts, established in 1972, is an award-winning 501(c)3 not-for-profit arts organization, and operates a School of the Arts, an Art Gallery, and presents a variety of events and programs to promote the arts year-round. Proceeds from all events, sales, classes, donations, and memberships benefit the mission and commitment to building and enriching our community through the arts by way of education, support, advocacy, and inspiration.