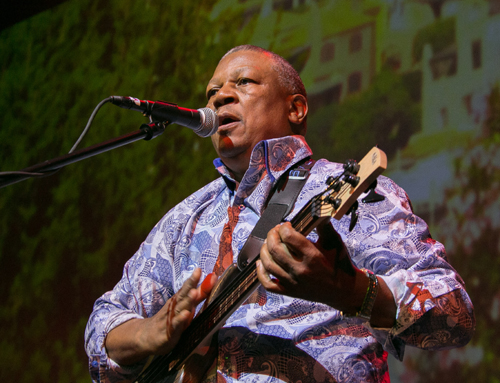 News Release
FOR IMMEDIATE RELEASE
Press contact: Stephanie Israel
631-727-0900
sisrael@eastendarts.org
Images available upon request
East End Arts Presents
MUSICIANS' WORKSHOP WITH BAKITHI KUMALO
International Musician and Bass Player for Paul Simon
Wednesday, January 25, 5:00 – 7:00 PM at East End Arts in Riverhead
(RIVERHEAD, NY, January 3, 2017) –– East End Arts is pleased to announce a special workshop for musicians with incoming artist-in-residence Bakithi Kumalo, international musician and bass player for Paul Simon. The workshop will be held on Wednesday, January 25, 2017, from 5:00 PM to 8:00 PM at East End Arts Carriage House, located behind the East End Arts School at 141 E. Main Street in Riverhead, NY. Musicians are invited to join Bakithi Kumalo for a three-hour adult workshop. This unique opportunity to learn from and jam with one of the great musicians of our time is not to be missed. This will be a hands-on learning experience; participants are invited to bring their instrument of choice. Space is limited and advance registration is required; workshop fee is $45. For more information and to register, visit https://eastendartsorg.presencehost.net/calendar/events.html/event/2017/01/25/musician-s-workshop-with-bakithi-kumalo-artist-in-residence/142509.
Bakithi Kumalo is a South African bassist, composer and vocalist who has worked with a wide variety of diverse artists including Gloria Estefan, Herbie Hancock, Chaka Khan, Harry Belafonte, Cyndi Lauper, and Paul Simon. He has been active as well as a solo artist, with four albums to his credit – 1998's San'Bonan, 2000's In Front of My Eyes, 2008's Transmigration, and 2011's Change – as well as three award-winning children's albums recorded with his wife, vocalist Robbi Kumalo. Kumalo's bass-playing history began in Soweto where he grew up surrounded by music. "I picked up the bass early and realized I could follow the groove of a tune with it. I could play the bass lines from a cappella music, and I learned how to develop lines based on the left-hand work of accordion players in the township bands."
East End Arts is pleased to announce international musician Bakithi Kumalo, bassist for Paul Simon, as incoming artist-in-residence. Mr. Kumalo will be in residence from Tuesday, January 3, 2017 through Saturday, February 11, 2017. During his residency, Bakithi Kumalo will be offering a workshop for professional musicians noted above, a film screening of the Under African Skies documentary which he was featured in, and he will serve as the mentor for East End Arts Music Masters Mentorship program where high school students will learn from this talented professional musician. For more information about and to register for the programs offered during his residency, visit
https://eastendartsorg.presencehost.net/calendar/events.html/event/2017/02/11/artist-in-residence-bakithi-kumalo-international-musician-and-bassist-for-paul-simon/143575.
For more information about Bakithi Kumalo's residency, contact East End Arts Education Director Diane Giardi at 631-369-2171 or dgiardi@eastendarts.org.
# # #
East End Arts, established in 1972, is an award-winning 501(c)3 not-for-profit arts organization, and operates a School of the Arts, an Art Gallery, and presents a variety of events and programs to promote the arts year-round. Proceeds from all events, sales, classes, donations, and memberships benefit the mission and commitment to building and enriching our community through the arts by way of education, support, advocacy, and inspiration.