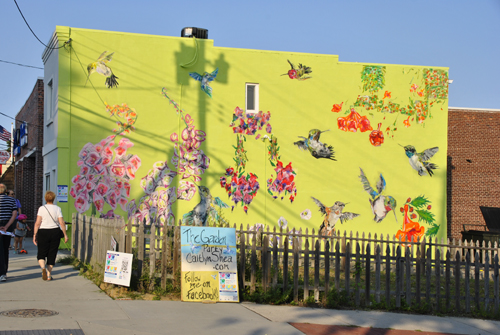 News Release
FOR IMMEDIATE RELEASE
Press contact: Stephanie Israel
631-727-0900
sisrael@eastendarts.org
Images available upon request
REMINDER: Call for Artists of All Disciplines
JumpstART
Professional Development & Public Arts Program
East End Arts Now Accepting Applications
Application Deadline: January 27, 2017
(RIVERHEAD, NY, January 6, 2017) –– East End Arts is pleased to announce the fourth year of their innovative professional development and public arts program for artists of all disciplines, titled JumpstART. This program provides the opportunity for artists to jumpstart their artistic careers by learning about the fundamentals involved to best grow their business – their art! Participating artists will be invited to hear from artists who have succeeded in making a living with their art. In addition to a variety of workshops, this program offers the amazing opportunity for artists' work to get high visibility through public presentation, with the unprecedented opportunity to design and implement a public arts project in downtown Riverhead during the summer of 2017. East End Arts has developed an intensive curriculum dedicated to the business side of art, all while being important catalysts for creative placemaking. With the necessary tools, an artist is better able to take advantage of creative opportunities that arise and be aware of opportunities that exist. A limited number of artists will be accepted into JumpstART. This program is open to all visual and performing artists, of any discipline. For information about the success of 2014, 2015 and 2016 JumpstART programs and artist projects, visit http://www.eastendarts.org/programs/jumpstart.html.
East End Arts is now accepting applications for artists interested in participating in this program. To apply, artists must complete an online application. The deadline for application submission is Friday, January 27, 2017, 11:59 PM. Artists who apply to participate will be notified of their acceptance into the program by February 6, 2017. The program will begin with an orientation and its first workshop on Wednesday, March 8, 2017 and will continue with a series of intensive workshops in March, April, May, and June. The program will culminate with the presentation of the artists' public arts projects in Downtown Riverhead, which will be unveiled the evening of Friday, August 4, 2017. For more information and to apply, visit https://eastendartsorg.presencehost.net/calendar/events.html/event/2017/01/27/deadline-for-artists-of-all-disciplines-to-apply-jumpstart-professional-development-public-arts-program/142544.
Mandatory workshop sessions on the following subjects will be offered to all participants. All workshops will be held at East End Arts Carriage House, located behind the East End Arts School at 141 E. Main Street in Riverhead, NY:
• Session 1 – Orientation / Artist Career Building: Wednesday, March 8, 2017, 6:00 - 9:00 PM
• Session 2 – Fundraising: Wednesday, March 22, 2017, 6:00 - 9:00 PM
• Session 3 – Budgeting & Proposal Writing: Wednesday, April 5, 2017, 6:00 - 9:00 PM
• Session 4 – Marketing & Social Networking: Wednesday, April 19, 2017, 6:00 - 9:00 PM
• Session 5 – Legal Matters for Artists: Wednesday, May 3, 2017, 6:00 - 9:00 PM
• Session 6 – Public Speaking & Wrap-up Session: Wednesday, May 17, 2017, 6:00 - 9:00 PM
• Public JumpstART Event in Riverhead: Friday, August 4, 2017, 5:00 - 8:00 PM
New to the program in 2017 is an additional component: Curatorial Training. JumpstART applicants have the opportunity to apply to participate in the specialized curatorial training workshops in addition to the general JumpstART workshops. Professional responsibilities of a curator will be studied along with the hands-on experience of curatorial practices. Workshops will be offered in research and concept development, the logistics of curating exhibits, aspects to consider when hanging and installing an exhibit and funding, marketing and grant writing in relation to your project. Participants will be responsible for executing a culminating exhibit that is not representative of solely their work.
Accepted artists must commit to (1) attending all workshop sessions; (2) designing and implementing a public art project in downtown Riverhead during the Summer of 2017 (a plan is not required at the time of application); as well as a (3) participation fee of $100 from selected artists, which is due prior to the first session.
Comments from previous JumpstART participants...
• "Participating in JumpstART taught me to really trust the process, inventing something I had never thought of before. I never had so much faith in myself until I saw all the people that had faith in me." – Miranda Gatewood, fine art photographer from Westhampton, NY
• "Being part of JumpstART was a great rollercoaster of tons of opportunities." – Caitlyn Shea, painter from Melville, NY
• "I broke through my own glass ceiling!" – Tina Folks, ceramic sculptor from Patchogue, NY
East End Arts Education Director Diane Giardi comments: "It is inspiring to see the amount of growth each year that the JumpstART artists go through, with the development of their own art, the business skills in relation to promoting and representing their art, their overall level of confidence and initiative, and the bonding that they form within the group itself. It is great to have a program where such a variety of the arts come together through painting, photography, sculpture, film, dance, music, poetry, and more…"
East End Arts JumpstART Program is committed to providing professional development opportunities for artists to develop skill in the business side of art and engage in an innovative public arts project that is community oriented and serves to open the door to further creative opportunities and visibility for their art. East End Arts JumpstART Program is made possible with funds from Suffolk County Economic Development, National Endowment for the Arts and Workforce Development Institute.
For more information about this program, including the prior years' programs and the artists-created public arts projects, visit http://www.eastendarts.org/programs/jumpstart.html, or contact Pat Snyder at 631-727-0900 or psnyder@eastendarts.org, or Diane Giardi at 631-369-2171 or dgiardi@eastendarts.org.
# # #
East End Arts, established in 1972, is an award-winning 501(c)3 not-for-profit arts organization, and operates a School of the Arts, an Art Gallery, and presents a variety of events and programs to promote the arts year-round. Proceeds from all events, sales, classes, donations, and memberships benefit the mission and commitment to building and enriching our community through the arts by way of education, support, advocacy, and inspiration.