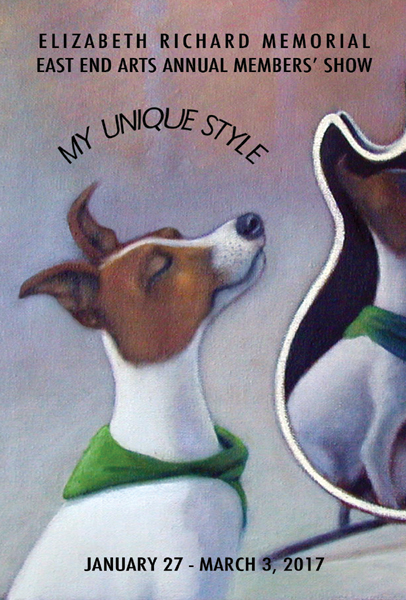 News Release
FOR IMMEDIATE RELEASE
Press contact: Stephanie Israel
631-727-0900
sisrael@eastendarts.org
Images available upon request
East End Arts Gallery Presents
Elizabeth Richard Memorial Annual Members' Art Show
Theme: MY UNIQUE STYLE
Opening Reception: Friday, January 27, 5 – 7 PM
Show Dates: January 27 – March 3, 2017
(RIVERHEAD, NY, January 9, 2017) –– The East End Arts Gallery is pleased to announce their annual non-juried, all media Elizabeth Richard Memorial Annual Members' Show, this year themed My Unique Style. The opening reception will be held Friday, January 27, from 5:00 PM to 7:00 PM. East End Arts members have been invited to submit one work of art for guaranteed inclusion in this show. The Annual Members' Show provides the opportunity for all member artists to show their work to the public. The show will run from the opening through March 3, 2017. The reception is a free public event; refreshments will be served. There will be an opportunity for the public to cast a vote and select their favorite artwork for the People's Choice Award. The East End Arts Gallery is located at 133 East Main Street in Riverhead, NY and open hours are Tuesdays through Saturdays, 10:00 AM to 4:00 PM. For more information about this exhibition, visit http://www.eastendarts.org/gallery/2017-members-style.html.
East End Arts Gallery Director Jane Kirkwood encourages artists: "As painters, photographers, sculptors, etc., we all eventually develop a signature style. Please enter a piece that most highlights your unique style of expression. All members are welcome to bring in one entry for exhibit." All wall art must be wired for hanging. Works can have a maximum dimension of 14 inches wide and 40 inches high, including frame. Weight for wall art must be 10 lbs or less. Sculpture must weigh less than 30 lbs, not measure more than 14 inches wide in any direction, and can be up to 72 inches in height. Poets may enter one poem, framed and wired for hanging, frame not exceeding 14 inches wide. The only additional requirement is that artists be or become a member of East End Arts at the time of submission.
For complete entry information including size restrictions and entry fees, view the prospectus at https://eastendartsorg.presencehost.net/calendar/events.html/event/2017/01/21/artist-entry-drop-off-for-elizabeth-richard-memorial-annual-members-show-my-unique-style/145506.
For more information about membership, visit
http://www.eastendarts.org/membership/membership/.
This show is named for Elizabeth Richard, the first Executive Director of East End Arts, founded in 1972. Among the initiatives that East End Arts started when it was first founded was a signature program by Elizabeth Richard called Art Train. East End Arts is grateful for all that Elizabeth Richard did during her tenure, laying the groundwork for the work that the organization does today.
This show is one of seven art shows of 2017 at the East End Arts Gallery, under the umbrella theme "Elements of Style". The complete 2017 Gallery Schedule, including all calls for artists can be viewed at eastendarts.org/gallery.
This show is sponsored by the family of Elizabeth Richard, Hamptons Art Hub, and Tanger Outlets of Riverhead. Programs of the East End Arts Gallery are made possible with public funding provided by New York State Council of the Arts, Suffolk County, and the Town of Riverhead.
For more information, contact Gallery Director Jane Kirkwood at 631-727-0900 or gallery@eastendarts.org.
# # #
East End Arts, established in 1972, is a 501(c)3 not-for-profit arts organization, and operates a School of the Arts, an Art Gallery, and presents a variety of events and programs to promote the arts year-round. Proceeds from all events, sales, classes, donations, and memberships benefit the mission and commitment to building and enriching our community through the arts by way of education, support, advocacy, and inspiration.