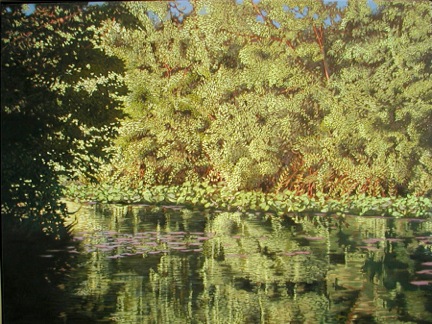 News Release
FOR IMMEDIATE RELEASE
Press contact: Stephanie Israel
631-727-0900
sisrael@eastendarts.org
Images available upon request
East End Arts & Good Ground Yoga Present
New Event Series on Creativity
"One Painting – One Artist – And The Creative Mind"
February 25 Featuring Series Creator Jonathan Pearlman
with Artist Roxanne Panero from Sagaponack
(RIVERHEAD, NY, February 2, 2017) –– East End Arts in collaboration with Good Ground Yoga is pleased to announce a new series of events on creativity at Good Ground Yoga in Hampton Bays on a monthly basis. Each month, this art talk will be a conversation between writer and found object sculptor Jonathan Pearlman and a featured artist. The second installment in the series on Saturday, February 25, 2017 will be a conversation with artist Roxanne Panero. Their conversation will be inspired by the examination of "Corwith Park," one of Roxanne's paintings. Hence the title for the series: "One Painting – One Artist and The Creative Mind." The public is invited to attend this free event. Good Ground Yoga is located at 107-5 Montauk Highway in Hampton Bays, NY.
For more information, visit
https://eastendartsorg.presencehost.net/calendar/events.html/event/2017/02/25/art-conversation-series-one-painting-one-artist-and-the-creative-mind-with-jonathan-pearlman-featuring-artist-roxanne-panero/150210.
Series host Jonathan Pearlman shares: "Consider – what happens before paint meets canvas? Was the painting first a vision, a thought, a color or a vague idea of something waiting to be discovered? And when paint finally does meet canvas, what then? Art is often an expression of ideas as well as images, and how an artist approaches this challenge can offer a blueprint for navigating the complexities of daily life."
Both Pearlman and Panero have spent their lives working and living in the world of art and commerce. Jonathan Pearlman began his professional career as a theatrical agent with the William Morris Agency; later to become founding partner in the New York based film production company Document Studio. The partners went on to form Media Ink, an animation company specializing in political cartooning. He is the author of the Simon & Shuster published novel Two To Tango. Pearlman has spent the last eight years pursing his fascination with what he calls "amusements" sculptures, created from found and collected objects. His work has received considerable attention, including several awards. Jonathan Pearlman's work can be viewed at jonathanpearlman.com.
Roxanne Panero paints subjects following nature, subjects drawn precisely from life and subjects inspired by the mind. A graduate of the fine arts department of Barry College in Miami, Florida, Roxanne taught painting and design at Barry College and Miami Dade Junior College. Upon moving to New York City, she became Vice President and Creative Director of R. L. Silver Associates, an advertising and marketing firm, for 14 years. She then established her own design firm, Panero Design, Inc., which is in operation today. Panero taught typography and design at Fashion Institute of Technology in NYC for ten years and served as juror, panelist and presenter for advertising awards and seminars throughout her career. She has been the recipient of numerous design awards in the print industry, including being named Graphic Designer of the Year by the Long Island Arts Council. She has also studied at the School of Visual Arts, Pratt Institute Manhattan and the Long Island Academy of Fine Art. Roxanne Panero's work can be viewed at rpanero.com.
Good Ground Yoga, at 107-5 Montauk Highway in Hampton Bays, NY, is located in the Hamlet Green just east of the movie theatre. For more information, visit goodgroundyoga.com or call 631-594-5050. East End Arts is located at 133 E. Main Street, Riverhead, NY. For more information, visit eastendarts.org or call 631-727-0900.
# # #
East End Arts, established in 1972, is an award-winning 501(c)3 not-for-profit arts organization, and operates a School of the Arts, an Art Gallery, and presents a variety of events and programs to promote the arts year-round. Proceeds from all events, sales, classes, donations, and memberships benefit the mission and commitment to building and enriching our community through the arts by way of education, support, advocacy, and inspiration.