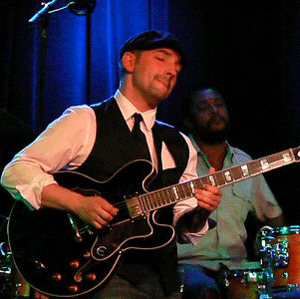 News Release
FOR IMMEDIATE RELEASE
Press contact: Stephanie Israel
631-727-0900
sisrael@eastendarts.org
Images available upon request
East End Arts Presents
MUSICIANS' WORKSHOP WITH MATT MARSHAK
International Guitarist, Songwriter, Record Label President, Producer, and Performer with a #1 Smooth Jazz Song and Top 30 Billboard Hits
Thursday, March 16, 5:00 – 7:00 PM at East End Arts in Riverhead
(RIVERHEAD, NY, March 2, 2017) –– East End Arts is pleased to announce a special workshop for musicians with international guitarist Matt Marshak. The workshop will be held on Thursday, March 16, 2017, from 5:00 PM to 7:00 PM at East End Arts Carriage House, located behind the East End Arts School at 141 E. Main Street in Riverhead, NY. Musicians are invited to join guitarist, songwriter and record label producer Matt Marshak for a two-hour adult workshop open to faculty and interested musicians. This is a unique experience to be able to learn from and play along with this talented musician. This will be a hands-on learning experience; participants are invited to bring their instrument of choice. Space is limited and advance registration is required; workshop fee is $35. For more information and to register, visit https://eastendartsorg.presencehost.net/calendar/events.html/event/2017/03/16/musician-s-workshop-with-matt-marshak/154043.
Matt Marshak is a guitarist, songwriter, record label president, producer, and performer, who has recorded nine albums in contemporary jazz/urban music genres. He has had a #1 smooth jazz song and top 30 Billboard hits with airplay on SiriusXM Radio. Matt has toured the world with recent stops at The Dubai International Jazz Festival, Mallorca Spain Jazz Festival, Germany's Augsburg Jazz Festival, and others. He has shared the festival stage with guitar legends such as Santana, Larry Carlton, and Marc Antoine, among other greats. Matt has also released his own line of furniture called "Rhythm and Home". When not touring, he visits many schools in the New York area spreading his love of music to the next generation of listeners.
In January 2017, East End Arts hosted a similar musicians' workshop with South African bassist, composer and vocalist; longtime bass player for Paul Simon. Space was limited; 14 local musicians participated. This unique opportunity to learn from and jam with one of the great musicians of our time did not disappoint. The workshop was a mix of hands-on learning experiences and participants brought their instrument of choice. Bakithi invited each of the participants to introduce themselves and workshop one-on-one with Bakithi, which resulted in the group joining in on an improvisational jam. Bakithi played his bass and also on the drums during the improvisation sets. David Bravo was also in attendance providing additional feedback and chimed in on piano and drums. The workshop continued with a free flow question-and-answer and continued opportunities for the small group to collaborate and play together. Bakithi enjoyed working with the group and promised to return again to East End Arts for more workshops like this. Attendees all left with rave reviews of the workshop and the opportunity to work with Bakithi Kumalo.
For more information, contact the East End Arts School at 631-369-2171 or education@eastendarts.org.
# # #
East End Arts, established in 1972, is an award-winning 501(c)3 not-for-profit arts organization, and operates a School of the Arts, an Art Gallery, and presents a variety of events and programs to promote the arts year-round. Proceeds from all events, sales, classes, donations, and memberships benefit the mission and commitment to building and enriching our community through the arts by way of education, support, advocacy, and inspiration.