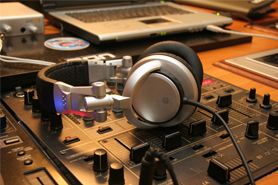 News Release
FOR IMMEDIATE RELEASE
Press contact: Stephanie Israel
631-727-0900
sisrael@eastendarts.org
East End Arts Announces
Opening of their New Recording Studio in Riverhead
Ribbon Cutting Ceremony: Friday, April 21, 1:00 – 3:00 PM
(RIVERHEAD, NY, March 21, 2017) –– East End Arts is pleased to announce the Ribbon Cutting Ceremony of their new recording studio to be held on Friday, April 21, 2017 from 1:00 PM to 3:00 PM. The public is invited to join East End Arts in celebrating the opening of the Jesse F. Sherman Recording Studio at East End Arts. This brand new studio will be open to the public for recording sessions for musicians, students, educational programs, and more. At the Ribbon Cutting Ceremony: see a demo, talk with the sound engineer Noah Gorman, and learn about the equipment and capabilities of this new community resource. The recording studio is dedicated in memory of musician and student Jesse F. Sherman and was funded in part by The Joel Foundation. This free event is open to the public, refreshments will be served. The recording studio is located on the second floor of the East End Arts Carriage House, behind the East End Arts School, 141 E. Main Street, on their campus grounds in Riverhead, NY.
The Jesse F. Sherman Recording Studio at East End Arts is a fully functional recording facility, consisting of a control room, isolation booth, and live room large enough for a small orchestra. East End Arts' Midas Venice 24 mixing console has excellent analog to digital conversion quality and interfaces with a new iMac computer equipped with the industry standard Protools recording software. East End Arts' recording studio has a full range of quality microphones and outboard gear to suit any client's needs, and as business increases, the studio will be expanding its arsenal of gear to be as capable as possible.
Diane Giardi, Education Director at East End Arts comments: "Our recording studio will be a great resource for student, emerging and established musicians to take their talents and career to the next level with a professional recording of their work for promotion, sales, for themselves, and more. Our rates will be very affordable in an effort to make the recording studio accessible to all. We are pleased to offer this opportunity to the many musicians – budding and professional – across Long Island. This recording studio would not have been possible without a vision, funds, time, and expertise – special thanks to the Joel Foundation, Bill Sperls, Noah Gorman, Paulette Sherman and her family, and the Town of Riverhead for their dedication to this project. We are so grateful to everyone involved in making this a reality."
For more information, visit
https://eastendartsorg.presencehost.net/calendar/events.html/event/2017/04/21/east-end-arts-recording-studio-grand-opening-ribbon-cutting-ceremony/155990.
East End Arts extends a special thanks to a number of individuals and entities for making this dream a reality:
• The Joel Foundation, for their funding of our recording studio equipment
• Bill Sperls, for his dedication of time and talent, along with his students, in designing our studio
• Noah Gorman, our sound engineer, for setting up and organizing, and for the future running of our studio
• The Town of Riverhead, for completing space renovations and for their ongoing support
• And a very special thanks to Paulette Sherman and the Sherman family, who in memory of their late son, Jesse F. Sherman, for which the studio is named, has contributed items from Jesse's own recording studio and has allowed the passion that Jesse felt for his music be an inspiration for all those that follow
To book time in the recording studio or for questions about the Ribbon Cutting Ceremony, please contact Diane Giardi at East End Arts at 631-369-2171 or dgiardi@eastendarts.org.
# # #
East End Arts, established in 1972, is an award-winning 501(c)3 not-for-profit arts organization, and operates a School of the Arts, an Art Gallery, and presents a variety of events and programs to promote the arts year-round. Proceeds from all events, sales, classes, donations, and memberships benefits the mission and commitment to building and enriching our community through the arts by way of education, support, advocacy, and inspiration.