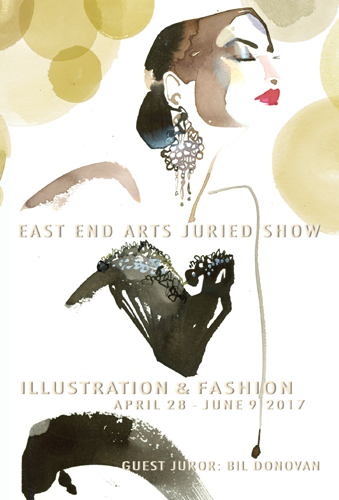 News Release
FOR IMMEDIATE RELEASE
Press contact: Stephanie Israel
631-727-0900
sisrael@eastendarts.org
Images available upon request
ILLUSTRATION & FASHION
A Juried East End Arts Gallery Show
Opening Reception: Friday, April 28, 5 – 7 PM
Show Dates: April 28 - June 9, 2017
(RIVERHEAD, NY, April 13, 2017) –– The East End Arts Gallery is pleased to announce the new juried, all media art show, Illustration & Fashion, at the East End Arts Gallery which will open with a reception on Friday, April 28, from 5:00 PM to 7:00 PM. The guest juror for this show is Bil Donovan, fashion illustrator and educator.
East End Arts Gallery Director Jane Kirkwood encourages artists and comments on the theme: "Whether the subject is a toaster, a teapot, a tuxedo, or a trench coat, for this show, line and flair are the most valued skills. (Lighting too if the entry is a photograph.) Admittedly a little commercial – remember, it's how Andy got his start. The subject needn't be your creation, but the execution needs to be solidly your style. Adding words to complement your image and design is fine too."
At the reception, models from shops of Tanger Outlets in Riverhead including Chico's, Saks Fifth Avenue OFF 5TH and NYDJ, among others, will be showcasing wears from their new spring collections. In addition, student model Emily Blumenthal will be modeling unique Salvation Army fashions – complete outfit for under $12! – and student model Maddy Seitles will be modeling a recycled fashion dress designed and created by East End Arts Education Director Diane Giardi. The public is invited to the reception to enjoy refreshments and meet the artists. With the theme of Illustration & Fashion, all attendees are invited to dress as outrageously as they dare! The reception is a free event, open to the public. Artwork on exhibit is for sale. The show will run from the opening reception through June 9, 2017. The Illustration & Fashion art show is sponsored by Hamptons Art Hub. The East End Arts Gallery is located at 133 E. Main Street in Riverhead, NY and open hours are Tuesdays through Saturdays, 10:00 AM to 4:00 PM.
For more information about this show, visit http://www.eastendarts.org/gallery/2017-illustration-fashion.html.
Guest juror Bil Donovan is an artist, fashion illustrator and educator. Donovan subscribes to the idea that less is more and uses this premise to create work that is elegant with a timeless style. He has had an ongoing relationship with FIT, first, as a student, then advisor, mentor and currently as an Assistant Adjunct Professor in the Illustration Department where he teaches Illustration that reflects the contemporary market. Donovan's lifestyle, environmental and architectural illustrations have been commissioned by many cosmetics firms including Dior and Lancome and his elegant and sophisticated images have been included in many exhibits most recently the Night and Day at the Museum of The Fashion Institute of Technology and highlighted in The Line Of Fashion at the Museum of the Society of American Illustrators. Bil currently resides in the East Village in New York City and works from his creative utopia studio in Tribeca. For more information about the juror, visit http://www.eastendarts.org/gallery/2017-illustration-fashion.html.
Original works in all media may be submitted, including: painting, drawing, photography, mixed media, and sculpture; up to three entries can be submitted per artist. All submissions will be reviewed by the guest juror, who will choose a select number of works that he feels best represents the theme, and those pieces will be included in the exhibit. Entry drop-off dates are Thursday, April 20 through Saturday, April 22 at the East End Arts Gallery. For all entry information and complete submission schedule, visit https://eastendartsorg.presencehost.net/calendar/event/2017/04/22/artist-entry-drop-off-for-the-illustration-fashion-gallery-show/152756.
The "Best in Show" winner of this show will be one of several artists who will participate in the East End Arts Gallery's Winners' Show in the Fall of 2018. First, Second, Third Place, and Honorable Mentions will also be awarded.
This show is one of seven art shows of 2017 at the East End Arts Gallery, under the umbrella theme "Elements of Style". The complete 2017 Gallery Schedule, including all calls for artists can be viewed at eastendarts.org/gallery.
Programs of the East End Arts Gallery are made possible with public funding provided by New York State Council of the Arts, Suffolk County, and the Town of Riverhead.
For more information, contact Gallery Director Jane Kirkwood at 631-727-0900 or gallery@eastendarts.org.
# # #
East End Arts, established in 1972, is a 501(c)3 not-for-profit arts organization, and operates a School of the Arts, an Art Gallery, and presents a variety of events and programs to promote the arts year-round. Proceeds from all events, sales, classes, donations, and memberships benefit the mission and commitment to building and enriching our community through the arts by way of education, support, advocacy, and inspiration.