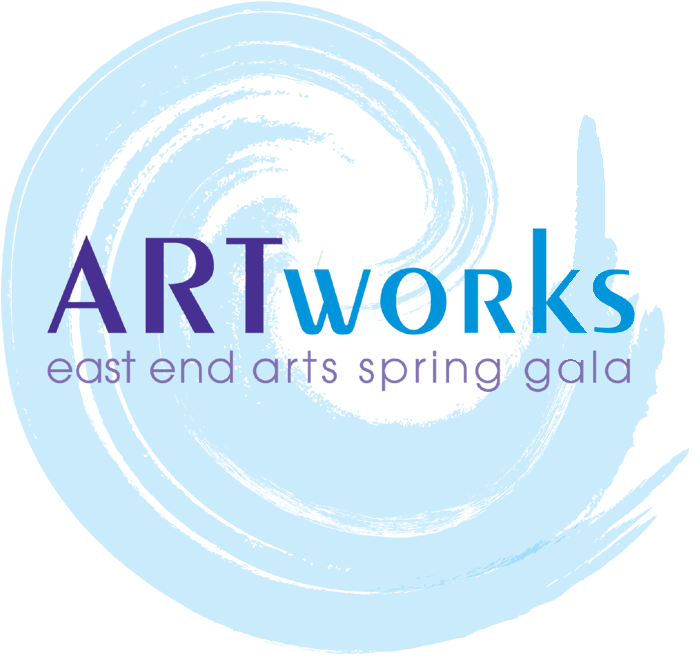 News Release
FOR IMMEDIATE RELEASE
Press contact: Stephanie Israel
631-727-0900
sisrael@eastendarts.org
Images available upon request
ARTworks 2017: East End Arts Spring Gala
HONORING Senator Kenneth P. LaValle, Reverend Maryanne McElroy, Peconic Landing
Saturday, May 6, 2017 at the Suffolk Theater, Riverhead, NY
(RIVERHEAD, NY, April 14, 2017) –– East End Arts is thrilled to announce its ARTworks 2017 Spring Gala, to be held on Saturday, May 6, 2017, from 6:00 PM to 11:00 PM, at the Suffolk Theater in Riverhead, NY. The ARTworks Spring Gala provides East End Arts the opportunity to recognize and highlight patrons of the arts in our community. The 2017 ARTworks Spring Gala will pay tribute to honorees who exhibit leadership in advancing the East End community by providing access to the arts though service, corporate philanthropy, government advocacy, or through their work as an outstanding visual or performing artist/musician.
The celebratory evening will honor:
• Senator Kenneth P. LaValle – New York State Senate, District 1, comprises the five East End towns of Long Island, for his longtime support of East End Arts.
• Reverend Maryanne McElroy for her dedicated tenure as Artistic Director for East End Arts Harvest Gospel Concert for over 30 years. Rev. McElroy is a music shop proprietor, piano and voice teacher, and choir director of the Friendship Baptist Church.
• Peconic Landing for its longstanding partnership with East End Arts, including installation of a sculpture garden on Peconic Landing grounds, ongoing community cultural arts programs, and collaboration on the award-winning Music by the Bedside program.
The gala evening – proceeds of which support the future of the arts on the East End – will feature:
• Cocktails and hors d'oeuvres
• Dinner and dancing with Trevor Davison Orchestra
• Live and silent auctions with Allan Newman
Funds raised at ARTworks 2017 support East End Arts' mission to build and enrich our community through the arts by way of education, support, advocacy, and inspiration.
Tickets start at $225 per person, and the deadline to reserve is Sunday, April 30, 2017. Sponsorship opportunities are also available. Past year's events have sold out in advance of the deadline, so East End Arts encourages everyone to reserve as soon as possible.
Auctioneer Allan Newman is a graduate from the world famous Missouri Auction School. He is an active member of the NAA and the NYSAA. Allan has served on several charity committees and has performed live auctions from Virginia to New Hampshire helping to raise over 1 million dollars for charitable organizations. His specialty is benefit auctions and has been featured on the B. Smith show as well as News 12 Long Island. Allan has appeared more than two dozen times in Dan's Paper and in the LI Business News. He has worked with many TV News personalities, film stars, television celebrities, and sports figures throughout his 24 years in the auction industry. Allan is an avid golfer, is married, and a devoted father of two. He currently resides with his wife in Baiting Hollow, NY.
For more information and to reserve tickets, visit:
http://www.eastendarts.org/programs/gala.html.
East End Arts invites members of the press to attend and cover this event. Please notify East End Arts if you are available during cocktail hour and opening remarks (6:00 PM to approximately 8:00 PM) by emailing Marketing & PR Director Stephanie Israel at sisrael@eastendarts.org by Tuesday, May 2.
The lead sponsor for the ARTworks 2017 Gala is Peconic Landing, with additional support from Campolo, Middleton & McCormick, LLP, Miller Environmental Group, Dan's Papers, northforker, Bank of America, Empire National Bank, Farrell Fritz Attorneys, Long Island Game Farm, Emilie & Michael Corey, Jim & Nada Greenfield, Mona & Jim Lennon, Eileen McGuire & John McLane, Peconic Bay Medical Center, Riverhead Building Supply, Suffolk County National Bank, as well as dinner committee sponsors Ellen Albert & David Griggs, Mary & John Hull, Andrea & Ron Klausner, Lazer, Aptheker, Rosella & Yedid, P.C., Cathy & Enzo Morabito, Melinda Novak, Tesha & Jeffrey Ostrager, Annika & Stephen Shapiro, and Barbara & James Smith.
Special thanks goes to all ARTworks 2017 Gala Committee members: Andrea Klausner, Jim Lennon, Patricia Lutzky, Eileen McGuire, John McLane, Anita Nigrel, Melinda Novak, Donna Schick, Jane Tintle, Robert Ward.
Last year's hugely successful gala honored supporters Bank of America, and featured a keynote address by honorary chair Nile Rodgers. ARTworks 2017 Spring Gala will continue the tradition of fun and fundraising in support of East and Arts!
For more information, contact East End Arts at 631-727-0900 or visit http://www.eastendarts.org/programs/gala.html.
# # #
East End Arts, established in 1972, is a 501(c)3 not-for-profit arts organization, and operates a School of the Arts, an Art Gallery, and presents a variety of events and programs to promote the arts year-round. Proceeds from all events, sales, classes, donations, and memberships benefit the mission and commitment to building and enriching our community through the arts by way of education, support, advocacy, and inspiration.