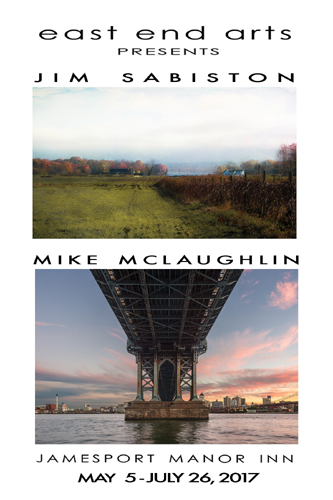 News Release
FOR IMMEDIATE RELEASE
Press contact: Stephanie Israel
631-727-0900
sisrael@eastendarts.org
Images available upon request
Artists Reception at the Rosalie Dimon Gallery:
Featuring Photographers Jim Sabiston & Mike McLaughlin
Sunday, May 21, 3:00 PM to 5:00 PM
Presented by East End Arts
(RIVERHEAD, NY, May 5, 2017) –– East End Arts is pleased to announce the Artists Reception for the new art show at the Rosalie Dimon Gallery, at the Jamesport Manor Inn (located at 370 Manor Lane in Jamesport, NY) featuring East End Arts members: photographers Jim Sabiston and Mike McLaughlin. An Artists Reception will be held on Sunday, May 21, from 3:00 PM to 5:00 PM at the Rosalie Dimon Gallery, where the public will have the opportunity to meet the artists. Local wines and artisanal cheeses will be served. The public is invited to this free event. The public is invited to this free event. Additionally, the Jamesport Manor Inn offers a Prix Fixe dinner the night of the reception from 4:30 PM to 6:30 PM at a cost of $27.95 per person. The show opens on Friday, May 5, 2017 and will be up for viewing until July 26, 2017; the exhibition is open for viewing during the Jamesport Manor Inn's open hours: Wednesdays through Sundays, 11:30 AM to 9:30 PM during lunch and dinner service.
For more information, visit eastendarts.org/gallery/off-site/rosalie-dimon.html.
An award-winning, freelance artist based on Long Island, Jim Sabiston began his visual arts career as a painter, but with the advent of the digital camera, he left painting behind and committed himself to the art of photography. An inveterate explorer and experimenter by nature, Jim Sabiston produces work that does not lend itself to easy categorization. With a style rooted in a Zen influenced minimalistic realism, his style and subjects are almost infinitely varied to suit. Building on an original artistic foundation as a painter and an intimate study of photographic giants such as Stieglitz and Steichen, along with painters such as Andrew Wyeth, Jim Sabiston's work executes a marriage of photography and painting mediums into highly unique, print oriented series sets. Recent work has been oriented towards East End and Long Island subjects. Jim's photographs have received awards from National Geographic Explorer magazine, the Adirondack Mountain Club, the Islip Arts Council, the Sayville Chamber of Commerce, the Westhampton Beach Chamber of Commerce, Gallery North, and most recently, East End Arts. His work has been published in various books, magazines, and is part of many private collections.
Mike McLaughlin is a research analyst by trade who discovered the creative side of his brain after finding the North Fork of Long Island. A desire to capture and share the beauty of the Long Island Sound and the adjacent farmland is the reason he began taking pictures. His quantitative background in combination with a passion for modern architecture has informed his approach to both composition and post-processing technique. His work is characterized by a spare and clean style as he seeks to evoke the purity of form achieved by architectural icons like Mies van der Rohe and Walter Gropius. After years of concentrating on mostly rural scenes this sensibility has come full circle as his focus expanded to include architecture itself. Shooting in natural light, he favors the hues and tones of twilight and many of his urban tableaus are captured "in the gloaming" or at night. Initially self-taught he developed his skills through course work at the International Center of Photography in New York City. His work has been featured in solo and group shows across the East End of Long Island and has won numerous awards including First Place in East End Arts Second Annual National Show, and the Catherine and Theo Hios Landscape Award at Guild Hall.
More Information about the Rosalie Dimon Gallery
Exhibits at the Rosalie Dimon Gallery are a joint effort by East End Arts and the Jamesport Manor Inn to introduce exceptional artists and their work to the East End communities. East End Arts members who wish to be considered for exhibits at the Jamesport Manor Inn should have updated representations of work in the East End Arts Artist Registry at the East End Arts Gallery, located at 133 East Main Street, Riverhead, NY. The artists selected for East End Arts' off-site gallery shows are chosen by committee.
For more information, contact Jane Kirkwood, East End Arts Gallery Director at 631-727-0900 or gallery@eastendarts.org, or visit eastendarts.org. For more information about Jamesport Manor Inn, call 631-722-0500 or visit JamesportManorInn.com.
# # #
East End Arts, established in 1972, is a 501(c)3 not-for-profit arts organization, and operates a School of the Arts, an Art Gallery, and presents a variety of events and programs to promote the arts year-round. Proceeds from all events, sales, classes, donations, and memberships benefit the mission and commitment to building and enriching our community through the arts by way of education, support, advocacy, and inspiration.