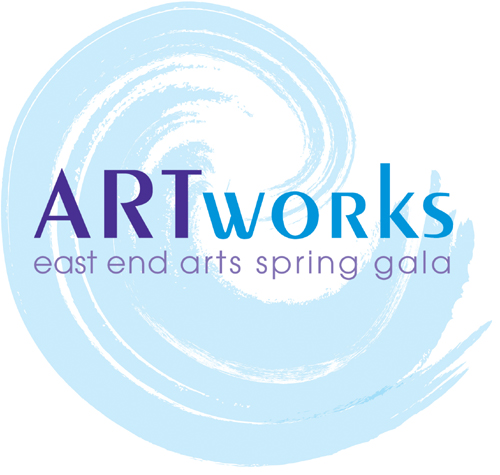 News Release
FOR IMMEDIATE RELEASE
Press contact: Stephanie Israel
631-727-0900
sisrael@eastendarts.org
Images available upon request
NEWS & PHOTOS
ARTworks 2017 East End Arts Spring Gala – A Great Success!
Held on Saturday, May 6, 2017 at Suffolk Theater, Riverhead
(RIVERHEAD, NY, May 10, 2017) –– East End Arts is thrilled to announce the great success of its ARTworks Spring Gala 2017, which was held on Saturday, May 6, 2017, at the Suffolk Theater in Riverhead, NY. The celebratory evening honored Senator Kenneth P. LaValle, Reverend Maryanne McElroy, and Peconic Landing. Additionally, the evening featured live and silent auctions with Allan Newman; music by Trevor Davison Orchestra; and student musical performance by Maddy Seitles, student of East End Arts Music Masters Mentorship programs, East End Arts Music by the Bedside program participant, Teeny Awards nominee, and past soloist for the Harvest Gospel Concert Series. Proceeds from this fundraising event help support the future of the arts on the East End and East End Arts mission to build and enrich our community through the arts by way of education, support, advocacy, and inspiration.
About the honorees:
• Senator Kenneth P. LaValle – New York State Senate, District 1, comprises the five East End towns of Long Island, for his longtime support of East End Arts.
• Reverend Maryanne McElroy for her dedicated tenure as Artistic Director for East End Arts Harvest Gospel Concert for over 30 years. Rev. McElroy is a music shop proprietor, piano and voice teacher, and Minister of Music / Choir Director of the Friendship Baptist Church in Flanders, NY.
• Peconic Landing for its longstanding partnership with East End Arts, including installation of a sculpture garden on Peconic Landing grounds, ongoing community cultural arts programs, and collaboration on the award-winning Music by the Bedside program.
For more information, visit: eastendarts.org/programs/gala.html.
Photos from the event can be viewed at: https://www.facebook.com/media/set/?set=a.1506587456058512.1073741888.524631970920737&type=3
Press photos with captions can be downloaded from the below link; photo credit © Lenny Stucker: https://www.dropbox.com/sh/mqyweftdssmoxi7/AAB_ELgamtkWDlxtvgi7Bl64a?dl=0
John McLane, President of East End Arts Board of Directors comments: "It's difficult to imagine another organization that touches the East End community in so many different ways. Arts education for people of all ages leading to incredible creative opportunities, professional development and networking for working artists, and community and economic development consistent with the heritage and culture of the East End. The ARTworks Gala was a great success in supporting one of region's key organizations."
Patricia Snyder, Executive Director of East End Arts comments: "The ARTworks 2017 Gala gave us the opportunity to celebrate East End Arts' 45th anniversary and honor some special friends who have been instrumental in the longevity of East End Arts. Reverend Maryanne McElroy has been the Artistic Director of EEA's Harvest Gospel Concerts for 30 years, sharing her love of song and celebration with thousands of people over the years. Senator Ken LaValle demonstrated his commitment to community development through the arts by supporting the renovation of the EEA Carriage House, which effectively doubled the number of programs offered by East End Arts. Peconic Landing has embraced a partnership with East End Arts that has flourished into numerous programs that benefit the entire East End of Long Island. We are fortunate to call our honorees friends and supporters. Having the ARTworks Gala at the spectacular Suffolk Theater was further reason for celebration!"
The lead sponsor for the ARTworks 2017 Gala is Peconic Landing, with additional support from Campolo, Middleton & McCormick, LLP, Miller Environmental Group, Dan's Papers, northforker, Bank of America, Empire National Bank, Farrell Fritz Attorneys, Long Island Game Farm, Conifer Realty / Peconic Crossing, Emilie & Michael Corey, Nada & Jim Greenfield, Hotel Indigo East End, Mona & Jim Lennon, Eileen McGuire & John McLane, North to South Real Estate, Peconic Bay Medical Center, Riverhead Building Supply, Suffolk County National Bank, Woolworth Revitalization, as well as dinner committee sponsors Ellen Albert & David Griggs, Cardona & Company, Mary & John Hull, Andrea & Ron Klausner, Lazer, Aptheker, Rosella & Yedid, P.C., Cathy & Enzo Morabito, Melinda Novak, Tesha & Jeffrey Ostrager, Richmond Realty Corp, Annika & Stephen Shapiro, and Barbara & James Smith.
Special thanks goes to all ARTworks 2017 Gala Committee members: Andrea Klausner, Jim Lennon, Patricia Lutzky, Eileen McGuire, John McLane, Anita Nigrel, Melinda Novak, Donna Schick, Jane Tintle, Robert Ward.
Last year's hugely successful gala honored supporters Bank of America, and featured a keynote address by honorary chair Nile Rodgers. ARTworks 2017 Spring Gala continues the tradition of fun and fundraising in support of East and Arts!
For more information, contact East End Arts at 631-727-0900 or visit eastendarts.org/programs/gala.html.
# # #
East End Arts, established in 1972, is an award-winning 501(c)3 not-for-profit arts organization, and operates a School of the Arts, an Art Gallery, and presents a variety of events and programs to promote the arts year-round. Proceeds from all events, sales, classes, donations, and memberships benefit the mission and commitment to building and enriching our community through the arts by way of education, support, advocacy, and inspiration.