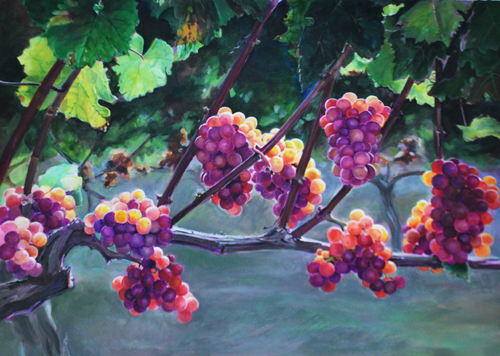 News Release
FOR IMMEDIATE RELEASE
Press contact: Stephanie Israel
631-727-0900
sisrael@eastendarts.org
Images available upon request
New Art Exhibition Featuring Artist
CHARLENE LAVINIA
At Riverhead Town Hall Gallery
Exhibition starting June 5, 2017
Presented by East End Arts
(RIVERHEAD, NY, May 26, 2017) –– East End Arts is pleased to announce a new art exhibit at the Riverhead Town Hall Gallery featuring paintings created by artist Charlene Lavinia of Southold, NY. This exhibit focuses on her acrylic, oil and watercolor paintings inspired by the summer life on the North Fork. In a very traditional style and with attention to detail, the works reflect the imagery of the North Fork's agricultural, marine and recreational nature. The exhibition will open on Monday, June 5, 2017 and will run through August 31, 2017, and can be visited during Town Hall open office hours: Mondays through Fridays, 9:00 AM to 4:00 PM. The artist will host a reception on Tuesday, June 20, 2017 from 6:30 PM to 8:00 PM. The reception is a special opportunity to meet the artist and is open to the public. Riverhead Town Hall is located at 200 Howell Ave, Riverhead, NY (corner of Howell Ave and East Main Street; 631-727-3200). The public is welcome; admission is free. All exhibited work is for sale. To purchase, contact East End Arts at 631-727-0900.
For more information, visit eastendarts.org/gallery/off-site/riverhead-town-hall.html.
Charlene Lavinia is a longtime summer resident of Southold, NY. She attended Art Institute of Pittsburgh, has a BS in Art Education from the Pennsylvania State University and a Masters in Education from Temple University's Tyler School of Art. Mrs. Lavinia taught high school fine arts for 34 years in the Central Bucks School District in Doylestown, PA. In the early 1990's, Mrs. Lavinia aided in starting the children's art program, Through the Art Door, at the Michener Museum of Art in Doylestown, PA. In addition to her teaching experience, Mrs. Lavinia has worked graphically and produced numerous painting commissions in various media.
The Riverhead Town Hall art exhibits are a collaborative effort on the part of East End Arts and the Township of Riverhead to support local artists and introduce their works to the community.
For more information contact Jane Kirkwood, East End Arts Gallery Director: 631-727-0900 or gallery@eastendarts.org.
# # #
East End Arts, established in 1972, is an award-winning 501(c)3 not-for-profit arts organization, and operates a School of the Arts, an Art Gallery, and presents a variety of events and programs to promote the arts year-round. Proceeds from all events, sales, classes, donations, and memberships benefit the mission and commitment to building and enriching our community through the arts by way of education, support, advocacy, and inspiration.