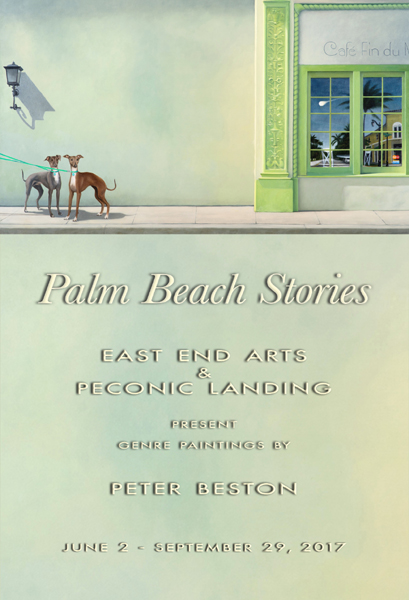 News Release
FOR IMMEDIATE RELEASE
Press contact: Stephanie Israel
631-727-0900
sisrael@eastendarts.org
Images available upon request
PALM BEACH STORIES
Genre Paintings by Peter Beston
Artist Talk & Reception: Friday, June 23
At Peconic Landing Community Center, Greenport
Presented by East End Arts
(RIVERHEAD, NY, June 1, 2017) –– East End Arts is pleased to announce a special new solo exhibition at the Peconic Landing Community Center featuring genre paintings by Peter Beston, artist of East Quogue, NY: Palm Beach Stories. This series of paintings, each three-foot-six high by six feet wide, is set in the sub-tropical environment of southern Florida, and draws on the artist's long career in film and his love of movies. This art exhibit begins Friday, June 2 and will be on display through September 29, 2017. An Artist Talk and Reception will be held on Friday, June 23, 2017, from 4:00 PM to 6:00 PM. The public is invited to this free event to meet the artist and learn about his process and inspiration. The Peconic Landing Community Center is located at 1500 Brecknock Road in Greenport, NY. To confirm viewing times throughout the run of the exhibit, contact Dominic Antignano at Peconic Landing at 631-477-3800. All exhibited work is for sale. To purchase, contact East End Arts at 631-727-0900. For more information, visit eastendarts.org/gallery/off-site/peconic-landing.html.
Critics have noted that this new series, Palm Beach Stories, is unique in its noir sensibility despite Beston's magical use of color, resulting in narratives as beautiful as they are darkly evocative, both highly stylized and entirely stunning. Each painting evokes a different movie genre and contains narrative threads that reflect elements of that genre. The paintings consider aspects of the human condition, and our relationship with the natural environment. The images visit the worlds of the crime thriller, science fiction, romance, disaster and black comedy. While using these subjects as starting points, the stories within each painting can be re-written as often as there are viewers to observe them. For Beston, the paintings visit the subjects of anger and violence, the clash between the man-made and natural worlds, the complexity of desire and the imagined ideal, the fragility and vulnerability of our environment, and the ongoing conflict between urban development and native wildlife.
Exhibits presented by East End Arts at Peconic Landing are a collaborative effort between East End Arts and Peconic Landing to introduce exceptional artists and their work to East End communities.
For more information contact East End Arts at 631-727-0900 or info@eastendarts.org.
# # #
East End Arts, established in 1972, is an award-winning 501(c)3 not-for-profit arts organization, and operates a School of the Arts, an Art Gallery, and presents a variety of events and programs to promote the arts year-round. Proceeds from all events, sales, classes, donations, and memberships benefit the mission and commitment to building and enriching our community through the arts by way of education, support, advocacy, and inspiration.