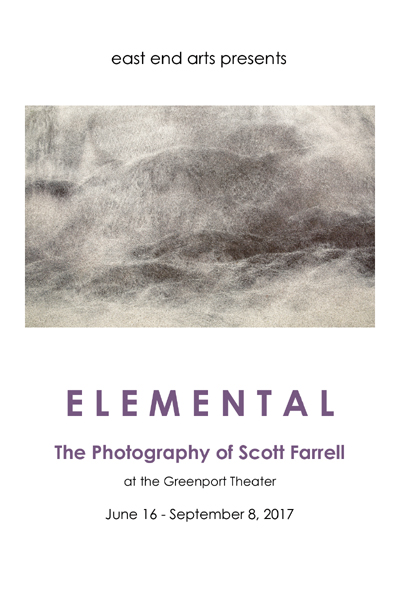 News Release
FOR IMMEDIATE RELEASE
Press contact: Stephanie Israel
631-727-0900
sisrael@eastendarts.org
Images available upon request
ELEMENTAL
The Photography of Scott Farrell
Exhibit Starting Friday, June 16
Artist Talk & Reception: Saturday, July 15
At the Greenport Theater
Presented by East End Arts
(RIVERHEAD, NY, June 12, 2017) –– East End Arts is pleased to announce a special new exhibition at the Greenport Theater featuring the photography of Scott Farrell: Elemental. Elliott Erwitt described photography as an "art of observation" stating, "It's about finding something interesting in an ordinary place... I've found it has little to do with the things you see and everything to do with the way you see them." Elemental examines the relationship between earth, wind and water and the ephemeral or transitory beauty often overlooked. This art exhibit begins Friday, June 16 and will be on display in the Greenport Theater through September 8, 2017, and can be visited during theater hours. An Artist Talk and Reception will be held on Saturday, July 15, 2017. The artist talk will be held from 5:00 to 6:00 PM and the reception will follow, from 6:00 to 7:30 PM. The public is welcome to this free event, to meet the artist and learn about his process and inspiration. The Greenport Theater is located at 211 Front Street in Greenport, NY. All exhibited work is for sale. To purchase, contact East End Arts at 631-727-0900. For more information, visit eastendarts.org/gallery/off-site/greenport-theater.html.
After 22 years working in the media industry, Scott Farrell made the decision to follow a more personal, meaningful path by officially launching Scott Farrell Photography in March of 2012. His scope of work covers everything from landscapes, nature, and rural and urban scenes to architectural, abstract, portrait and macro photography.
A marketing major from Fairleigh Dickinson University, his first cognizant introduction to the power of photography came from a high school Humanities class writing assignment about Dorothea Lange, Walker Evans and the FSA. The project had a profound influence that lead to his development as a photographer.
"Each time I look through the viewfinder to capture an image I try to imagine how photographers Dorothea Lange, Walker Evans, or Ansel Adams might have seen the frame. I also contemplate how painters Andrew Wyeth and Winslow Homer might have interpreted a particular scene with regard to texture, tone, composition and lighting. These influences are omnipresent as inspiration and fountainheads of my appreciation for the art of photography."
East End Arts thanks Josh Sapan and the Greenport Theater for providing the exhibition space. East End Arts art shows at off-site satellite gallery spaces are a collaborative effort to introduce artists and their work to the East End communities.
For more information contact Diane Giardi, East End Arts Education Director: 631-369-2171 or dgiardi@eastendarts.org.
# # #
East End Arts, established in 1972, is an award-winning 501(c)3 not-for-profit arts organization, and operates a School of the Arts, an Art Gallery, and presents a variety of events and programs to promote the arts year-round. Proceeds from all events, sales, classes, donations, and memberships benefit the mission and commitment to building and enriching our community through the arts by way of education, support, advocacy, and inspiration.