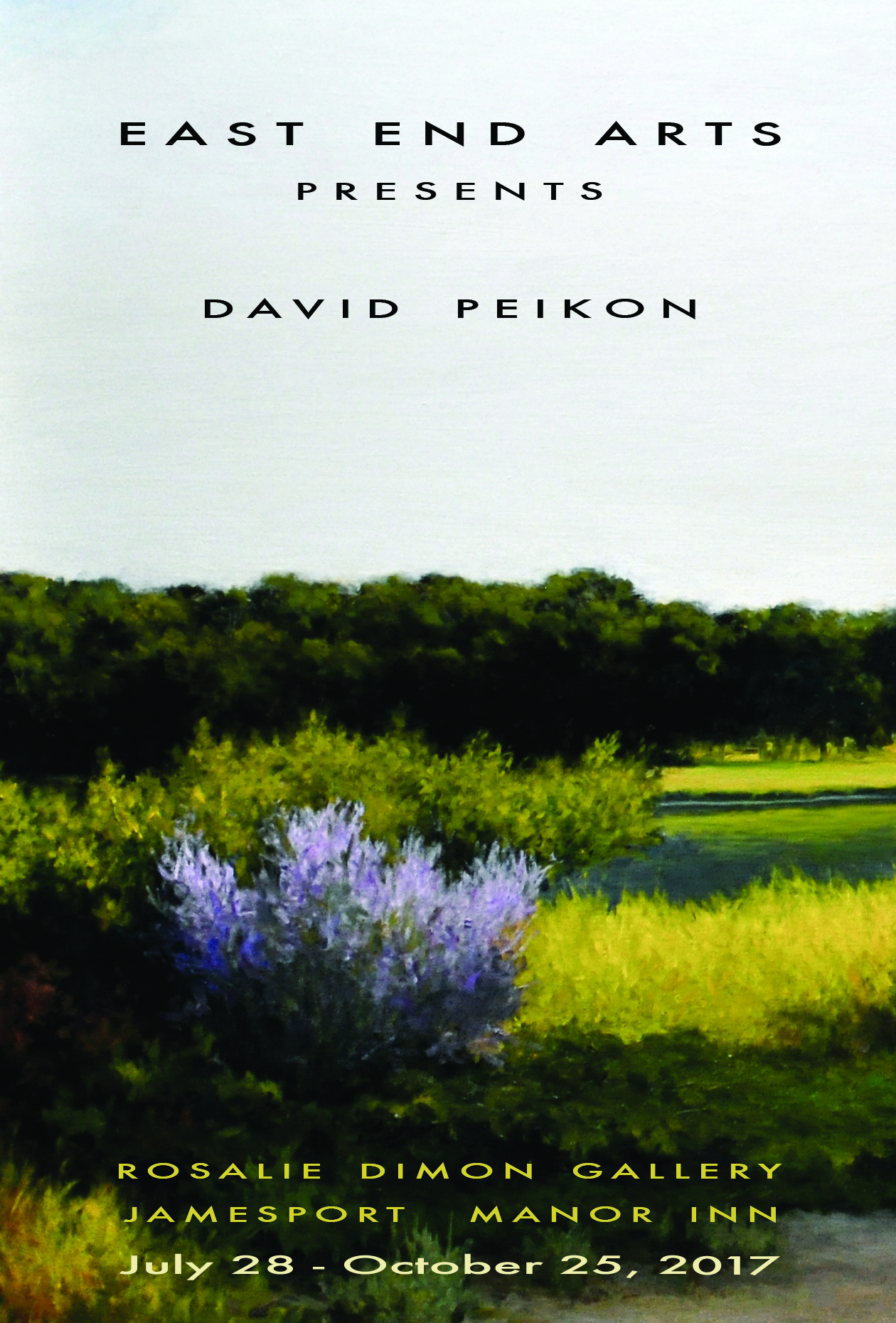 East End Arts
133 East Main Street
Riverhead, NY 11901
Ph: 631-727-0900
Fax: 631-727-0966
EastEndArts.org
News Release
FOR IMMEDIATE RELEASE
Press contact: Risa Hartsough
631-727-0900
publicrelations@eastendarts.org
Images available upon request
Artists Reception at the Rosalie Dimon Gallery:
Featuring Oil Paintings by David Peikon
Sunday, August 13, 3:00 PM to 5:00 PM
Presented by East End Arts
(RIVERHEAD, NY, July 19, 2017) –– East End Arts is pleased to announce the Artists Reception for the new art show at the Rosalie Dimon Gallery, at the Jamesport Manor Inn (located at 370 Manor Lane in Jamesport, NY) featuring the oil paintings of David Peikon. An Artists Reception will be held on Sunday, August 13, from 3:00 PM to 5:00 PM at the Rosalie Dimon Gallery, where the public will have the opportunity to meet the artists. Local wines and artisanal cheeses will be served. The public is invited to this free event. The public is invited to this free event. Additionally, the Jamesport Manor Inn offers a Prix Fixe dinner the night of the reception from 4:30 PM to 6:30 PM at a cost of $27.95 per person. . The show opens on Friday, July 28 and will be up for viewing until October 25, 2017; the exhibition is open for viewing during the Jamesport Manor Inn's open hours: Wednesdays through Sundays, 11:30 AM to 9:30 PM during lunch and dinner service.
For more information, visit eastendarts.org/gallery/off-site/rosalie-dimon.html.
About The Artist: David Peikon (born 1958) dreamed of a life as a painter since his early teens but was urged to seek a more secure career path. After college he spent 15 years in the commercial printing industry, culminating his career as a vice-president of sales. In 1996, at the age of 38, he left the business world to pursue his passion. His landscapes have been described as scenes of serene isolation, always with a reverence for the beauty of nature, whether the subject is the native shores of Long Island or the hills of Tuscany. Now in his second decade as a painter, his work hangs in private and corporate collections around the world. In addition to 18 solo shows thus far, he has been featured in numerous publications including American Artist Magazine and The New York Times. Also known for his striking portraits, the artist is honored to include among his clients, William F. Buckley Jr., Dr. George Church, Salvatore Ferragamo, Philanthropist David H. Koch, The Presidents of Howard Hughes Medical Institute, Mrs. Mary Phipps, Dr. David Steinberg, President of Long Island University and Nobel Laureates Drs. Elizabeth Blackburn, Thomas Cech, Carol Greider, and James D. Watson.
David Peikon Artist Statement: "Crazy times, in a crazy world. It makes us all yearn for a simpler time, when life moved at a more sane pace. Personally, I felt the pull of a quieter life from an early age, preferring to be alone at a drawing board or easel above all else. Deep in concentration, shutting out the noise of the world while in the 'zone', brought a sense of peace to my whirring mind.
When I turned to painting as a profession, now 21 years ago, it was the visual memories of my youth that provided inspiration. Barns, fields, gardens, beaches, open land, where you can actually see the horizon, remain among my favorite subjects.
I hope that my struggles as a painter provide a momentary respite for my viewers, to savor the simple beauty that is still to be found around us, if we take the time to seek it out."
***RAFFLE OPPORTUNITY*** There will also be a chance to win Out Back Jamesport Manor Inn, a framed oil painting by artist David Peikon at the reception. Only 20 raffle tickets will be sold at $100 each. Drawing to be held at The Rosalie Dimon Gallery. To purchase a raffle ticket ahead of time, visit the link below, and be sure to write DAVID PEIKON RAFFLE in the message section:
https://eastendartsorg.presencehost.net/membership/45th-ann-monthly-pledge.html
More Information about the Rosalie Dimon Gallery
Exhibits at the Rosalie Dimon Gallery are a joint effort by East End Arts and the Jamesport Manor Inn to introduce exceptional artists and their work to the East End communities. East End Arts members who wish to be considered for exhibits at the Jamesport Manor Inn should have updated representations of work in the East End Arts Artist Registry at the East End Arts Gallery, located at 133 East Main Street, Riverhead, NY. The artists selected for East End Arts' off-site gallery shows are chosen by committee.
For more information, contact Jane Kirkwood, East End Arts Gallery Director at 631-727-0900 or gallery@eastendarts.org, or visit eastendarts.org. For more information about Jamesport Manor Inn, call 631-722-0500 or visit JamesportManorInn.com.
# # #
East End Arts, established in 1972, is a 501(c)3 not-for-profit arts organization, and operates a School of the Arts, an Art Gallery, and presents a variety of events and programs to promote the arts year-round. Proceeds from all events, sales, classes, donations, and memberships benefit the mission and commitment to building and enriching our community through the arts by way of education, support, advocacy, and inspiration.