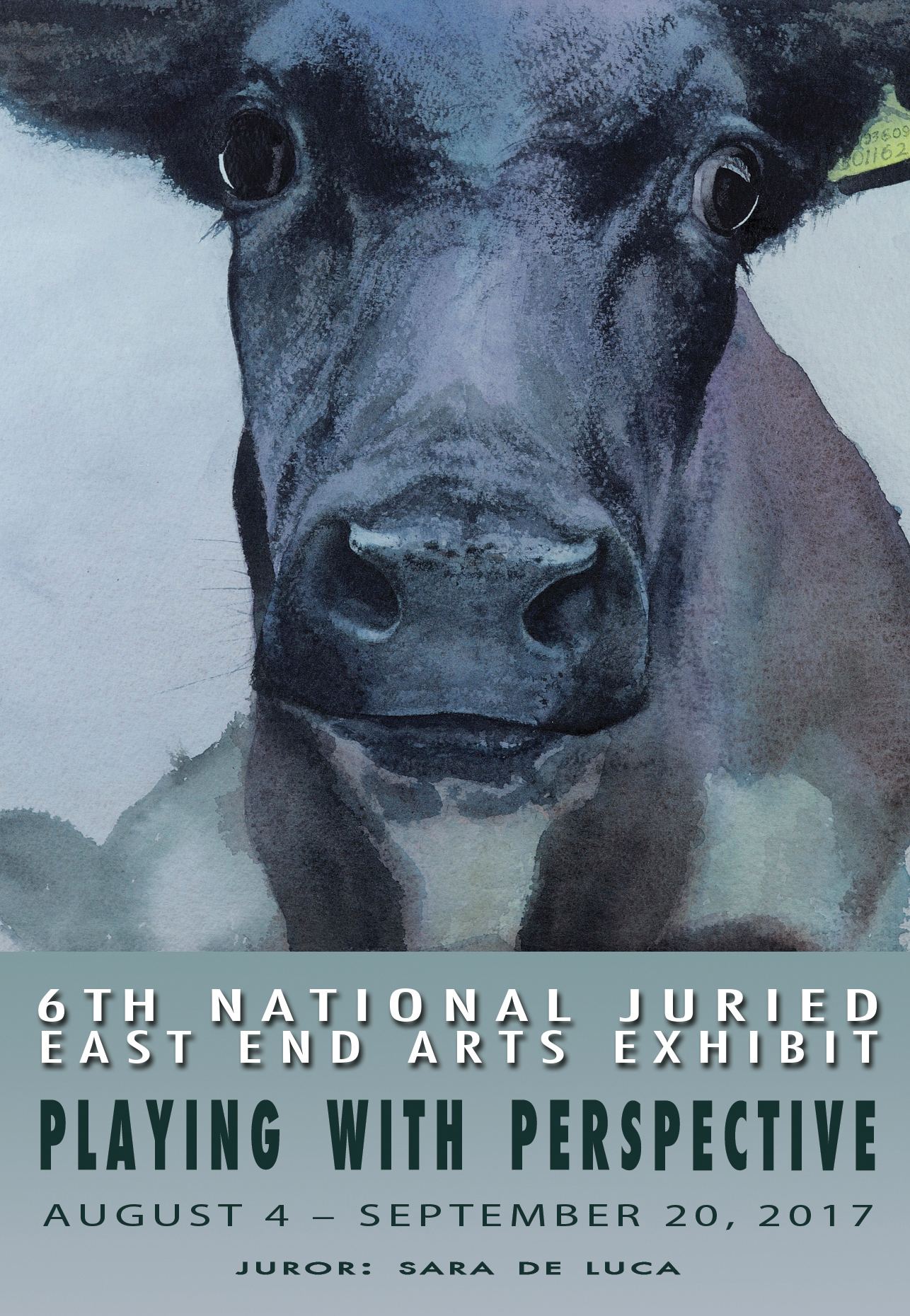 East End Arts
133 East Main Street
Riverhead, NY 11901
Ph: 631-727-0900
Fax: 631-727-0966
EastEndArts.org
News Release
FOR IMMEDIATE RELEASE
Press contact: Risa Hartsough
631-727-0900
publicrelations@eastendarts.org
Images available upon request
East End Arts Presents 6th Annual National Art Competition & Exhibit
PLAYING WITH PERSPECTIVE
Opening Reception: Friday, August 4, 5 – 7 PM
(RIVERHEAD, NY, July 13, 2017) –– The East End Arts Gallery is pleased to announce the opening reception for their sixth annual national juried art competition and exhibit, this year themed Playing with Perspective, which will open with a reception on Friday, August 4, 2017 from 5:00 to 7:00 PM. At the reception, the public is invited to view the show and meet the artists at this free event; refreshments will be served. Guest juror Sara De Luca, Owner and Director, ILLE ARTS, Amagansett, NY, selected works from hundreds of artwork entries from across the U.S. who submitted their artwork into this juried competition and showcase.
Of the work selected for inclusion in the show, the highest honor of 'Best in Show' was awarded to Interface, a watercolor by RJT (Toby) Haynes of East Hampton, New York. The show will run from the opening through September 20, 2017. The East End Arts Gallery is located at 133 East Main Street in Riverhead, NY. This show is sponsored by Hamptons Art Hub. For more information and to view images of the work selected for the show, visit eastendarts.org/gallery/national-show-2017.html.
East End Arts Gallery Director Jane Kirkwood comments: "We had hundreds of entries from all over the United States. Our juror, Sara De Luca, was fantastic. She has an excellent eye and she was able to appreciate the multiple interpretations of the theme and allowed for a variety of 'perspectives' to be played with in her choices. Sara will also feature Toby Haynes (the Best in Show award winner) in one of her upcoming exhibits at the beautiful Ille Arts Gallery in Amagansett."
Artist Statement from 'Best in Show' winner RJT (Toby) Haynes of East Hampton, NY: "I've always loved the alchemy of line & colour, hunting for the spark that makes all the difference to an image. I am not in control of the process, nor would I want to be; it is the journey that is interesting, and discoveries made along the way. I will change my technique or the colours on my palette if it starts to feel too familiar: the materials & subject have a say in what becomes of them, and painting is always a form of dialogue between us."
"I would be a poor taxonomist because I am naturally wired to see similarities & connections rather than differences & distinctions: something as deceptively simple as an apple makes me think of the tree, the blossom, the pollinating insect, the harvest, recipe books, religious & erotic symbolism. I am not so much interested in fleeting impressions as in their lasting effects, the memory of them, the mycelial web of associations they send out; but a painting must ultimately have a life of its own, to find its way without exegesis."
Haynes will receive a seven-day stay in East End Arts' artist residence near Hamptons' museums and galleries, plus $1,000 and inclusion in a group show at Ille Arts Gallery in Amagansett, NY. As the winner, he will also receive 100 postcards announcing the show which will feature the image of her/his artwork.
Playing with Perspective is the last of East End Arts' juried shows for 2017. For the complete Gallery Schedule and more details, visit eastendarts.org/gallery.
Programs of the East End Arts Gallery are made possible with public funding provided by the New York State Council of the Arts, Suffolk County, and the Town of Riverhead.
For more information, contact Gallery Director Jane Kirkwood at 631-727-0900 or gallery@eastendarts.org.
# # #
East End Arts, established in 1972, is a 501(c)3 not-for-profit arts organization, and operates a School of the Arts, an Art Gallery, and presents a variety of events and programs to promote the arts year-round. Proceeds from all events, sales, classes, donations, and memberships benefit the mission and commitment to building and enriching our community through the arts by way of education, support, advocacy, and inspiration.