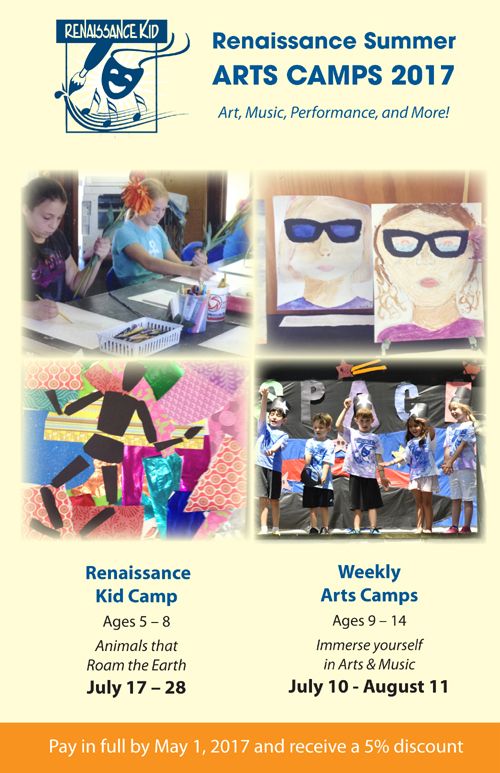 East End Arts
133 East Main Street
Riverhead, NY 11901
Ph: 631-727-0900
Fax: 631-727-0966
EastEndArts.org
News Release
FOR IMMEDIATE RELEASE
Press contact: Stephanie Israel
631-727-0900
sisrael@eastendarts.org
Images available upon request
East End Arts School Announces Limited Space Available:
Summer Arts Camps for Kids: July & August 2017
Art, Music, Performance, and More!
Ages 5 – 8 & 9 – 14
(RIVERHEAD, NY, June 20, 2017) – The East End Arts School is proud to announce this summer's award-winning arts camps taking place throughout July and August for children and teens ages 5 through 8, and 9 through 14 on the grounds of East End Arts, located at 141 E. Main Street in Riverhead, NY. East End Arts summer camp programs allow young people to explore a broad range of artistic experiences and also hone in on what they are passionate about. Programs include chorus camp, guitar camp modeled after the levels of the Japanese sensei in martial arts, sculpture, painting, and more! There's even a bilingual music camp! Advance registration is required; limited space is available. Early morning and after care, as well as scholarships are available. To register, contact the East End Arts School at 631-369-2171 or education@eastendarts.org.
For more information, visit: eastendarts.org/school/camps.html. Below is the list of programs:
Renaissance Kids Camp, Ages 5 – 8
Theme: Animals that Roam the Earth
• Two-Week Art, Music and Theatre Camp
• July 17 – 28, 2017, Monday – Friday, 9:30AM – 3:00 PM
Renaissance Kid Camp is a two-week program where campers are introduced to a broad range of artistic and creative experiences through a camp-wide theme. In this imaginative summer arts program campers will immerse themselves in art, theater, music and dance while being inspired by this summer's theme: the fascinating world of animals that roam the Earth. Cheetahs, armadillos, hippopotami... the colors, pattern, movement and sounds of these incredible creatures will motivate creative works.
Renaissance Summer Arts Camps, Ages 9 – 14
• One-Week Focused Arts & Music Camps
• Monday – Friday, 9:30AM – 2:30PM
This is an opportunity for tweens and teens to immerse themselves in their passion. The East End Arts School offers award-winning camp experiences where campers will learn and grow creatively in the arts. Programs last one-week, and are designed to bring out each camper's unique, artistic ability in a fun, supportive atmosphere. Instructors are professionals who work every day in the subject areas they teach. Group sizes are small to allow for personal mentoring.
• Fine Arts Camp 1 – Drawing & Painting: July 10 – 14
• Fine Arts Camp 2 – Sculpture: July 31 – August 4
• Fine Arts Camp 3 – Mixed Media: August 7 – 11
• Music Camp 1 – Composing on the Keyboard: July 10 – 14
• Music Camp 2 – Guitar Sensei (Bilingual): July 31 – August 4
• Music Camp 3 – Band Camp: August 7 – 11
• Music Camp 4 – Sing Your Heart Out: Idol Style!: August 7 – 11
Instructor Highlight: Barbara Imperiale, East End Arts visual arts camps
Specializing in children's art, Barbara Imperiale is an art teacher who began her career as a photographer, receiving a BFA degree in Photography, a Masters degree in Art Education, and is working toward a Masters degree in Fine Art from Moore College of Art & Design. She has experience teaching all grade levels, Pre-K through college and currently teaches during the year at a public school in Southampton. Her passion for art history, digital imaging and the everlasting need to contentiously learn new things, propels her both in her teaching and professional artistic practices. Working with a range of students inspires and rejuvenates her to create and explore her own artwork. She is currently working in watercolors and ceramics but truly loves the range of artistic materials from charcoal life drawing and encaustic, to digital imaging and printing. Barbara tries to surround her students, no matter their skill level, with art history references that will inspire a student's thirst for knowledge while motivating them to reach beyond their current skill set.
"Art is not always about the outcome; the most important learning comes from the process of making art. I adore watching a student for the first time learn from their own doing, while looking through their progression of where they started to their new level of achievement, it is an experience that they never forget. I hope to inspire students to learn more about themselves through art practices as research."
For more information, contact the East End Arts School at 631-369-2171 or education@eastendarts.org.
# # #
East End Arts, established in 1972, is an award-winning 501(c)3 not-for-profit arts organization, and operates a School of the Arts, an Art Gallery, and presents a variety of events and programs to promote the arts year-round. Proceeds from all events, sales, classes, donations, and memberships benefits the mission and commitment to building and enriching our community through the arts by way of education, support, advocacy, and inspiration.