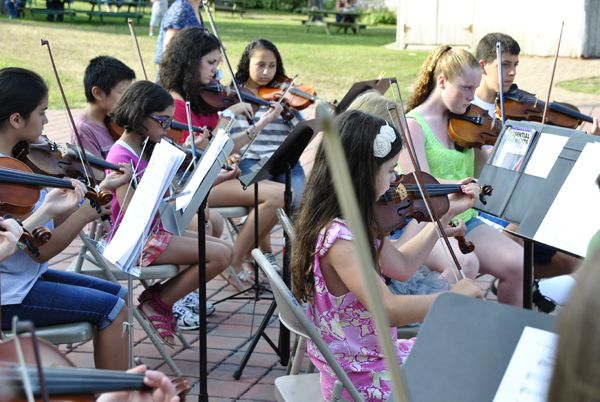 East End Arts
133 East Main Street
Riverhead, NY 11901
Ph: 631-727-0900
Fax: 631-727-0966
EastEndArts.org
NEWS RELEASE & PRESS COVERAGE INVITATION
FOR IMMEDIATE RELEASE
Press contact: Risa Hartsough
631-727-0900
publicrelations@eastendarts.org
Images available upon request
East End String Students
To Rehearse in Open Orchestra Rehearsal
Under the Baton of Maestro Itzhak Perlman
Thursday, July 27 at Southold High School
(RIVERHEAD, NY, July 10, 2017) – East End Arts is thrilled to announce that 55 string students from across Long Island ages 8 through 18 studying violin, viola, cello, and double bass have been rehearsing throughout the month of July under the direction of EEA faculty member Jeannie Woelker in preparation for an Open Rehearsal opportunity to play under the baton of internationally acclaimed violin virtuoso and conductor Maestro Itzhak Perlman on Thursday, July 27, 2017 at 5:30 PM at Southold High School (420 Oaklawn Ave, Southold, NY 11971). This open rehearsal is open to the public and all press are invited to attend. East End Arts faculty members along with EEA School music student alumni are working with students in the East End Arts Carriage House in Riverhead to prepare for the sixth year of this collaborative project with the Perlman Music Program. Press are also invited to these weekly preparatory rehearsals at East End Arts Carriage House – remaining rehearsal dates are:
• Preparatory rehearsal dates are: Mondays, July 10, 17, 24, 2017, 4:00 - 6:00 PM
• Mandatory full preparatory rehearsal: Wednesday, July 26, 2017, 4:00 - 6:00 PM
For more information, visit
https://eastendartsorg.presencehost.net/calendar/event/2017/07/27/eeaso-open-rehearsal-with-itzhak-perlman/165365.
East End Arts Education Director Diane Giardi comments: "Our students are very excited to once again play along with the Perlman Music Program musicians under the baton of Itzhak Perlman!"
Thanks to an introduction from Içim and Mark Miller of Miller Environmental in 2012, the East End Arts School is delighted to be facilitating this project for the sixth year in a row with The Perlman Music Program, a special opportunity for youth string players of Long Island to collaborate with students from The Perlman Music Program's Student Orchestra, comprised of outstanding international student musicians.
Press should please note – Photos/Videos are Prohibited at the Open Rehearsal with Itzhak Perlman and the Perlman Music Orchestra on July 27: Out of respect to PMP founders, faculty and students, we ask that you please not take photographs or video during the open rehearsal and concert at Southold High School on Thursday, July 27. Mr. Perlman and all of the PMP students appreciate your cooperation with this request. East End Arts will have a group photo available the following week for press.
Following the Open Rehearsal on Thursday, July 27, the Perlman Music Program Orchestra will give a performance at 7:30 PM. For more information and tickets, visit their website at: www.perlmanmusicprogram.org.
The East End Arts School's music program has 200 students each semester studying voice, piano, drums, violin, guitar, and band and orchestral instruments. For more information about the East End Arts School's music program and other arts programming, contact 631-369-2171 or visit http://www.eastendarts.org/school/.
More Information about The Perlman Music Program
The Perlman Music Program (PMP) welcomes young musicians of rare and special talent into a richly supportive musical community. Through intensive summer programs, year-round mentoring, and on occasion, an international study or performance tour, the program offers unparalleled musical training for students, ages 12 and up, who play the violin, viola, cello, bass and piano. With a faculty led by Itzhak Perlman and comprising some of the most gifted musical talents of our time, the Program offers an artistic and personal experience that changes students' lives forever. For more information about The Perlman Music Program, visit http://perlmanmusicprogram.org/.
For more information, contact the East End Arts School at 631-369-2171.
# # #
East End Arts, established in 1972, is a 501(c)3 not-for-profit arts organization, and operates a School of the Arts, an Art Gallery, and presents a variety of events and programs to promote the arts year-round. Proceeds from all events, sales, classes, donations, and memberships benefits the mission and commitment to building and enriching our community through the arts by way of education, support, advocacy, and inspiration.